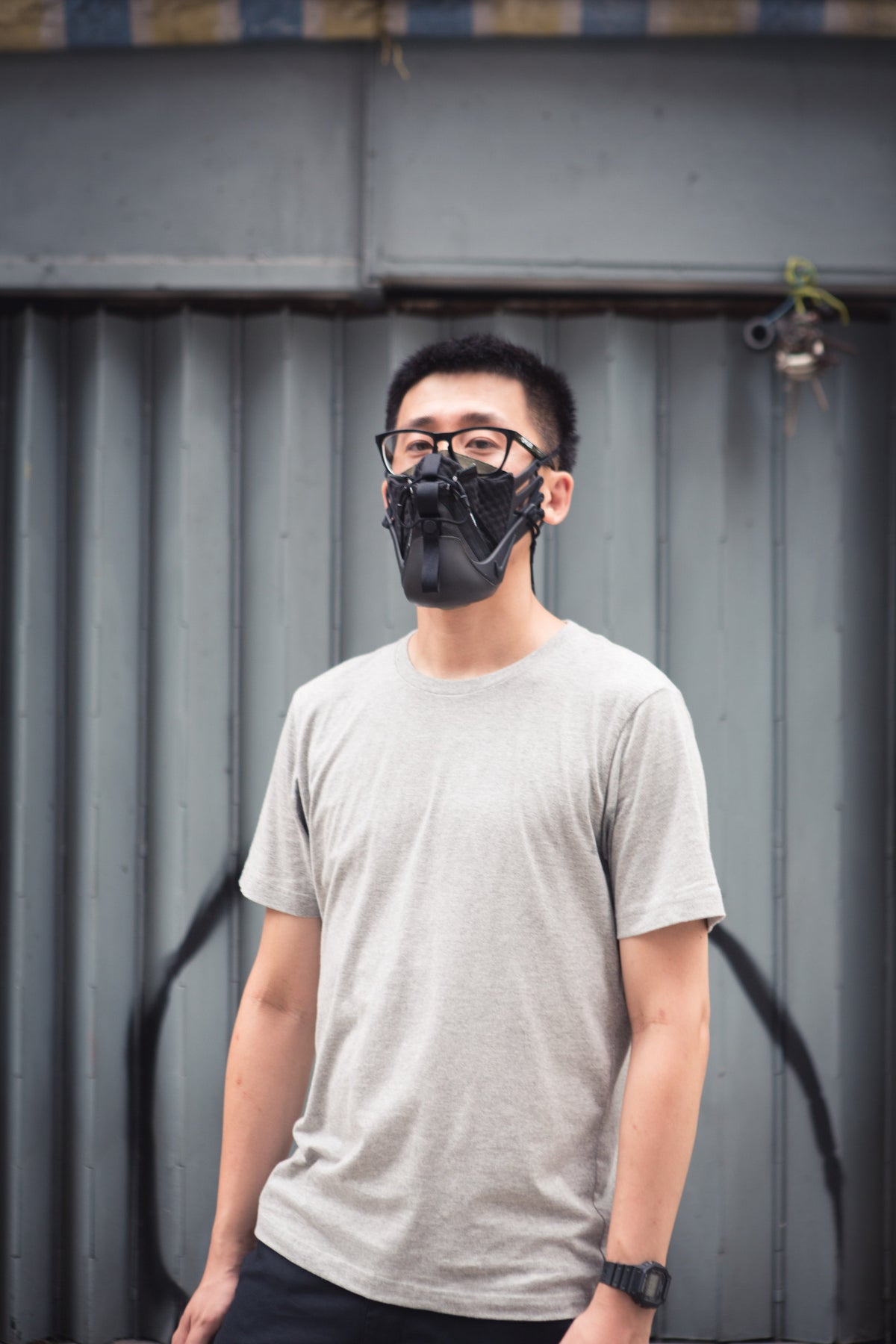 The ground level ozone in Beijing and its surrounds contains compounds that cause dry mouth, headaches and coughing which have an effect on health issues including heart disease and asthma. Despite the cuts in coal consumption, there is still a staggering increase in air pollution which is one of the fundamental inspirations for graphic designer and artist Zhijun Wang.
An avid sneaker collector, Wang uses sneakers and deconstructs them, transforming them into functional sets of breathing apparatus which, not only seek to proactively defend wearers from air pollution but also exist to shed light on the air quality throughout China. The deterioration in air quality is down to the rapid and aggressive period of modernisation and industrialisation of the past few decades. Wang gained widespread recognition for converting a pair of YEEZY sneakers into a mask, which eventually sold for over $5000USD. Since then, he has used the increased media exposure to further promote and highlight pollution.  

Renowned to create a mask out of one pair of sneakers by hand with only a set of simple tools, Wang recently created a custom CLOT x Nike Air VaporMax mask for Edison Chen. With a humbling composure and a quiet eagerness to spread his message to the world, self-taught mask maker Wang spent a day in the streets of Hong Kong and shared his vision with the CLOT team.


What inspired you to create masks from sneakers?
WANG: This is because of the air pollution in Beijing. When I went for runs I had to wear a mask. And I am a sneaker collector so I use sneakers as a materials to make my own masks with found materials that were more suited for my own face.
 
Do you find the shoe first and then make the mask?
WANG: Sometimes I do it that way. Sometimes I find a sneaker that is suitable for the type of mask I want to create, other times I design a mask for the sneaker I'm working with.
 
Other than the shoe itself, do you add any extra parts to the mask?
WANG: I do sometimes add air valves for it to be more breathable.

What's the most difficult mask you've created?
WANG: The Nike VaporMax was the most difficult because I had to cut the sole smoothly. The shape is also so different to other sneakers I've worked with before so it was a challenge to design.

What mask of yours received the most attention?
WANG: The YEEZY mask was definitely a fan favourite. The hottest one. This piece will be showed to the public at MoMa in October 1st in New York. So I need to ship this to New York after our interview today.

How do you come to think about what kind of mask you want to make?
WANG: There's no limit. Anything is possible.
 

What style of sneaker have you not worked with that you want to work with?
WANG: Basketball shoes, like Air Jordans or Kobe. Maybe it will be my next project, based on what brands and fans are liking.
 
How did you end up making the CLOT x Nike Air VaporMax mask for Edison Chen? How did you meet?
WANG: He found me first, sent me an email and asked me if I was interested in working on something with real meaning. And I thought, what does that mean? I didn't know what he was talking about. Afterwards he told me about the CLOT VaporMax and sent me the photo of the shoe. Edison wanted to have it ready by his performance at Strawberry Festival in Hangzhou and so I met him there. And actually I had to make this mask in two days.
 
So was this the fastest you've had to create a mask? How long does it usually take to make one mask?
WANG: I spent two full days on this project. Usually it takes me at least one week. From concept and brainstorming, that takes me two to three days.
So concept and brainstorming, you find the shoe, and start sketching?
WANG: No, no sketching. I just use my imagination. I have to imagine the face silhouette of Edison, I have to see his photos and the different angles, what cut will fit his face. That's why it's custom.
Are the masks functional? Do you add anything else to the mask? 
WANG: Yes, I sometimes add air valves and a layer of mask lining inside so that they are fully breathable and also filter out the impurities in the air. 
What's next for you?
WANG: I think more brand partnerships that would be better to promote my concept to the public. After this trip in Hong Kong, I will be in Guangzhou for promotions with adidas and adidas Originals later. August is a very busy month for me.
Do you see yourself more as an artist saying something about pollution? Or do you see yourself more as a designer?
WANG: Nowadays I spend more time on this project. I want to make a voice to the public without saying anything. Because right now the pollution situation in mainland China is not very good. So I have to keep a suitable attitude to face the reality. I want to try to translate or describe my thinking to the public, without voice. That's what I'm doing.
Do you feel like this is beyond just a project? Maybe in 50 years from now everyone might need a mask?
WANG: I don't want this world to be like that. And I don't want it to be fashion because it's not a good lifestyle to wear a mask. But people have to face the pollution. We have to change ourselves, what we wear everyday to protect ourselves. I don't like to wear masks at all. But I am happy to see more and more people care about the environment.