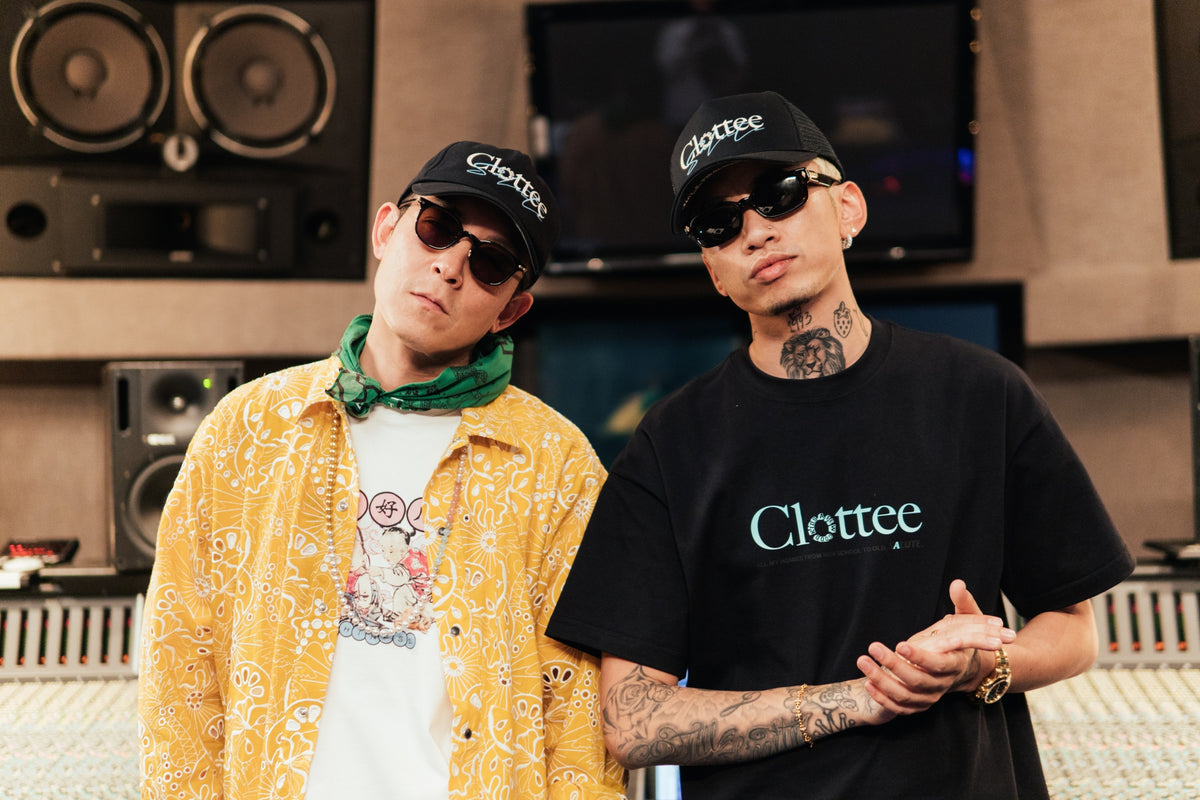 A SALUTE TO YOU: EDISON CHEN AND MASIWEI LAUNCH CLOTTEE X A FEW GOOD KIDS COLLAB
Founder and creative director of CLOT & CLOTTEE, Edison Chen, teamed up with A Few Good Kids founder and rapper, Masiwei, to create a series of cross-generational collaboration projects centered around music, fashion, and hip-hop culture.
Drawing inspiration from Edison Chen's 2010 single "Salute", the two collaborated in the recording studio for the first time. Edison Chen and Masiwei, along with their respective brands CLOT and AFGK, engaged in a cross-generational dialogue and expressed their interpretation of "Salute" through music.
Aside from their musical collaboration, Edison Chen and Masiwei also jointly released the CLOTTEE x A FEW GOOD KIDS capsule collection. From music to fashion products, this extensive project is a salute to the two Chinese street culture predecessors hailing from different generations, and their respective fans.
The CLOTTEE x A FEW GOOD KIDS capsule collection comprises a range of simple, versatile basics including long and short sleeve t-shirts, shirts, hoodies, jackets, shorts, and caps, all featuring a color palette of black, white, and brown.
Slogans such as "SALUTE" and "ALL MY HOMIES FROM NEW SCHOOL TO OLD, SALUTE." are prominent in the overall design, with the CLOTTEE x A FEW GOOD KIDS collaboration logo appearing in diverse designs across the collection.
The "凝结好儿童" mascot graphic and the limited edition "抱拳 SALUTE" t-shirt serve as symbols of the friendship and mutual respect between the two streetwear brands. Their unique representation also adds a fresh take on traditional Chinese cultural symbols.


The CLOTTEE x A FEW GOOD KIDS capsule collection shall be officially released at select JUICE selling doors from June 17, 2023. Follow @CLOTTEE and @JUICESTORE social media channels for instant updates. 
Selling Doors

June 17, 2023
CLOTTEE x AFGK CHENGDU INNERCO POP-UP / JUICE K11 MUSEA / JUICE SHANGHAI (JULU ROAD) / JUICE CHENGDU IFS / JUICE GUANGZHOU

June 18, 2023
JUICE ONLINE WECHAT MINI PROGRAM / JUICE DOUYIN LIVESTREAM / CLOT TMALL FLAGSHIP STORE / AFGK TAOBAO STORE / AFGK DOUYIN APPAREL FLAGSHIP STORE / WWW.JUICESTORE.COM