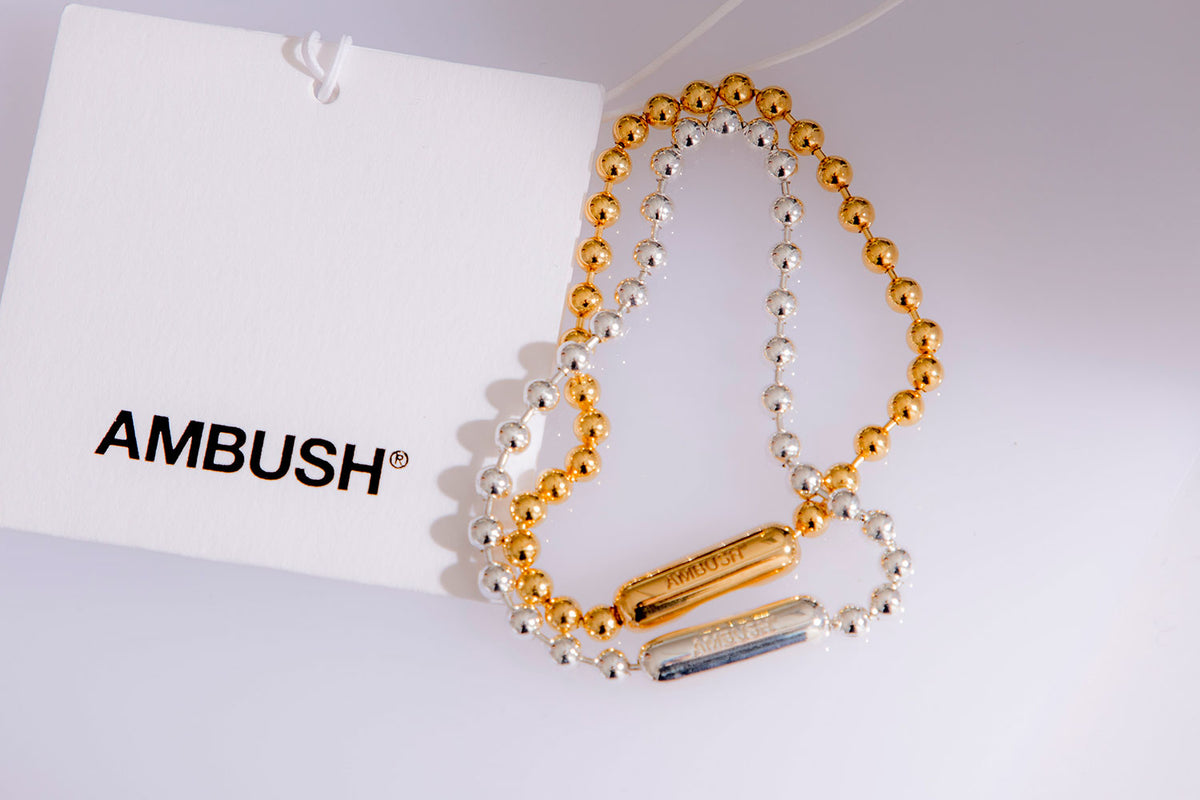 AMBUSH DESIGN's Latest NOBO Collection is Available Now
Founded in 2008, AMBUSH began as a jewelry only label co-founded by Zainichi Korean rapper Verbal and Korean-American designer Yoon, which later on took off as a contemporary jewelry and clothing brand stocked in 57 stores internationally with celebrity clients such as Jay-Z and Kanye West. Conceived by Verbal, its ethos is rooted in the brand's name itself, as without any knowledge of the jewelry industry's inner working, the duo decided to do what they want, when they want, with an element of surprise.
Prior to AMBUSH, Yoon and Verbal established Ambush Design Company, where Yoon designed album covers for other musicians, including Verbal. Interacting with the realm of hip-hop, the couple was intrigued by its pendants and chains that American rappers wore but were taken aback by its larger-than-life proportions, in which they went on to create smaller pieces.
Verbal and Yoon made a dent in the world of fashion for its colorful, eccentric designs and onomatopoeic motifs on rings and chains. Initially encompassing gold chains, charms, chokers, Yoon decided that creating their own clothes helped convey lookbooks the way that they want, AMBUSH later released collections that belonged more to a cohesive theme such as 'Nomad' or the more recent AW18 'Nobo' collection, as inspired by Yoon's childhood in Seattle.
Given Japan's conformist attitudes, the couple hasn't always belonged, as Verbal grew up in Japan as a Korean, Yoon entered Japan as a Korean American. Yoon entered the industry fully knowing that they were to be boxed out, but then decided to double down and create their own box to be in, which the world has grown to embrace.
What surprised people about AMBUSH was its unreserved attitudes towards their identity and who they identified with. They embraced a 'remix culture' where subcultures were encouraged to intertwine in Japan, and reached out to then-unconventional, up and coming young talents such as Pharrell and Kanye, as during that era, high fashion would distance themselves from streetwear brands and hip-hop figures. "We rejected that divide; we didn't understand why it even existed and did our part to make a connection." said Verbal in an interview with CNN. As a rapper of the hip-hop group Teriyaki Boyz himself, Verbal left his hip hop fashion style and opted for high fashion brands such as Raf Simons and Dior Homme, which sparked the movement of hip hop influencers divulging into high fashion brands.
What started off as a hobby, passion project, and even an inside joke, is now a sizeable force in the world of contemporary fashion machine.
Photos by: Reeve Lee/CLOT