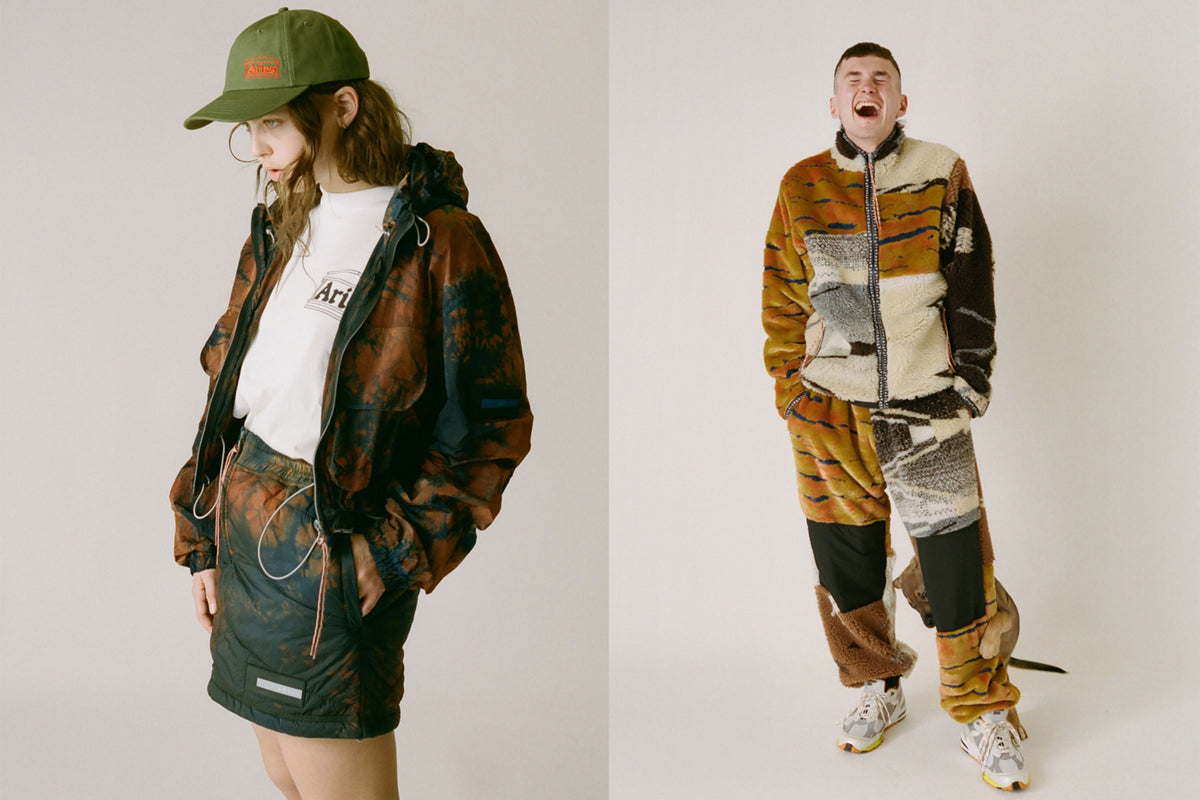 Aries Fall/Winter 2021 "Satanic Panic" Now Available at JUICESTORE!
London-based unisex fashion-label ARIES was founded through Sofia Prantera and Fergus Purcell's fusion of graphic-centric imagery with clean-cut silhouettes. The pair first connected through their mutual place of work at world-renowned skate shop, Slam City Skates in London, which makes sense considering the slight under-tones of skate inspirations within the collections.
Each piece that has been crafted by the brand is original and easy going, with this season being no different - providing their swath of die-hard fans a new reimagined take on their classic outlines.
Introducing Aries' Fall/Winter 2021 "Satanic Panic" collection, incorporates a mythic and spiritual theme to patchwork styles, complimented with silhouettes harbouring new ideas on the original tie-dye fuelled apparel. For example, the patchwork style fusion can be seen utilised in their outerwear offerings, inspired by unique cloth-dyeing technique originating from Asia named Ikat.
The brand's new take on classic clothes with psychadelic and mythic styles can be seen on its new tiger-esque tie-dye treatement of long-sleeved t-shirts, heavy-weight t-shirts and more. The Space Dye selection nods to ideas of extraterrestrialism, and the place it holds within the hierarchy of mystic ideas - the clothing itself, is knitted from recycled cotton yard that is saturated with Aries' 'Space Dye'.
Aries' newest collection offers a varied selection of fleeces, long-sleeved t-shirts, classic heavy-weight t-shirts, knit pieces, and more to keep your appetite for comfortable and stylish activewear satisfied. The Patchwork Reversible Zip Through Fleece is a perfect representation of this collection, it boasts a fully reversible polyester shell that merges inspirations of Ikat and fake mutant tiger fur fabrics and a simpler full black inner lining with a reflective mountain patch on the sleeve, finalised with runic scriptures printed on the zipper lacings.
The TigerCore Long Sleeve T-shirt has the brand's classic graphics screen printed, onto the tee which is then finished with their unique tiger tie-dye technique. The Space Dye No Problemo knit is one of the more unique pieces of the collection, using Aries' new Space Dye technique on recycled cotton yarn to craft a crew-neck knit sweatshirt with a jacquard imprint 'No Problemo' graphic on the front (with Space Dye No Problemo socks to match).
Other pieces include the brand's staple Temple T-Shirt that is available in both tie-dye and basic versions, as well as the No Problemo Socks which utilises a sport sock construction focusing on performance with Aries' signature graphic.
Check out Aries' newest Fall/Winter 2021 "Satanic Panic" collection below! Available now at JUICE Causeway Bay and online at JUICESTORE.COM!