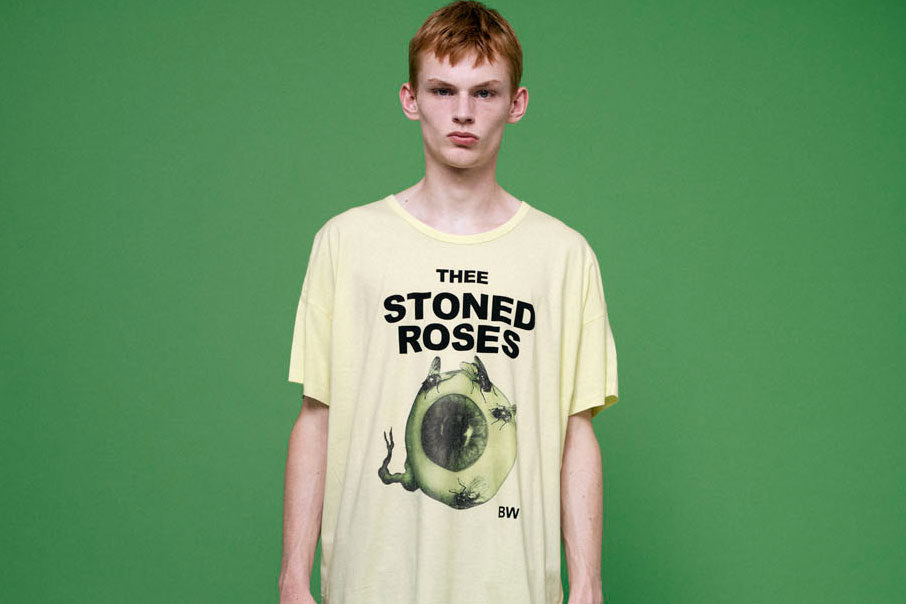 Black Weirdos's SS18 Collection is Inspired by a Southeast Asian Gang
Don't be upset if you were previously unfamiliar with the Japanese brand, Black Weirdos. Since its inception in 2010, they've been been flying pretty low under the radar for the past few years. The founders, artist MAGDRON and tattooist MEGUMU KAMATA, launched their art and fashion brand with the intention of creating unique and peculiar clothing and homegoods under the notion that certain "amusements" tempt men and bring them to their demise. They call this concept "Nomu-Utsu-Kau," or "Drink-Bet-Buy" — signifying that alcohol, gambling, and consumption are the three major indulgences that will cause man's ruin and corruption.
For its Spring/Summer 2018 collection, Black Weirdos reimagines a Southeast Asian crime syndicate known as "Thee Stoned Roses," who operate out of the Golden Triangle. The CIA created this nickname for the region where Thailand, Myanmar, and Laos meet at the Mekong River, and is known to be one of the world's largest sites for numerous illegal activities — notably the production and trafficking of illicit opium.
Combining this clandestine theme with their usual American rock and roll essence of the 1960s and 70s, Black Weirdos develops a bizarre blend of clothing articles like coach jackets, trench coats, jumpsuits, velour tracksuits, denim jackets, graphic tops, and even bathrobes. With these silhouettes, you will find an abundance of trippy patterns, where camouflage and tie-dye play the lead roles. Additionally, imitation band tees and floral ornamentation truly make wearers feel like they're reliving the decade of love, hate, promise, and heartbreak.
Pieces from the SS18 Black Weirdos collection will be available on May 24 at  JUICE Causeway Bay and online at CLOT.com.