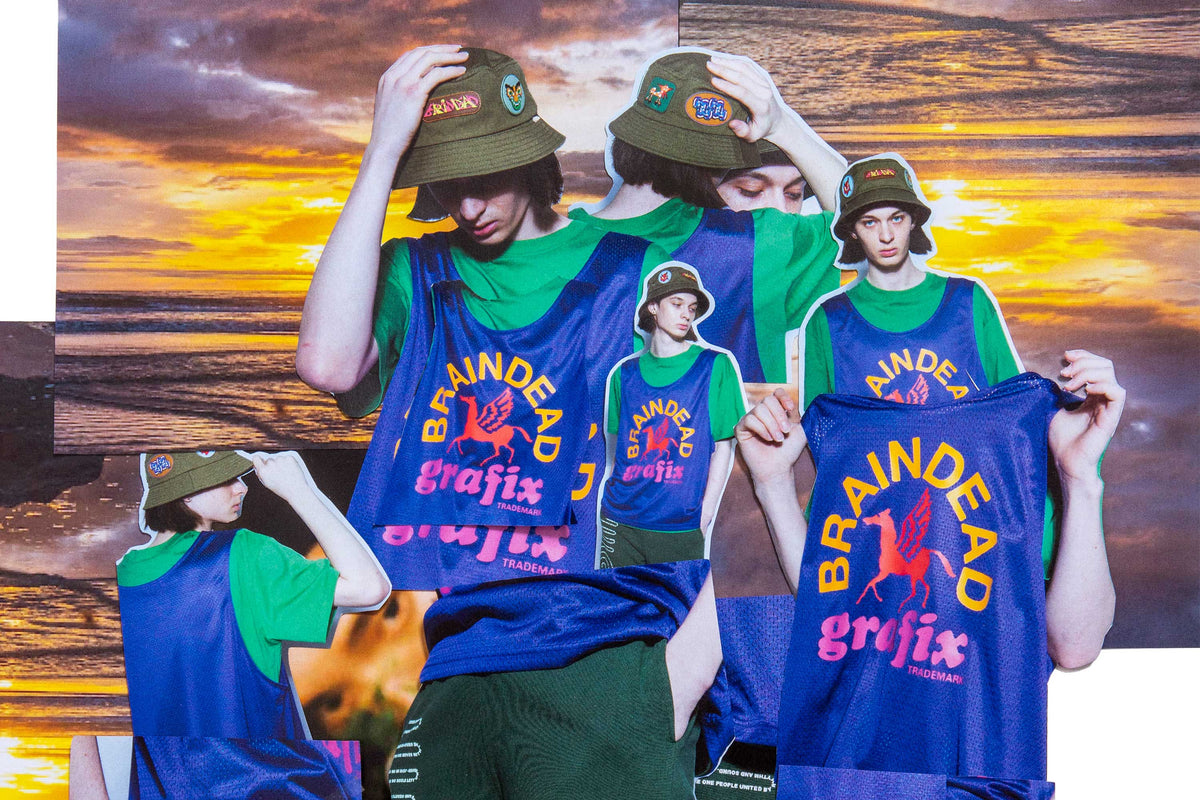 Brain Dead's Hottest Pieces From Its Summer 22 Collection!
Following Brain Dead's quirky Spring 22 collection, Kyle Ng is back with his newest assortment of cut-and-sew Y2K and '70s-inspired pieces for Brain Dead's Summer 22 collection — just in time for the summer heat with raglan shirts, ringer tees, and more. The brand's latest release features a mixture of playful and punk-style graphic imagery from international artists Braulio, Leomi Sadler and Dripper World ladened atop a variety of silhouettes — from simple workwear style pants to DIY button-up short sleeve shirts.
The wide-reaching collection is bound to cater to your tastes during the hottest time of the year, varying from breathable shorts to stylish tops. Some fan favorites include the Night Facade T-Shirt with its surrealist graphic imprint in monochromatic black and white; loose-fitting No Souls Jersey & Graffix Team Shorts showcasing its baggy basketball-inspired silhouette with perforated holes for breathability; the Devil Ears Short Sleeve Button-Up Shirt featuring a surrealist and psychedelic 'devil ear' graphic at the front.
One of many notable pieces of the collection, the Leomi Resort Pant — aptly named for its graphic imprint design by Leomi Sadler — exhibits a wide-leg pant with pleated waists for a well-fitted baggy street-style look, a must-see for the collection. Style these pants to match the Wounds Heal Short Sleeve Button-Up shirt featuring playful wounds heal graphic by Leomi Sadler printed at the front of the boxy-cut silhouette.
Brain Dead has also got you covered by diving into head-wear, a summer staple  — introducing lid must-haves from bucket hats to remixed snap-backs that could be easily put together with any outfit. The Metal Bucket Hat features PVC patches designed by Braulio stitched all around the lid; the Afterlife 6 Panel Cap showcases a dad-cap look mixed with snap-back features a Brain Dead angel logo imprint sewn at the front of a classic 6-panel silhouette with snap-button backing and signature flat brim.
Explore the rest of Brain Dead's newest Summer 22 collection at JUICE Causeway Bay and K11 MUSEA locations and online at JUICESTORE.COM.