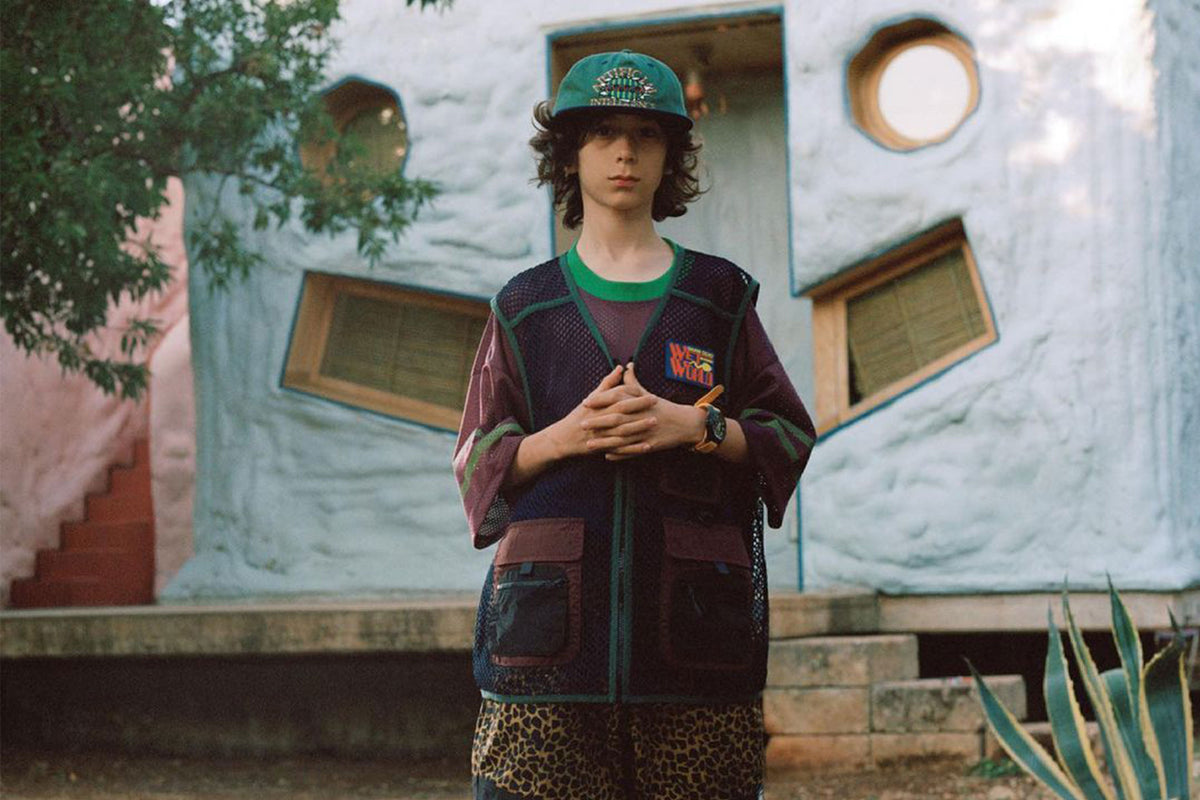 Brain Dead's Latest Summer 2021 Collection Featuring More Futuristic Motifs!
Featuring Brain Dead's continued collection of Spring Summer 2021, with its Late Summer 2021 capsule, comprising of clothing seeking to explore the different dimensions in this universe through use of its graphics, silhouettes, fabrics, and color schemes. Previously showcasing futuristic fabrics with utilitarian silhouettes and unconventional details, this current collection sought to elevate the latter with more techno-futuristic graphics, colors, and fabric textiles; featuring additions, patterns and motifs crafted by graphic designers and illustrators Alexis Jamet and Antwan Horfee.
Paris-based designer Alexis Jamet's additions included the multi-colored motley assorted pattern that is, more often than not, bursting with hues, overlaid with a grainy mask that screams dreamy-hallucinations and reminisces VHS lo-fi footage. Another Parisian artist, Antwan Horfee, is a world-renowned artist and graffiti head, his vast collections constantly see the combinations of ideas in abstract bright imagery with characters inspired by his inspiration for tattooing, sci-fi, and vintage characters. Both artists have inspirations and passion for creatives that resonate heavily with Brain Dead, and who's artistic vision perfectly represents this neo-futuristic sci-fi collection.
This collection's selection comprises of a variety of button-down shirts, shorts, t-shirts and caps. Notable pieces include the Floral Watercolor Button Down Shirt, with a custom jacquard flat knit collar and Alexis Jamet's imprint printed on the poplin fabric shirt; Amoeba Watercolor Button Down Shirt in a similar style to the previous, with its custom jacquard collar and poplin textile usage, but this time Alex Jamet's watercolor print leans towards a playful bacteria graphic; along with matching Amoeba Watercolor Beach Shorts crafted from printed washed twill, and a side jacquard rib gusset; A Paneled Leopard Dress Short lined with black leg panels and finalised with a PVC log head patch on the left leg.
Other notable pieces include the Profound Calming Technichques T-shirt in a Terracotta pink colorway, made sing the classic heavyweight cotton, with psychadelic and future motif graphics printed on the breast and back; The Community, Research, Education T-Shirt in a Sand white hue, with its graphic motifs symbolising the intake of knowledge; my personal favourite the Universal Anti Climax T-Shirt which features apocalypse aesthetics with futuristic motifs, printed on the front of a heavyweight cotton silhouette. The final pieces include the Artifical Intelligence Strapback Hat in a Forest Green hue, comprising of a 6 panel cotton twill cap, embroidered with the Artifical Intellegence graphic and ladened with the brown leather slider closure fitted with brass hardware; finally the Braino Draino Strapback Hat, also made with 100% cotton, this 6 panel cap is embroidered with a red and blue "Braino Draino" patch on the front, a perfect addition to any minimalist outfit.
Check out the Braindead's Late Summer 2021 collection now at JUICE Causeway Bay and JUICESTORE.COM!