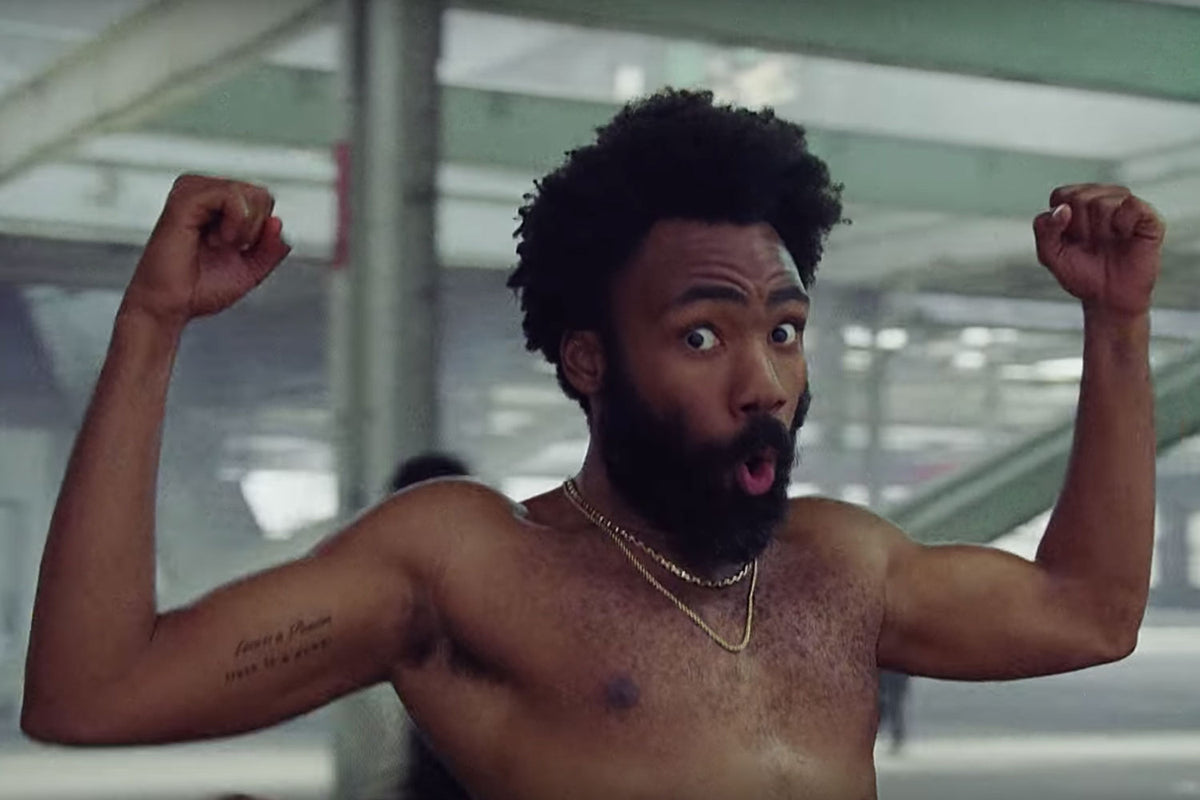 Childish Gambino Releases "This Is America" Video
Immediately following his live performance debuting the new "This Is America" song during the May 5 edition of Saturday Night Live, Donald Glover (@donaldglover) aka Childish Gambino released a dazzling accompanying music video to widespread critical acclaim.
In only four minutes, Gambino takes viewers through a sonically and visually awakening experience that essentially summarizes and references a multitude of impactful and controversial social, cultural, and political issues affecting modern America.
The video, directed by Hiro Murai and choreographed by Sherrie Silver, sheds light on topics including, but not limited to: gun control (or lack thereof), slavery, police brutality, mass shootings (at churches and schools), religious institutions, drug use and addiction, rape culture, suicide and depression, gang violence, prison facilities and the criminal justice system, the illusion of freedom, public education, celebrity influence, digital and social media usage, and materialistic infatuation.
Rappers Young Thug, Quavo, 21 Savage, BlocBoy JB, and Slim Jxmmi provide supplemental backup vocals on the track, voicing their signature ad libs. In addition, SZA makes a silent guest appearance toward the end of the video, perhaps symbolically representing Lady Liberty. Racking up more than 32 million views worldwide in less than three days, "This Is America" has climbed the Trending chart on YouTube in the US and several other countries around the world.
Performing as his rapper alter ego Childish Gambino, Glover will hit the road to begin his upcoming 18-city "This Is America" Tour on September 6, 2018, alongside Mississippi rap duo Rae Sremmurd and Cali rapper Vince Staples.
Check out some of the reactions online.
I can't remember the last time I watched a music video all the way to the end, let alone one five times in a row. Incredible work! #ThisIsAmerica

— Trent Reznor (@trent_reznor) May 6, 2018
#thisisamerica video. big big shout Donald and everyone involved in creating this @childishgambino pic.twitter.com/0gUktpP3oa

— Miguel (@Miguel) May 7, 2018
While Kanye West tells people he's a genius, Childish Gambino proves he is one! #thisisamerica

— donaldtrumpnewstoday (@irishrygirl) May 7, 2018
Childish Gambino had me shook once I noticed this stance in his "this is America" video and the lyrics #BlackTwitter. #ThisIsAmerica pic.twitter.com/eeYfBpNzlk

— Mocha_Doll (@NaiyaDuckett) May 7, 2018