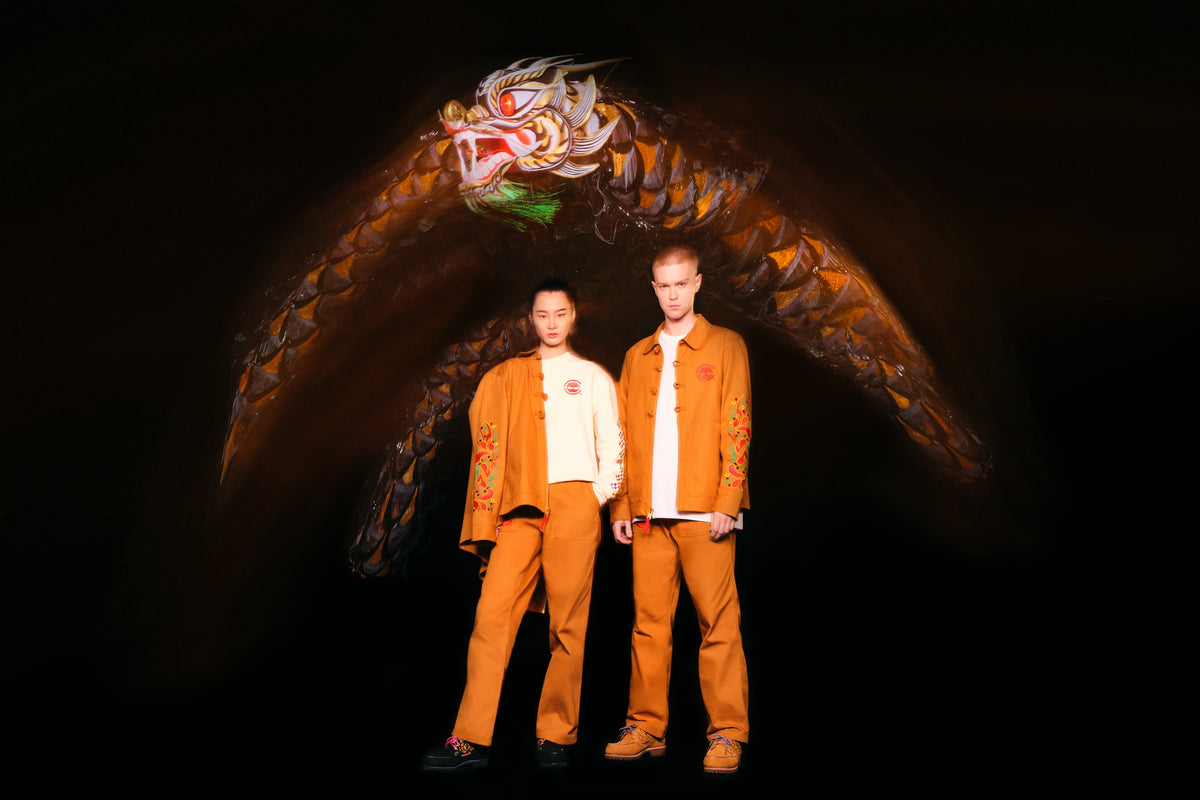 CLOT AND TIMBERLAND CELEBRATE HERITAGE AND UNITY IN FIRST COLLABORATION
For the first time ever, Timberland and CLOT are teaming up for a collection of thoughtfully-designed products that reflect the best of both brands. Featuring footwear and a range of workwear-inspired apparel, the CLOT x Timberland collection drops with CLOT's signature East-meets-West narrative, bringing Eastern culture-inspired designs and details to Timberland's classic heritage styles and silhouettes.
Taking inspiration from the dragon, a legendary folk creature in China, CLOT brings a unique take on Timberland's iconic 3-Eye Lug Handsewn boat shoe, presenting the classic footwear in a custom silhouette featuring an uptilted toe upper reminiscent of a growling dragon's head. Bringing the dragon to life, the shoe is topped with handsewn silk embroidery for the eyes and flames, delivered in a Chinese folk-inspired aesthetic.
"Dragon motifs have always shown up in our designs. It's mystical, it demands power, and it's very representative of Chinese culture," says CLOT Founder and Creative Director, Edison Chen. "The embroidery is very much an ode to hand-stitch culture back in the day, and abstractly also tattoo culture, because it seems to have translated into Chinese tattoos where dragons and all those old motifs are showing up on people's tattoo artworks."
With craftsmanship at its core, the slip-on style features traditional handsewn construction that uses eco-innovative materials, including 34% recycled rubber outsoles and Better Leather from a tannery rated silver for its environmental practices. Apparel pieces, meanwhile, include workwear styles designed with Eastern-inspired details. The collection uses natural and recycled materials, including 100% organically grown cotton and 100% recycled cotton. Heavyweight duck canvas in Timberland's signature wheat color offers rugged protection, while embroidered accents deliver colorful style.
"Every step of this design partnership with CLOT has been amazing," said Chris McGrath, vice president, global footwear design & development for Timberland. "To bring the essence of our two brands to life in a collection that is both authentic and progressive was a true creative adventure."
Dragon is an important guardian deity in China for its ability to control rain. With a livelihood dependent upon agriculture, ancient Chinese performed dragon dances to plead for rain and good fortune. The tradition remains generations on, translated into a celebration of unity and pride that connects all "descendants of the dragon" across the world. To communicate this concept, the brands have shot a campaign video starring professionals performing the dragon dance in CLOT x Timberland attires.
"We introduced the dragon dance because it takes more than one person to complete this task," says Chen. "Timberland is a sustainable, earth-loving company, and it takes harmony and teamwork to be able to achieve a better world, which, at the same time, are all very core CLOT values."
The CLOT x Timberland collection will be available at select JUICE locations worldwide and on JUICESTORE.COM from July 20, 2022.
Price Information
CLOT x TIMBERLAND Men's 3-Eye Lug Handsewn Boat Shoe (Black)
HKD 1,399 / USD 180 / RMB 1,390

CLOT x TIMBERLAND Men's 3-Eye Lug Handsewn Boat Shoe (Wheat)
HKD 1,399 / USD 180 / RMB 1,390

CLOT x TIMBERLAND Women's Noreen 3-Eye Lug Handsewn Boat Shoe (Black)
HKD 1,399 / USD 180 / RMB 1,390

CLOT x TIMBERLAND Women's Noreen 3-Eye Lug Handsewn Boat Shoe (Wheat)
HKD 1,399 / USD 180 / RMB 1,390
CLOT x TIMBERLAND Duck Canvas Chore Jacket
HKD 1,699 / USD 200 / RMB 1,590

CLOT x TIMBERLAND Duck Canvas Workwear Pant
HKD 1,299 / USD 180 / RMB 1,290

CLOT x TIMBERLAND Hoodie Sweatshirt
HKD 1,199 / USD 160 / RMB 1,190

CLOT x TIMBERLAND LS Tee
HKD 699 / USD 60 / RMB 690

CLOT x TIMBERLAND SS Back Logo Tee
HKD 499 / USD 50 / RMB 490


Selling Doors

JUICE CAUSEWAY BAY / JUICE K11 MUSEA / JUICE CENTRAL / JUICE SHANGHAI (JULU ROAD) / JUICE CHENGDU IFS / JUICE GUANGZHOU/ JUICE TAIPEI / JUICE TAICHUNG / JUICE LOS ANGELES / WWW.JUICESTORE.TW / WWW.JUICESTOREUSA.COM / WWW.JUICESTORE.COM / JUICE ONLINE WECHAT MINI PROGRAM