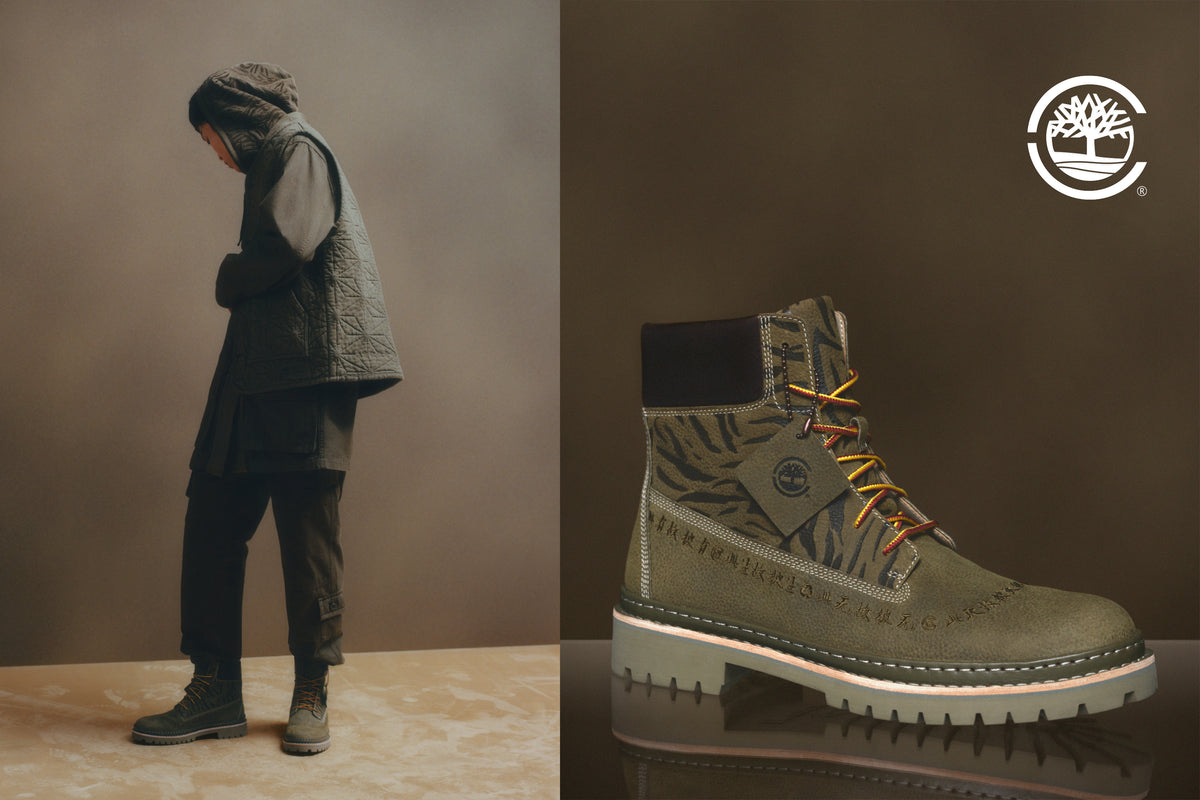 CLOT AND TIMBERLAND® LAUNCH FIRST DROP OF FUTURE73 COLLABORATIVE
CLOT founder and creative director Edison Chen has been invited to participate in Timberland®'s Future73 design project celebrating its 50th anniversary. The CLOT x Timberland® Future73 Collection, which includes a special take on the Premium 6-Inch Boot and an apparel capsule, shall become the first collaborative to drop, kickstarting the campaign. To mark the occasion, the brands shall co-host an exclusive preview event at JUICE Central and JUICE Shanghai.
Joining a group of five world-renowned creatives and designers from around the world including Samuel Ross, Suzanne Oude Hengel, Humberto Leon, Christopher Raeburn, and Nina Chanel Abney, CLOT's Edison Chen was asked to reimagine the Timberland® Premium 6-Inch Boot through his unique creative lens. A fan of hip-hop culture and style, the actor-turned-designer Edison Chen has been inspired by Timberland® since his teenage years. Today, a shared commitment to eco-innovation adds further dimension to their relationship.
"Being able to work with Timberland® on Future73 has been an exciting adventure," said Chen. "Trying to figure out ways to create products more intellectually; from a perspective of loving the Earth; that not only speaks to the kids but also to the kids' kids."
The CLOT x Timberland® Future73 Collection was designed with principles of circularity both in terms of material choices and construction methods. Under Edison Chen's creative direction, the Timberloop™ circular design approach has been applied to the Timberland® Premium 6-Inch Boot for the very first time. At least 50% of the CLOT x Timberland® Future73 Timberloop™ 6-Inch Boot is made from premium, regeneratively farmed materials, with 70% of the leather upper and 55% of the rubber outsole sourced from farms committed to regenerative agriculture practices, helping restore our environment. Specifically engineered to be recycled at the end of its life, the sole are stitched to the uppers in such a way that they can be easily disassembled at the Timberloop facility en route to a second life. The apparel pieces, meanwhile, follow a similar circular design philosophy, which includes the use of 100% mono-fiber regenerative organic cotton, removing hardware and carefully using trims that prioritize disassembly.
Staying true to CLOT's East-meets-West creative DNA, the CLOT x Timberland® Future73 Collection is steered by a design ethos wrapped in emotion and story. The boot incorporates panels patterned with tiger camo in homage to the king of the jungle, and embossed on the upper is the Buddhist proverb "If this exists, that exists; if this ceases to exist, that also ceases to exist. (此有故彼有,此生故彼生,此无故彼无,此灭故彼灭)" This teaching, with its message of mindfulness and peace, states that no single being can exist independently, acting as a common thread through the collection.
Subtle traces of the tiger camo and Buddhist proverb can also be found featuring the CLOT x Timberland® Future73 apparel capsule, creating synergy with the footwear. The 'grape leaf' colorway is inspired by military uniforms – or as Chen puts it, a wardrobe fit for an "urban ninja" – while the marriage of workwear and East Asian influences such as kimono tailoring embodies the CLOT philosophy of uniting Eastern and Western cultures.
The capsule includes the Kimono Chore Coat; Quilted Vest; Cargo Pants with graphic embroidery, Overshirt with graphic embroidery; Pullover Hoodie; Tee with embroidered chest graphic; and Quilted Wrap. Key details include utilitarian patch pockets, bound cuffs and edging, cotton buttons, and woven co-branded labels.
To further celebrate the launch of its first and highly anticipated Future73 collection with Edison Chen, CLOT and Timberland® are co-hosting an exclusive launch event at JUICE Central on March 24. Invited guests are able to preview and get their hands on the pieces from this limited collection, which combines Timberland®'s heritage with CLOT's innovative aesthetic. In addition to the CLOT x Timberland® Future73 collection, collaborative creations by each of the other five future makers are also on display. The entire showcase shall remain til April 5, offering the public an opportunity to experience the unique vision of all future makers, especially Edison Chen's collection.
The CLOT x Timberland® Future73 Collection is scheduled to release on March 30, 2023 at JUICE selling doors worldwide.
Price Information

CLOT x Timberland® Future73 Timberloop™ 6-inch Boot (Mens/Womens)
HKD 2,299 / USD 295 RMB 2,099 / NTD 9,200

The CLOT x Timberland® Future73 apparel capsule is priced from HKD 499 / RMB 499 / USD 70 / NTD 2,200 to HKD 1,899 / RMB 1,899 / USD 250 / NTD 7,900



Selling Doors

JUICE CENTRAL / JUICE CAUSEWAY BAY / JUICE K11 MUSEA / JUICE SHANGHAI (JULU ROAD) / JUICE CHENGDU IFS / JUICE GUANGZHOU / JUICE TAIPEI / JUICE TAICHUNG / JUICE LOS ANGELES / JUICE HONOLULU / JUICESTORE.TW / JUICESTOREUSA.COM / JUICESTORE.COM