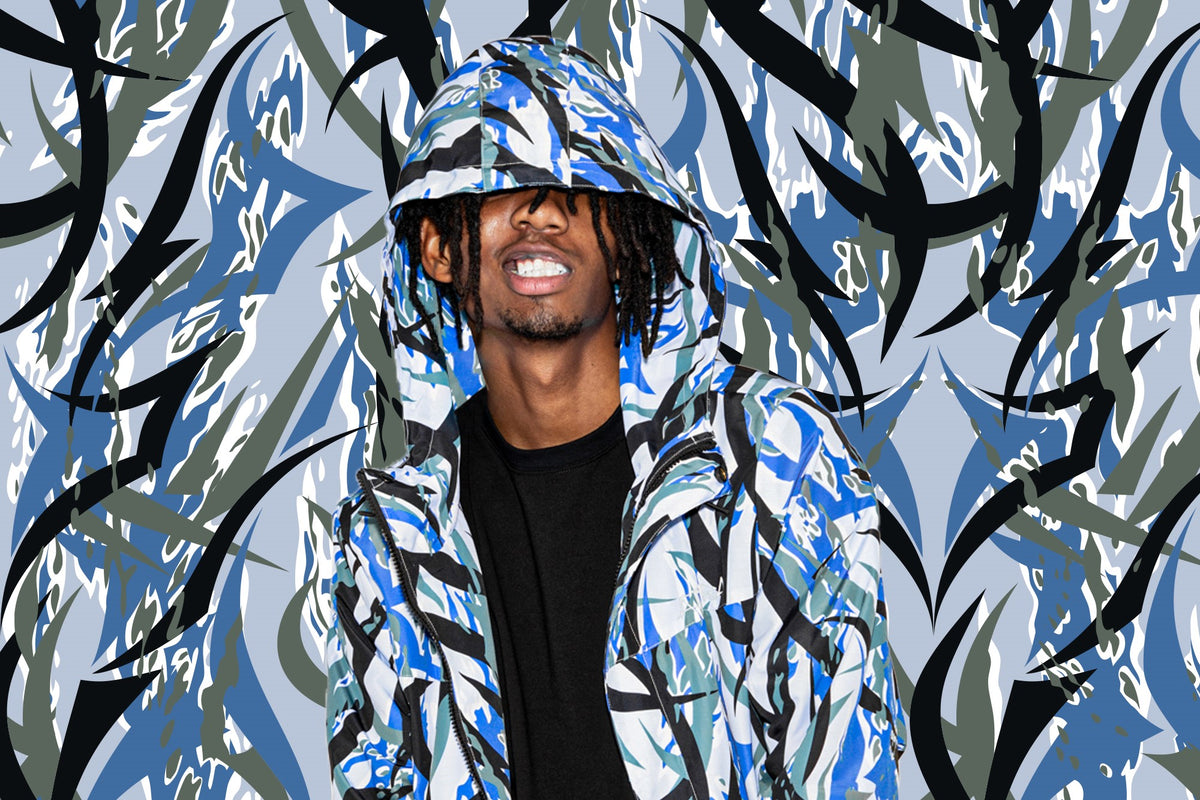 CLOT'S ICONIC ALIENEGRA PATTERN RETURNS IN BLUE TIGER ALIENEGRA 2.0.
CLOT's ALIENEGRA returns in a striking Blue Tiger Camouflage iteration in a range of fall-ready silhouettes. First released in the mid-00's, the Alienegra pattern has since become one of CLOT's signatures and has spawned multiple versions, including the Desert Camo Alienegra and now, a bigger scale and brighter Alienegra 2.0. 
CLOT's ALIENEGRA made its mark through collaborations with KAWS, Head Porter, Vans and more. Its striking design and eye-catching pattern was reissued in 2019 with  ALIENEGRA 2.0. 
This capsule features a Blue Tiger Camo colorway applied to seven different styles. From T-shirts to sleeveless shirts and a black T-shirt with Blue Tiger Egra sleeves, the highlight apparel item is the parka featuring an all-over Alienegra 2.0 print. Additionally, the collection includes accessories such as a reversible bucket hat and tote bag. The ALIENEGRA logo is reflective, paying homage to the original Alienegra Lightning prints.
The collection will be available starting September 4 at JUICE Locations worldwide and online. 
ALIENEGRA Functional Parka:$ HKD1,980, ¥ RMB1,980, $ NT8,680, $USD254
ALIENEGRA Shortsleeve T-shirts: $ HKD580, ¥ RMB580, $ NT2,680, $ USD74
ALIENEGRA Vest: $ HKD500, ¥ RMB500, $ NT2,380, $USD64
ALIENEGRA Layering Tee:$HKD680, ¥ RMB680,  $ NT2,980, $USD87
ALIENEGRA Cargo shorts: $HKD880, ¥ RMB880, $NT3,980, $USD113
ALIENEGRA Reversible Tote bag:$ HKD680, ¥ RMB680,  $ NT2,980, $USD87
ALIENEGRA Reversible Bucket Hat:$ HKD480, ¥ RMB480, $ NT2,280, $USD62