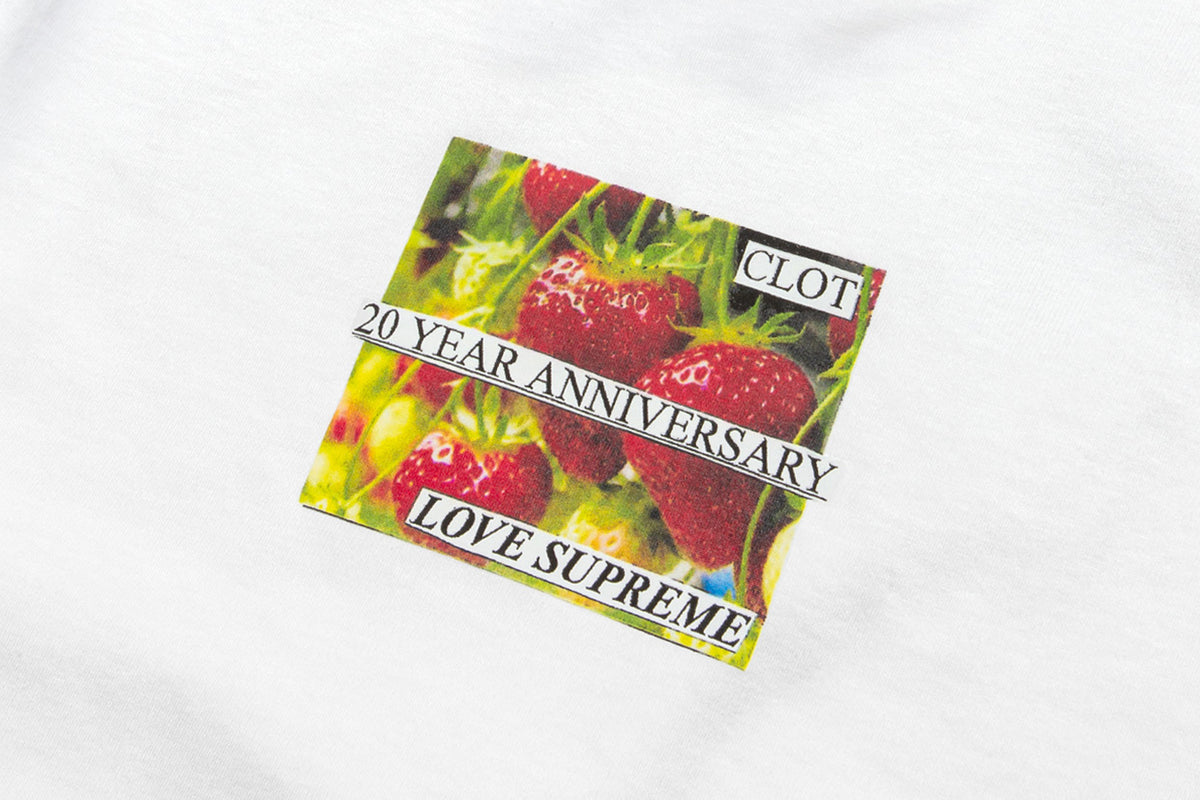 CLOT CELEBRATES 20 YEARS WITH AN EXCLUSIVE SUPREME DROP
Established in 2003, this year marks the 20th anniversary of CLOT. To express gratitude for the unwavering support of its fans, the brand has enlisted world-renowned label Supreme to design a highly limited gift for its community, which be gifted away through a special raffle.
To be eligible for a chance at receiving this highly exclusive piece, simply make a minimum purchase of HKD 1,500 / RMB 1,500 / NTD 6,000 at any @JUICESTORE brick-and-mortar location in Hong Kong, Mainland China, and Taiwan regions by August 3. The raffle will be hosted at select locations in aforementioned regions on August 4. Due to the extremely limited quantities available, entry to the raffle will be on a first-come, first-served basis.
To ensure the best chance of winning, please carefully review the details below to avoid any confusion. Thank you for your unwavering support over the past 20 years, and good luck!
HOW TO ENTER
Make a minimum purchase of HKD 1,500 / RMB 1,500 / NTD 6,000 at any physical JUICE retail locations, listed below, between July 29 and August 3.

JUICE CAUSEWAY BAY
JUICE K11 MUSEA
JUICE CENTRAL
JUICE SHANGHAI
JUICE CHENGDU IFS
JUICE GUANGZHOU
JUICE TAIPEI
JUICE TAICHUNG
THE RAFFLE
The raffle itself will take place in-store on August 4, exclusively at select JUICE retail locations in the region, listed below.
In-Store Raffle:

JUICE CAUSEWAY BAY - 12PM
JUICE SHANGHAI - 10AM
JUICE GUANGZHOU - 10AM
JUICE CHENGDU IFS - 10AM
JUICE TAIPEI - 2PM
JUICE TAICHUNG - 2PM
*To enter the raffle, you must present eligible receipt(s) along with identification to onsite staff. Raffle tickets are limited and will be distributed on a first-come, first-served basis. Please note that winners are entitled to redeem only one piece and due to limited quantity, preferred sizes may not be guaranteed.
TERMS AND CONDITIONS 
- To enter the raffle, participants must present eligible receipt(s) and identity documents.
- A limited number of queue number tickets will be shared to qualifying customers.
- Participant's receipt will be collected by onsite store staff.
- Raffle winner are limited to redeem one product only; all items are non-refundable and non-exchangeable once collected.
- Please note preferred sizing may not be guaranteed.
- Follow onsite staff instructions when queuing up.
- Those who violate the terms & conditions will be disqualified immediately.
- In case of any disputes, JUICE/CLOT reserves the right of final decision.
Keep an eye on @CLOT and @JUICESTORE social channels for instant updates.