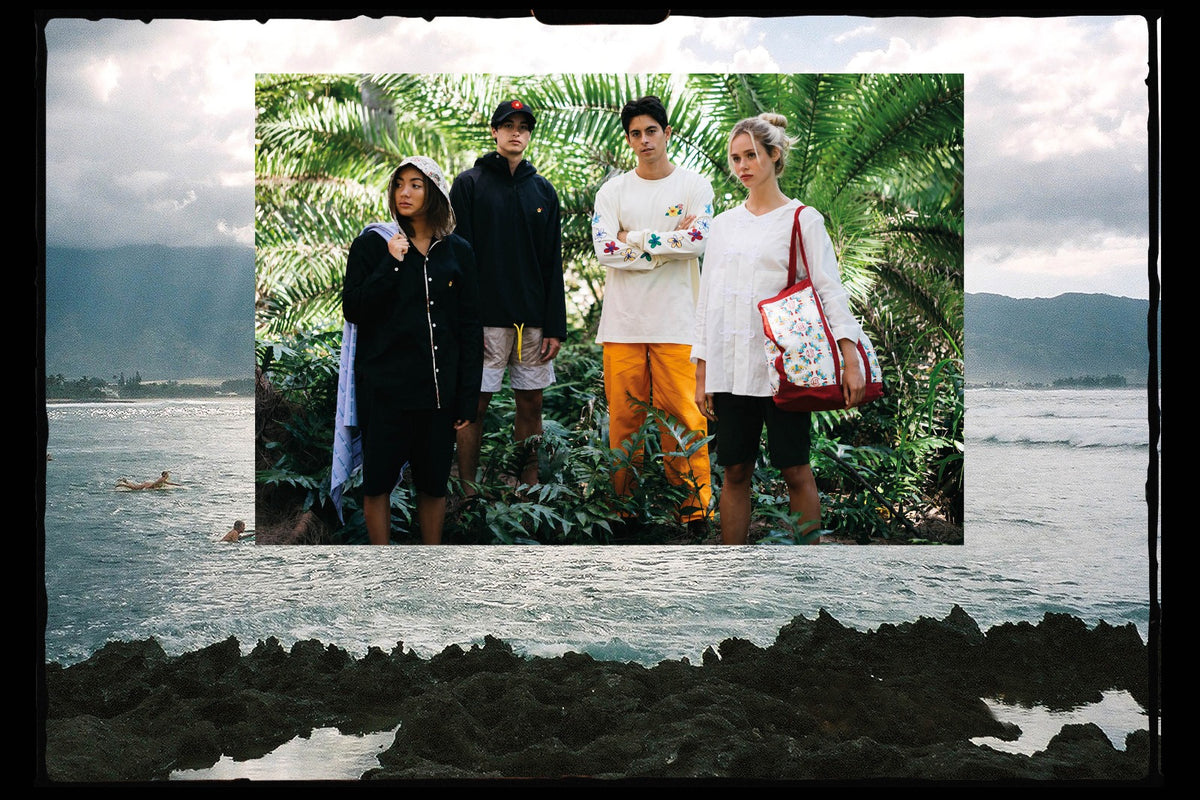 CLOT's Spring/Summer 2021 Collection Sheds Light On Vibrant Chinese-Hawaiian Culture!
The latest pieces from CLOT's Spring/Summer 2021 "Chinese-Hawaiian" collection have arrived at JUICE! This season, CLOT's collection is inspired by Hawaii's Chinese diaspora and their amalgamated culture that have merged Chinese traditions with local Hawaiian elements. 
In CLOT's vision, we see this convergence on an assortment of contemporary styles that are fun, bright and Spring/Summer-friendly. Releasing new designs biweekly, CLOT highlights traditional Chinese influences on lighter, beach-ready silhouettes for its fourth release. Drop 4 features a range of T-shirts, Sweatpants, Hoodies, Track sets, Shirts, Shorts and accessories. 
Scroll down below to see our top picks from CLOT's latest release! 
T-shirt Essentials
The Hawaiian Panda is a prominent motif in the "Chinese-Hawaiian" collection. First seen on the Hospital Pocket T-shirt and the Pocket T-shirt, the Pineapple Panda T-shirt combines Hawaii's tropical elements like pineapples and palm trees to accentuate this season's multi-cultural theme. 
The Henley Shirts have showcase traditional Chinese influence on the collection, featuring frog button detailing on casual T-shirts - breaking conventions where modernity meets tradition. Available in two colorways, 'Black' and 'Olive'
The Hospital Shirt features a unique silhouette highlighted with a special embossed material. These minute details help elevate this design by taking a minimalist approach, embellishing only the chest and the nape with small and bright embroidery featuring Hawaiian tropical flowers and Chinese peaches of longevity - It's the little things that count. 
Featured Shirts
Inspired by vintage workwear shirts, the Worker Shirt uses lightweight materials made and sourced from Japan. The lighter textiles are more Spring and Summer-friendly, highlighting inspiration from the Hawaiian tropics within its structure. Chinese ethnic dancers in Hawaiian dress adorn the chest to showcase CLOT's fun and experimental nature.
Must-have Bottoms
This season, CLOT delivers a variety of bottoms that are focused on style and comfort. The Tailored Shorts feature a Hawaiian-inspired patchwork detailing on the side - a subtle added flair on a formal design that makes it perfect for any occasion. Fashionably-free and with comfort in mind, the Skirt Shorts in 'Khaki' and 'Black', featuring an eye-catching asymmetrical silhouette inspired by Hawaiian traditional dress.
Accessories 
A collection inspired by Hawaii will not be complete without beach accessories. Following the Beach Blanket seen in Drop 1, CLOT has released a Bandana Headscarf in two colorways. The Headscarf features a traditional Chinese ethnic pattern in a combination of striking colors for a modern aesthetic. The Chinese Printed Totebag is the epitome of Chinese-Hawaiian influences, brimming with symbolism, it features auspicious motifs that are prominent in traditional Chinese culture on a casual tote, ready for the beach. 
Discover the new arrivals below from CLOT's Spring/Summer 2021 collection "Chinese-Hawaiian", now available at JUICE locations worldwide and online at JUICESTORE.com!