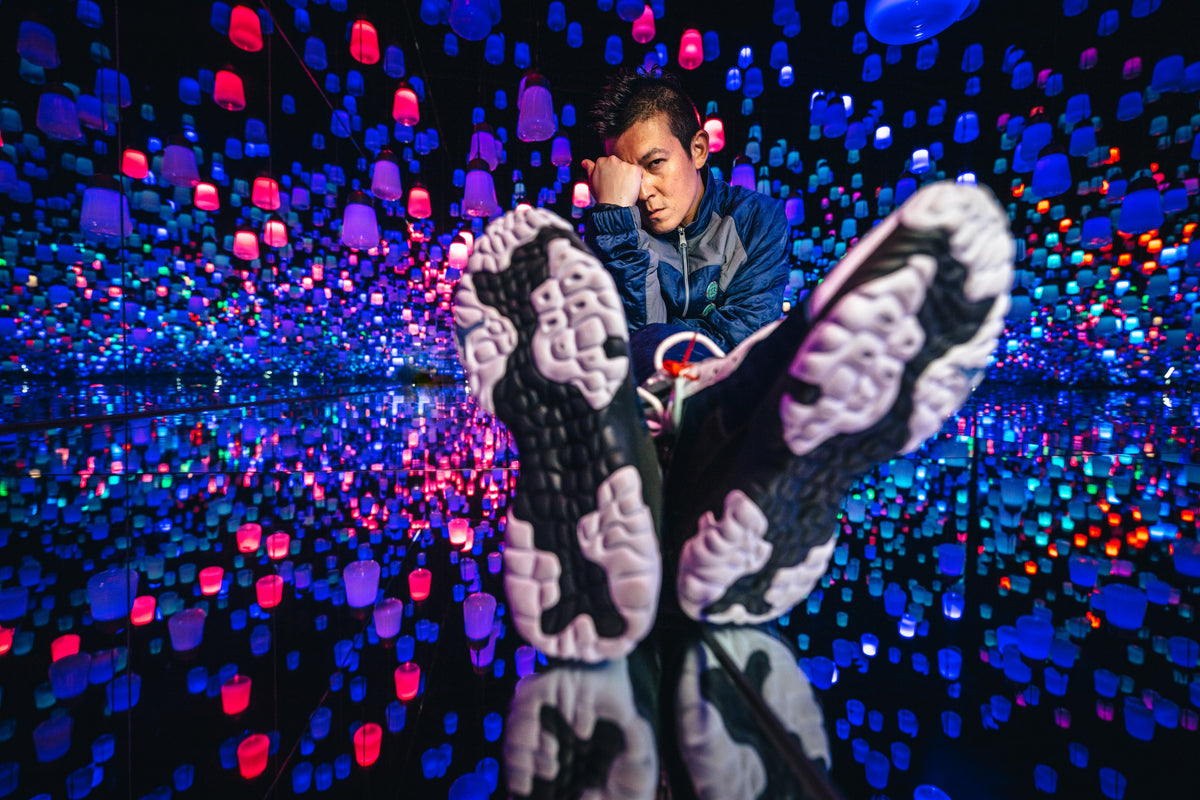 CLOT's EDISON CHEN ON HIS VISION AND INSPIRATION FOR THE CLOT x AIR JORDAN DELTA 2
CLOT and Jordan Brand have just announced their latest sneaker collaboration: the CLOT x AIR JORDAN DELTA 2.
A creative mashup of the OG Delta 2 and the Air Jordan 13—one of CLOT Founder and Creative Director Edison Chen's favorite Jordan silhouettes—the all-new CLOT x AIR JORDAN DELTA 2 represents a dialogue between the past and present.
To dig deeper into the vision for this shoe, we've caught up with Chen during his visit to the teamLab Borderless exhibition in Tokyo, where he shared with us the inspiration and concept behind this brand new creation. Scroll down to read the full interview.
Special thanks to:
📍teamLab Borderless by teamLab: MORI Building DIGITAL ART MUSEUM,Tokyo
📷RK (@rkrkrk)
What sparked the idea for this collaboration and why the Jordan 13? 
13 is the shoe I probably scored the most baskets in playing basketball. So, whenever anyone asks me about the Jordan, it's not the 4 or the 1, but the 13 that I think of because I have a personal connection to it.
The design aesthetic of the 13 is very different from most shoes, especially back in the days. Back then the 13 had one panel that would cover the shoe, and it made a lasting impression on me. When I saw the Delta 2 with one big panel on it, I thought it was the perfect chance to take my spin on the shoe. So, I asked Jordan 'what are your plans for the shoe? I have a crazy weird idea to mash a shoe together with a shoe, because I think it's the perfect combo'. It's really as simple as that. It was my affliction with Jordan, and then a visual cue that ignited my passion for this plan, and immediately we went into design. 
What are the key features in the CLOT x AIR JORDAN DELTA 2?
If you look at the original Delta 2 and our Delta 2, it's a little different. It's not much, but if you look at it, there are certain panels that are taken off to make it little bit more compact and tight. So, it's not just an expression of the shoe, it's a deeper, considerate deconstruction of the shoe to match the intended design.
There's also a tag on it with a hologram, which for me is a very iconic Jordan 13 element. One look, and immediately you'll recognize what it is. On the tongue, there's a metal Jordan logo and a CLOT logo, which are actually inspirations from the Low. In the Low, instead of having the hologram they have a little metal Jordan there, so we took that and put it on the tongue, and we kept the hologram and the panel to incorporate the spirit of the 13.
This is the first time you chose a lifestyle shoe for a collaboration, what's the reason behind?
I thought working on this silhouette would be a nice break from doing performance-related sneakers, especially with the Jordan brand. Understanding the culture of wearing sneakers nowadays, that a lot of people are buying sneakers and leaving them at home, I want to make a sneaker that people use. You can wear it and do whatever you want. Play basketball in it, or go to the country club in it. Do whatever. 
Can you elaborate on the tagline "Bring out the old with the new"?
It's got many different meanings to me. As a creative, many people ask me 'what is originality' and go on about copy culture and everything. I think being able to look to the past but translate that into something new, and not having it being a literal copy is very important. This shoe is a very good example of that, and also, it's about paying respects.
For me, respect used to go only one way to the elders, but now in a digital age, there has to be mutual respect because we know things that they don't. We need to recognise both to understand exactly what is happening in the world, hence 'Bring out the old with the new'. It's not really dissing copy people. It's just that this is something you can do.  
How would you style them?
It's a lifestyle shoe, so there are so many different ways to wear it. I would wear it with sweats and a tee, and I could see someone going to a rave dressed in a crazy outfit wearing the same thing. I don't think there should be a definition, there should be no type of style. The punk rocker can wear it, the hip-hop guy can wear it, the business man can wear it, the basketball executive can wear it. It's a shoe for for everything and everyone.
The CLOT x AIR JORDAN DELTA 2 and the capsule collection are set for global release from September 2, 2022 at select JUICE selling doors worldwide. Follow @CLOT and @JUICESTORE social media channels for release details.
Price Information

CLOT x AIR JORDAN DELTA 2
HKD 1,199 / RMB 1,199 / USD 160 / NTD 5,400

CLOT x AIR JORDAN WOVEN JACKET
HKD 2,499 / RMB 2,499 / USD 350 / NTD 11,180

CLOT x AIR JORDAN WOVEN PANTS
HKD 1,799 / RMB 1,799 / USD 250 / NTD 8,080

CLOT x AIR JORDAN BEANIE UTILITY
RMB 299 / USD 32 (Mainland China and US exclusive)

Selling Doors

JUICE CAUSEWAY BAY / JUICE K11 MUSEA / JUICE CENTRAL / JUICE SHANGHAI (JULU ROAD) / JUICE CHENGDU IFS / JUICE GUANGZHOU/ JUICE TAIPEI / JUICE TAICHUNG / JUICE LOS ANGELES / JUICE HONOLULU / JUICESTORE.TW / JUICESTOREUSA.COM / JUICESTORE.COM / JUICE ONLINE WECHAT MINI PROGRAM