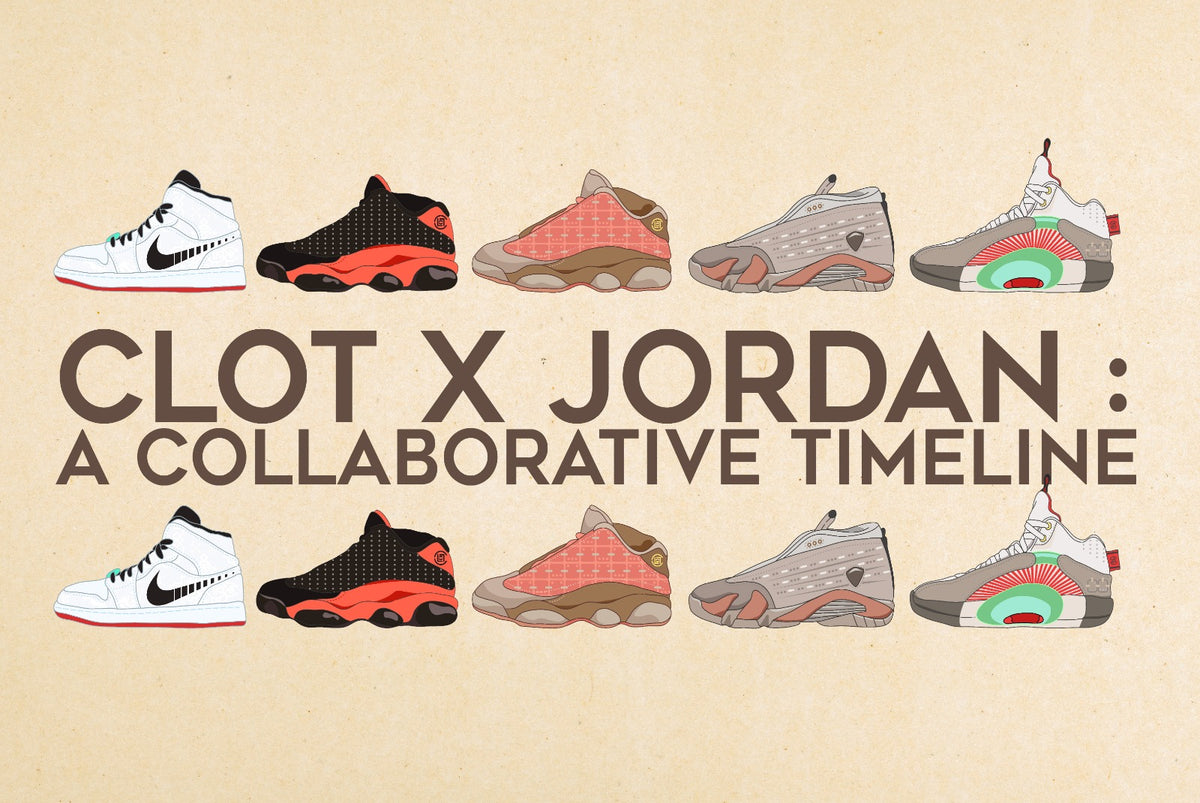 CLOT X JORDAN Brand: A Collaborative Timeline
Following a series of iconic releases, CLOT recently announced two new iterations of the Air Jordan XXXV and Air Jordan XIV silhouette as part of their on-going relationship with the Jordan brand, the CLOT Air Jordan XXXV "Warrior Jade." and the "CLOT Air Jordan XIV Low "Terracotta". Bridging the gap between East and West, CLOT's Chinese-inspired detailing tells a story that is rich in culture - now married with the legacy of the Nike Jordan brand.
Scroll down to take a look at our illustrated timeline of CLOT and Jordan's storied partnership by Mike Sunday!
2018 - The CLOT X Air Jordan XIII Low "TERRACOTTA BLUSH"
The CLOT X Air Jordan XIII Low "Terracotta Blush" marked the first of what would become many collaborations with Jordan and CLOT. The low-top silhouette drew inspiration from Chinese Terracotta Warriors. Layers of detailing were thoughtfully incorporated into the shoe - 3D chain-armor scales on the upper had a "Terracotta Blush" patina, chosen to resemble the pinkish hue of unearthed artefacts.
2018 - CLOT X Air Jordan XIII Low "INFRA-BRED"
Paying homage to its predecessor, Air Jordan 13 "Bred", CLOT's rendition fuses reflective 3M mesh with suede in a bold black and red colorway. The CLOT and Jumpman logos adorn the heel, tongue and sole.
2019 - Air Jordan I Mid SE Fearless Edison Chen
The Air Jordan I Mid SE Fearless Edison Chen is a part of the "Fearless Ones" Jordan series which celebrate Michael Jordan's spirited nature - all embodied in a range of "Fearless" Jordan shoes that were revamped by bold creatives.  The Jordan brand teamed up with CLOT Founder, Edison Chen to add his own personal twist to the classic Air Jordan silhouette. The exclusive Air Jordan 1 Mid SE featured woven nylon uppers in a sleek silver rendition of CLOT's Silk Royale pattern, the layer also peels off to reveal a hidden leather interior of black and gold.
2020 - Air Jordan XXXV x CLOT "Warrior Jade"
Releasing alongside the CLOT Air Jordan XIV Low "Terracotta," on February 8, the CLOT Air Jordan XXXV "Warrior Jade shoe is a highly limited release that marks a special new discovery in the CLOT x Jordan Brand expedition story. Chinese Jade is a highly prized and timeless symbol of Chinese culture, representing many positive attributes such as durability, purity and beauty. The Air Jordan XXXV is one of Jordan Brand's newest silhouettes, featuring the innovative Eclipse Plate and Zoom Air technology embodying Jordan Brand's core values of pushing performance and aesthetics.
2020 - AIR JORDAN XIV Low X CLOT "TERRACOTTA"
Following 2018's CLOT x Air Jordan 13 Low "Terracotta," the new Air Jordan XIV Low "Terracotta" features several elements inspired by its predecessor. The upper is once again clad with a Terracotta Warrior armor plate, with a subtle nod to Michael Jordan through its side panel where dots appear in twos and threes. Finishing off the shoe are bold laces and a traditional Chinese knot and coin hanging off the heel. A classic symbol of "如意吉祥," a Chinese idiom for prosperity and happiness, the added trinket is an ode to CLOT's Chinese heritage and a token to bring luck to the game. COMING SOON - February 8.
Illustrations by: MIKE SUNDAY, Instagram: @mike_sunday