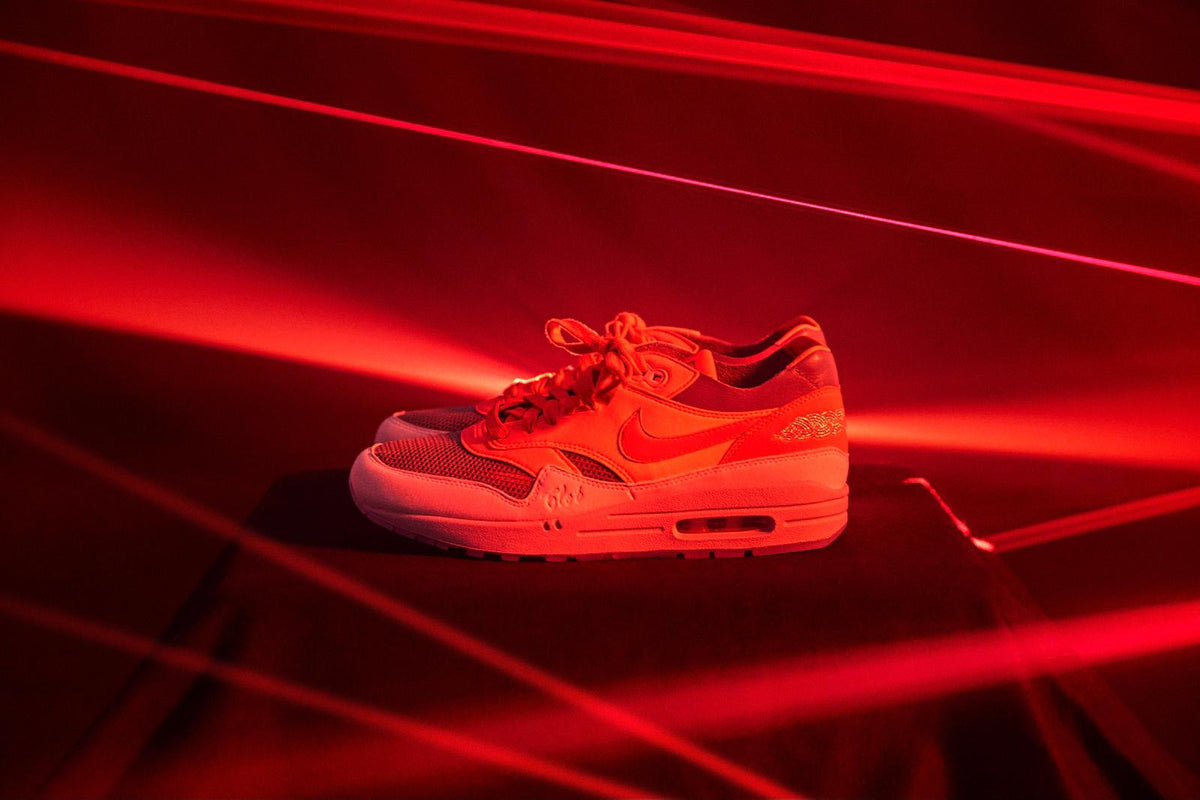 CLOT and Nike to Release the Legendary CLOT x Nike Air Max 1 "K.O.D." - SOLAR RED
CLOT rounds off its Nike Air Max 1 "K.O.D." legacy with the last pair ever - finalizing a history-making trifecta that will now include a wider release of the elusive and mysterious CLOT x Nike Air Max 1 "K.O.D." SOLAR RED. The "K.O.D." trilogy now includes the OG, CHA and SOLAR RED colorways - immortalizing CLOT's heritage status and history within sneaker culture. 
The CLOT x Nike Air Max 1 "K.O.D." - SOLAR RED taps into the historic past of CLOT that has led to its internationally-recognised success in bridging the East and West. The shoe takes inspiration from the extremely exclusive Air Max 1 "Kiss Of Death" in Pink that was designed for and worn by Kanye West during his "Touch The Sky" tour stop in Hong Kong in 2006, a show that was hosted by CLOT Founder Edison Chen and Kevin Poon. Thought to be something of a legend or a myth, the world had only known of several pairs in existence. 
The shoe's exclusivity was highlighted when Nike's now-defunct NikeiD program offered the same color options for the Air Max 1, and CLOT fans began making the shoe as a customization - forcing Nike to halt production of this specific color combination.
15 years after the elusive shoe came to be, CLOT is finally releasing the sneaker to the public. This time around, there are minor updates to its façade highlighted by the red reflective heel tab featuring golden embroidery. Paying homage to CLOT's Chinese heritage with a hit of red and gold, the shoes also come just in time for the 2021 Olympics.
With the same foot reflexology and pressure points influences that makes the "K.O.D." trifecta unique, this pair is slightly different with a sole that features a black and white footprint and a mesh toe cap. Its summer-ready colorway is bold with a bright neon pink-panelled upper, muted-silver mudguard with embossed CLOT branding on the side. 
The CLOT x Nike Air Max 1 "K.O.D." SOLAR RED will be available exclusively at official JUICE locations worldwide, online and through special pop-up activations only. Customers will be able to experience the full Solar Red experience at each selling door, mimicking the official campaign featuring CLOT Founder Edison Chen shot by renowned photographer Kenneth Cappello.
The shoe will officially launch on July 20 exclusively at JUICE locations, JUICESTORE App and JUICESTORE.COM (worldwide except Mainland China and Hong Kong SAR) and at special pop-up activations. Stay tuned to our social media accounts for the latest updates and more release details.
Pricing Information:
$1,099 HKD / ¥1,099 RMB / $4,900 NTD / $150 USD

Selling Doors:
JUICE THE BOX SHEUNG WAN (HK)
JUICE SHANGHAI (JULU RD.)
JUICE CHENGDU IFS
JUICE LOS ANGELES

Online:
JUICESTORE APP JUICESTOREUSA.COM JUICESTORE.TW

Pop Ups:
GUANGZHOU TAIKOO HUI XI'AN JOYCITY

#CLOT
#CLOTxNIKE
#AM1KOD
#KODSOLARRED