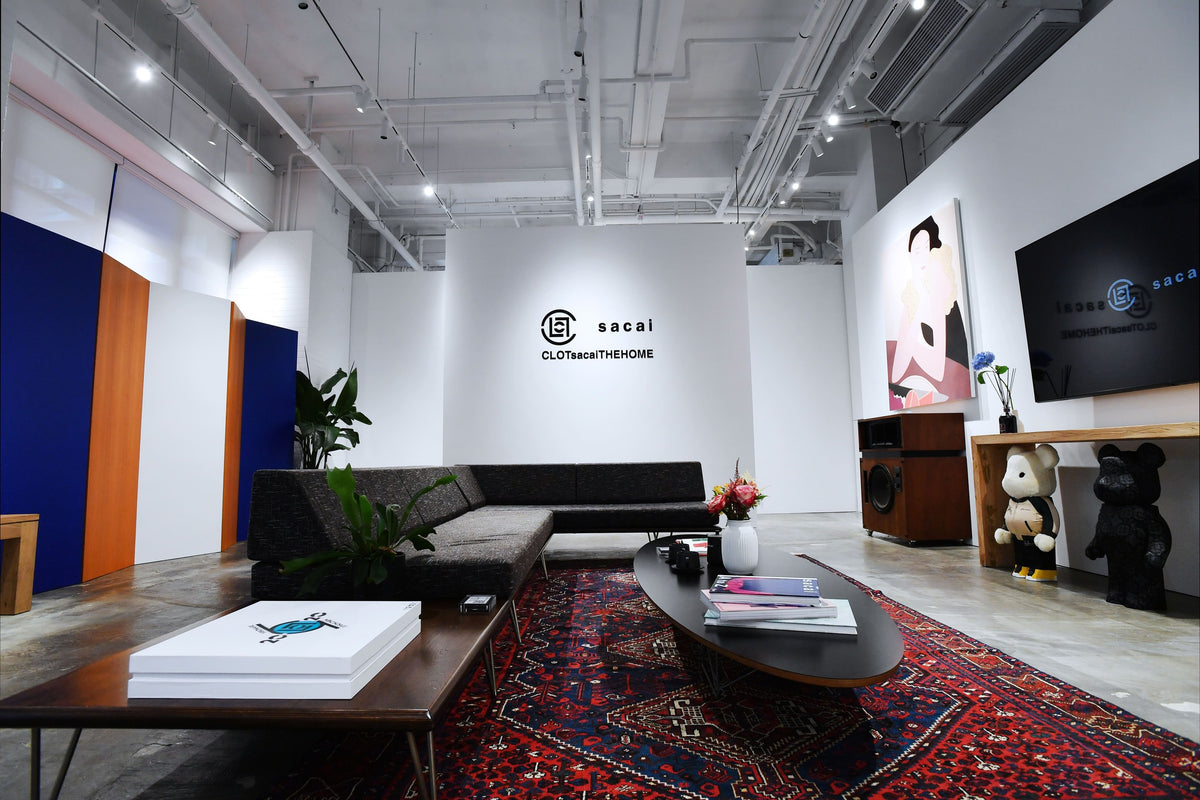 CLOT and sacai Debut CLOTsacaiTHEHOME Concept with Pop-Ups Around the World Celebrating the CLOT x sacai x Nike LD Waffle Collaboration
Our home is where our friends and family can be found, and a place to fully express yourself – which is why CLOT and sacai are opening up CLOTsacaiTHEHOME, a physical embodiment of the deep bonds between these two brands, to the world ahead of the upcoming launch of their highly anticipated sneaker and apparel collaboration.
"Both CLOT and sacai have done collaborations with Nike in the past, so the process was very smooth. Under the concept of remixing the LDWaffle, we created the design with CLOT's idea behind fabrics and coloring in mind," explains Chitose.
With two different colorways releasing, the CLOT x sacai x Nike LD Waffle naturally takes pride of place in CLOT and sacai's immersive experience. Much like the spliced design of the sneaker itself, the aesthetic of CLOTsacaiTHEHOME is conceived with an opposing harmony in mind, where the disparate influences and cultural environments of Edison and Chitose push and pull each other in new and exciting ways.
CLOTsacaiTHEHOME is a collaborative pop-up concept set to open globally on September 9th at #HAPi in Sheung Wan, JUICE Shanghai and Maxfield in Los Angeles. It is a testament to the longstanding friendship between CLOT co-founder and creative director Edison Chen and sacai's Chitose Abe, who are opening up their abode to friends and family alike. Here, fans and customers are able to experience the CLOT x sacai world in full. 
In CLOTsacaiTHEHOME, each room has been meticulously curated and styled by Edison Chen and Chitose Abe. This in-person experience merges the digital and physical realms through the method of unique storytelling, where the community is encouraged to express their aesthetic through the #CLOTsacaiTHEPEOPLE digital campaign.
The brand-new CLOT x sacai ready-to-wear capsule that was inspired by these colorways will be introduced alongside the new collaborative LD Waffle silhouettes, providing visitors with a chance to see these coveted items in person.
What's more, highly limited co-branded lifestyle items designed exclusively for the experience will drop exclusively at CLOTsacaiTHEHOME every week, giving the community more reason to come and inhabit the space, time after time.
"The concept for CLOTsacaiTHEHOME is just a representation of Chitose's and my personal preferences for the way we live and how that it looks. Chitose and I don't share the same tastes in certain things but we have a kind of connectivity somehow and it's an interesting dynamic," says Edison. "I think that's how we get along because we intrigue each other in ways that seem alien. Our similarities and qualities, passion and creativity are linear, but in no way are they alike in how we deliver or think."
By piecing together signature styles from both brands and creating something completely novel in this collaboration, both CLOT and sacai are sharing their homes with the hope of creating an unforgettable experience for customers around the world.
CLOTsacaiTHEHOME by CLOT and sacai is set to welcome the public in Hong Kong, Shanghai and Maxfield Gallery, Los Angeles from September 9 onwards. Stay tuned to our social media for more news and updates about CLOTsacaiTHEHOME along with more details on the co-branded merchandise available each week!
CLOTsacaiTHEHOME POP-UP STORE
Hong Kong
HONG KONG VISITORS MUST REGISTER VIEWING SLOTS HERE
Date:9/9/2021 - 10/10/2021
Time:12PM - 8 PM
Address:#HAPi G/F, Tower 125, Shop 2-4, No.11 Po Yan St, Sheung Wan

JUICE Shanghai
Date:9/9/2021 - 10/10/2021
Time:12PM - 9 PM
Address:832 Julu Road, Jingan Qu, Shanghai China

Los Angeles
Date:10/9/2021 – 11/10/2021
Time:11AM - 7PM Weekdays / 12PM - 5PM Sunday
Address:Maxfield Gallery, 8818 Melrose Ave., Los Angeles, CA 90069