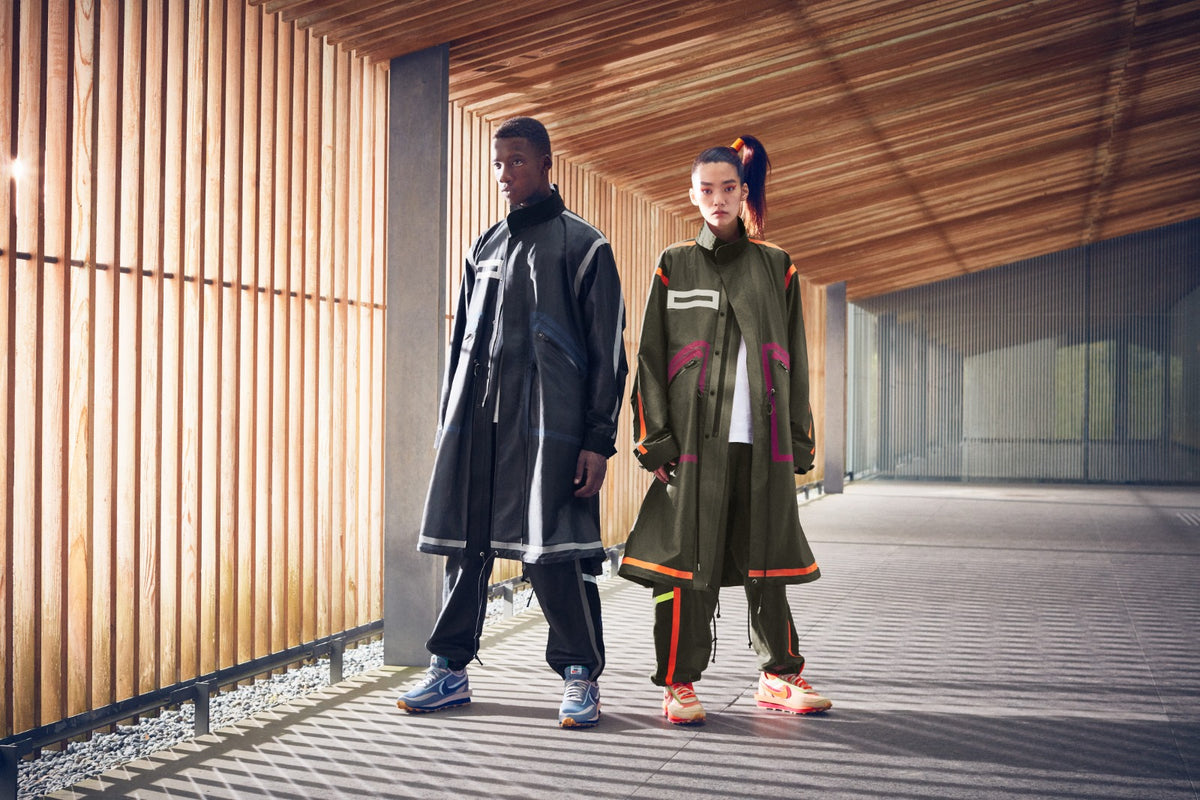 CLOT LINKS UP WITH SACAI ON CLASSIC LDWAFFLE SILHOUETTE
Born of a vision between CLOT Founder Edison Chen and sacai founder Chitose Abe, this ambitious three-way collaboration between CLOT, sacai and Nike marks the first time that these game-changing brands have partnered together. The joint venture demonstrates the creative synergies between the minds of Edison and Chitose, marking a longstanding partnership that has inspired and innovated for all those involved.
This highly anticipated double release from CLOT and sacai comprises two new colorways of the sacai-exclusive silhouette—the Nike LD Waffle.
The new additions take inspiration from two archival colorways from CLOT, resulting in a dynamic fusion with sacai's signature aesthetic that pushes the boundaries of sneaker design.
The first colorway takes cues from the CLOT x Nike Air Max 1 "Kiss of Death" colorway by combining hits of bright orange and deep red, as well as incorporating a translucent upper reminiscent of the original "Kiss of Death's" transparent toe panel. These accents are mixed with a suede beige toe cap and an orange snakeskin Swoosh overlaid on a deep red Swoosh. The orange and red theme continues in the layered sole, the double tongue and double laces.
Meanwhile, the second colorway is inspired by the Air Max 1 "Kiss of Death" follow-up released in 2013. Here, the main colors of obsidian grey and navy are similarly used throughout the silhouette and complemented by a translucent toe cap.
Carrying Edison and Chitose's combined vision further is a special ready-to-wear capsule collection that will launch alongside the sneakers. Designed for both men and women, the capsule features a mods coat and track pants in black and khaki, with contrasting seam tapes inspired by the three-way collaboration sneakers; a graphic tee with side zip fasteners, and eye-catching varsity socks in various colorways. Prominent "sacai / clot thing" branding is emblazoned on each of the designs.
To drive home the stylistic and historical bonds of these new releases, a campaign video will accompany the debut of the orange colorway. Shot at the minimalist Nakagawamachi Bato Hiroshige Museum of Art in Tochigi, the video juxtaposes the vivid hues of the sneakers with elegant floral timelapses that showcase the passage of time in relation to the rise and fall of cultures. In the process, it draws parallels with the ways in which CLOT and sacai splice and reassemble moments and cultural references into new and previously unimagined amalgamations.
The orange colorway is slated to debut on September 9 at JUICE and sacai locations worldwide. This will be followed by the release of the grey colorway at JUICE locations globally. Both will be featured at the CLOT x sacai "The Home" pop-ups around the world. Stay tuned to CLOT and JUICE social media channels for detailed release information.