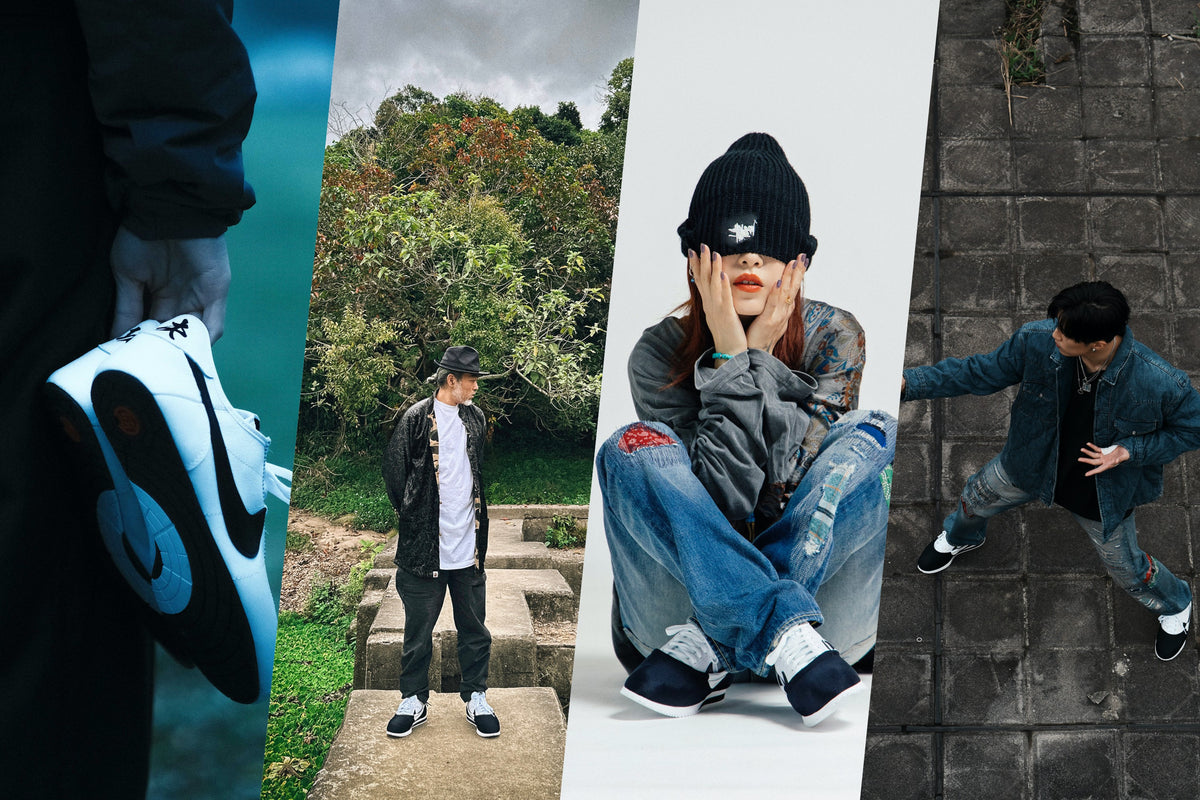 HOW OUR FAMILY AND FRIENDS ARE STYLING THE CLOT x NIKE "CLOTEZ"
An East-meets-West interpretation of the Yin-Yang philosophy and ancient Chinese martial arts, the CLOT x Nike "CLOTEZ" debuts as the latest collaboration between CLOT and Nike. Released globally on February 10, we asked the CLOT community to show us how they are styling their "CLOTEZ". See their answers below.
Russell Westbrook
Lakers's Russell Westbrook (@russwest44) styled his "CLOTEZ" with a top in matching hues and a pair of tiger camo patterned jeans from last year's CLOT x Levi's Year of the Tiger capsule. (image credit: @complexsneakers)
Sam Lee
Sam Lee (@becarefullee) opt for a casual ensemble including a khaki jacket and jeans, highlighting the versatility of the "CLOTEZ".
Mia Kang
Mia (@miakong) went for an East-meets-West look in a Chinese Jacket and drawstring pants, finished with ear hoops, bandana head scarf and of course, the CLOT x Nike "CLOTEZ".
Yuzuki
Yuzuki (@yuzuki_s) showed off the recently released CLOT x Levi's 501®, which she paired with a long-sleeve tee with traditional pattern, topped with a beanie and, last but not least, the new CLOT x Nike "CLOTEZ" for a standout finish.
ALLEN YANG
Opting for the Kung Fu shoe-inspired slip on, Allen Yang (@secallenyang) took his "CLOTEZ" for a morning stroll in head-to-toe sportwear. 
Chef
Chef (@chefcanrap) tapped into the inspiration of "CLOTEZ", and went for a full Tai Chi-inspired look, finished with a beanie for a modern flair.
MC Yan
MC Yan (@gudiii) also went for a look that boasts traditional Chinese flair. The choice of a brimmed hat and the CLOT x Nike "CLOTEZ", meanwhile, adds a subtle East-meets-West, old-meets-new vibe.
Shou
Shou (@shoumethemoneyxx) chose to style his "CLOTEZ" with a denim-on-denim look, featuring pieces from the CLOT x Levi's capsule. 
Price Information

CLOT x Nike "CLOTEZ"
HKD 999 / RMB 999 / USD 140

Selling Doors

JUICE CAUSEWAY BAY / JUICE K11 MUSEA / JUICE CENTRAL / JUICE SHANGHAI (JULU ROAD) / JUICE MARKET INNERCO COSMO CHENGDU / JUICE GUANGZHOU/ JUICE TAIPEI / JUICE TAICHUNG / JUICE LOS ANGELES / JUICE ONLINE WECHAT MINI PROGRAM / CHENGDU IFS WECHAT MINI PROGRAM / GUANGZHOU TAIKOO HUI WECHAT MINI PROGRAM / JUICESTOREUSA.COM / JUICESTORE.COM