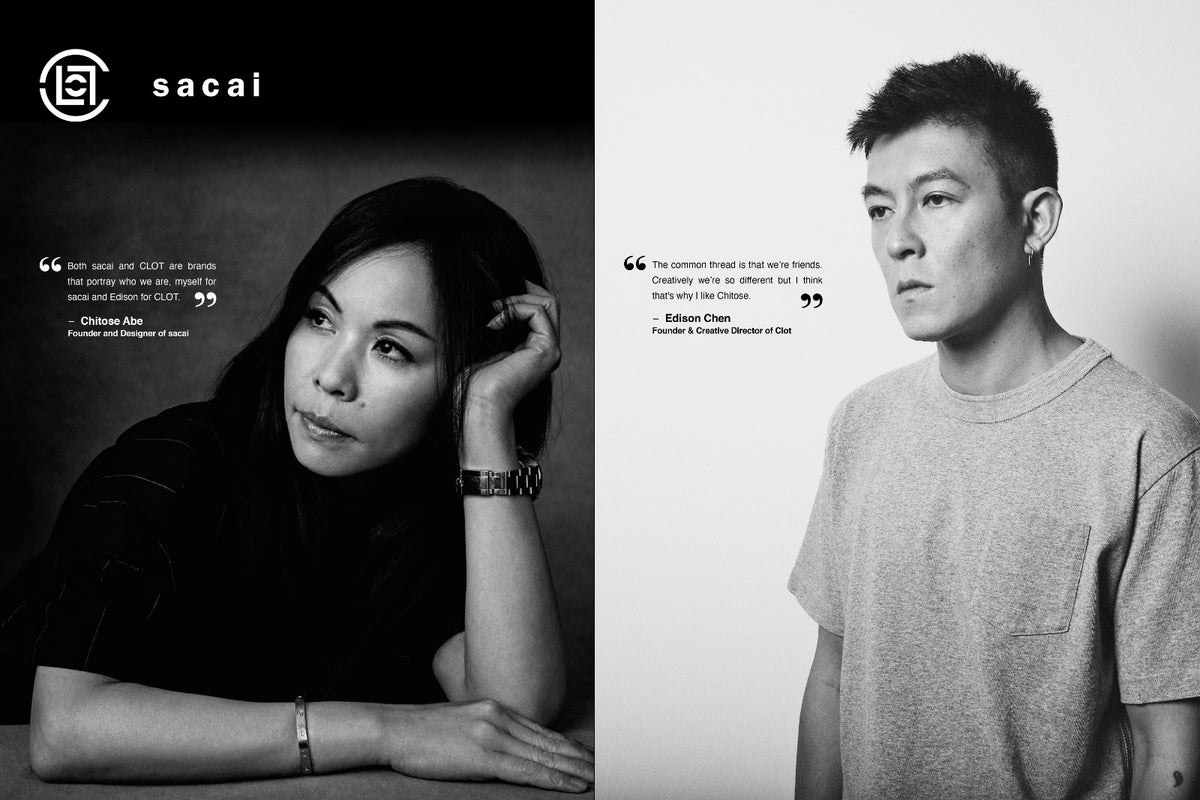 Apart and Alike: Edison Chen and Chitose Abe's Friendship of Opposites
With vastly different upbringings, personalities and styles, the two founders of CLOT and sacai seem like unlikely friends. Their track record of coveted collaborations says otherwise. 
Edison Chen and Chitose Abe like to do things their own way. Indeed, as creative directors of their own wildly successful fashion labels, CLOT and sacai, they've made a living out of this trait. Yet in carving their own way forward, these two creative leaders have, against all likelihood, struck an enduring friendship with each other, resulting in several collaborations that have shaken up the world of sneakers and streetwear each and every time.
"Creatively we're so different, but I think that's why I like Chitose," says Edison. "She in theory would go to two different parties and listen to different music and grew up a different way than I did – I think that's how we get along because we intrigue each other in ways that seem alien. I think our qualities, passion and creativity are linear, but in no way are they alike in how we deliver or think."

"Both sacai and CLOT are brands which portray who we are," Chitose adds. "We both try to break the norm, and we both have an identity in our clothes which stands out, and [which doesn't] rely on logos."
The friends first met at a fashion event in Paris, but it wasn't until Edison travelled to Japan for a summer vacation in 2015 that he and Chitose had the chance to get to know each other better.
Their synergy was such that, in 2018, the two decided to partner on a limited-edition co-branded tee and button-down shirt for CLOT's 15-year anniversary. Speaking of their approach to partnerships, Chitose explains, "We collaborate with people we can get inspiration from. We have fun and feel attracted working with people who have a different style from us."
The CLOT x sacai x Nike LD Waffle marks the second time that Edison and Chitose have collaborated. Comprised of two new colorways of the sacai-exclusive Nike LD Waffle silhouette, the collaborative sneaker takes cues from the CLOT x Nike Air Max 1 "Kiss of Death" from 2006, as well as the follow-up Hyperfuse edition in 2013.
"A little while back, when we did the CLOT x Hiroshi Fujiwara Air Force 1s with Nike, the success of that shoe got me asking sacai to do a triple name shoe too," Edison recalls. "We're just very lucky to be one of the three collaborators to work with them on a very iconic shoe that's resurfaced in the last two years, so it's interesting to be creating on a new silhouette as friends and partners."
"Under the concept of remixing LDWaffle, the design was created with CLOT's idea behind the fabric [choice] and coloring," Chitose elaborates. She hopes that the collaboration presents "something new and unordinary, and [makes people] feel excited for our collaborative work."
To better immerse fans in the minds of Edison and Chitose, the CLOT x sacai x Nike LD Waffle is launching at a spatial concept called THE HOME that is popping up globally in Hong Kong, Shanghai and Los Angeles. 
"The concept is just a representation of what Chitose's and my way of living looks like. We want to welcome you into our minds, obviously by creating products for everyone, but also welcoming you into our space," says Edison. "You'll see furniture and small little trinkets that we've created or stuff we have around our own workspace or home space. It's really just a fun interpretation of our worlds colliding in the ways where we do collide – because not everything we see is level with each other."
Get to know Edison and Chitose better with our quickfire interview with the two creative leaders below.
1. Whats your favorite color?
Edison Chen: Purple


2. Three words about your dream home?
Edison Chen: Island, palm trees, satellite TV.


3. First childhood memory that comes to mind?
Chitose Abe: My memory with fashion in my childhood days was wearing something different and having my hair done by my mother often.


4. Three reasons you love fashion?

Edison Chen: Passion, creativity, style.


5. If you weren't a creative, what would you be doing now? 
Chitose Abe: I can only think of being a creative.
Edison Chen: Broke as a joke


6. What's your most prized possession?
Chitose Abe: The sacai brand
Edison Chen: Alaia [Edison's daughter]


7. What's the first thing you do when you get home?

Edison Chen: Put my keys down.


8. Minimalism or maximalism?
Edison Chen: Minimalism.


9. The most recent thing you bought for your home?
Edison Chen: Air purifier.


10. What's your most favorite textile or pattern?
Edison Chen: Tex-Mex.


11. A book recommendation?
Edison Chen: How To Read A Person Like A Book, by Gerard Nierenberg and Henry H Calero.


12. Who are your favorite artists at the moment?
Edison Chen: Art is boring.


13. What do you do to relax?
Edison Chen: Work.


14. Coffee or Tea? 
Chitose Abe: Black coffee.
Edison Chen: Iced lemon tea from Hong Kong.


15. What do you cook best?

Edison Chen: Baked pork chop rice.


16. What's your most favorite scent?
Edison Chen: Lavender.


17. What's your most favorite time of the day?
Chitose Abe: Morning.
Edison Chen: Magic hour.


18. What's your favorite season?
Chitose Abe: Between autumn and winter.
Edison Chen: Summer.


19. Your most favorite season from your brand?
Edison Chen: Spring/Summer 2017's New Age Ethnic.


20. Music or art? 
Chitose Abe: Both.
Edison Chen: Music.


21. Pick three of your favorite songs.
Edison Chen: Ain't no fun, If the homies cant have none – Snoop Dogg
All of the lights – Kanye West
Lose yourself – daft punk 


22. What's your favorite travel destination?
Chitose Abe: Nothing in particular, but I visit Paris regularly to unveil my collection.
Edison Chen: Tokyo.


23. What's your favorite fruit?
Edison Chen: Strawberry.


24.What's your favorite dessert?
Edison Chen: Kakigori.


25. What's your favorite flower?
Edison Chen: Bird of paradise.


26. How would you define yourself in three words? 
Chitose Abe: Highly competitive and ambitious.
Edison Chen: Funny, unpredictable, loving.


27. What advice do you give young designers?
Chitose Abe: Be yourself, do something different.
Edison Chen: Be yourself.


28. Where do you look for creative inspiration?
Chitose Abe: I always have design and fashion in mind, so there isn't anything that I do specifically for creative inspiration, but everything I do ends up being an inspiration for design.

Edison Chen: My brain.


29. What do you enjoy doing outside of work?
Chitose Abe: I'm all about fashion at work and off work.
Edison Chen: Spending time at the beach.


30. Tell us about your personal style.
Chitose Abe: I always wear sacai, whether it's casual, grungy with a T-shirt and sneakers, or which a jacket or jumpsuit.
Edison Chen: Easygoing.


31. How is working in fashion different today than from when you started out?
Chitose Abe: I am confident that the quality of our creations is much better in terms of material, pattern work and manufacturing. But we still have the independent and free mindset which we've had from the start.

Edison Chen: I'm a different person.


32. What's your most memorable moment?
Edison Chen: The birth of Alaia.


33. What risk would you take if you knew you could not fail?
Chitose Abe: I like to challenge and recover against the odds. Failing is something inevitable, so I enjoy the process of making improvements.
Edison Chen: NBA basketball try-outs.


34. If you could travel anywhere now in the world, where would you go?
Edison Chen: Egypt.