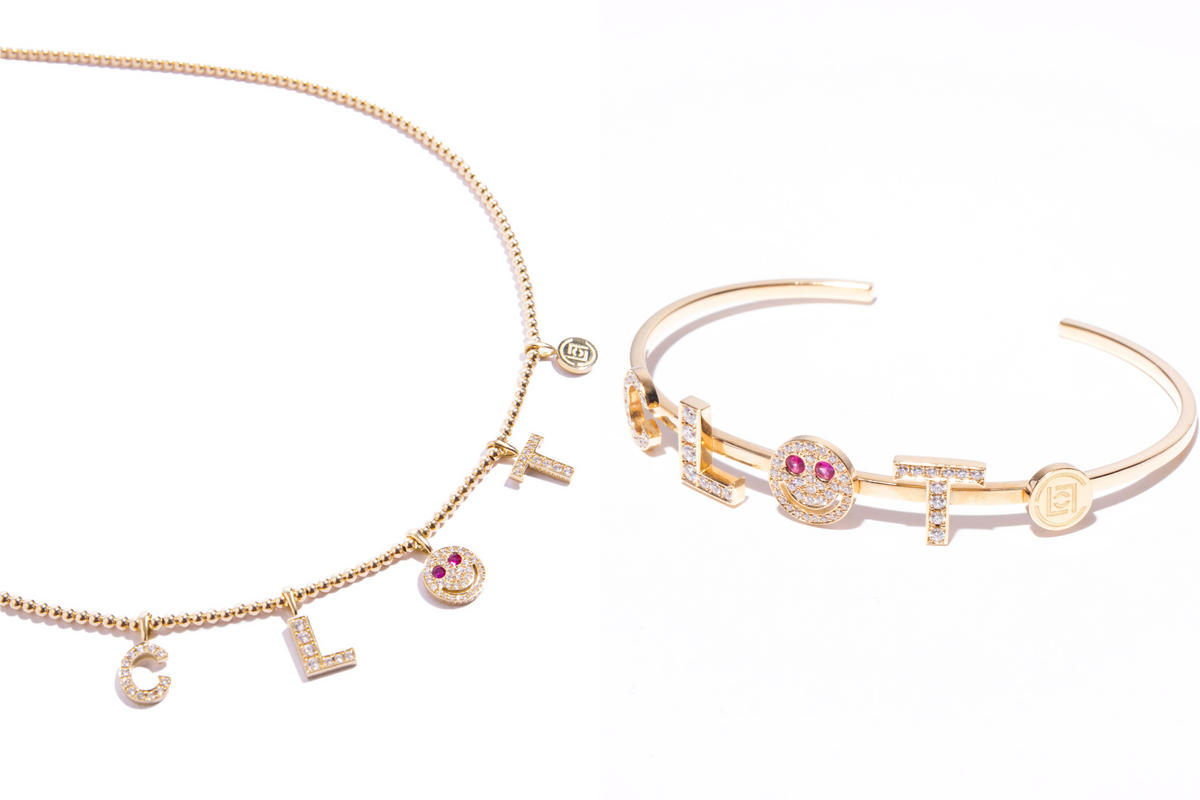 CLOT X EYEFUNNY Releases Limited Edition Collection!
CLOT and EYEFUNNY have teamed up for the release of a diamond necklace and bangle with an EYEFUNNY twist! Limited to a production of only 10 of each, the collector's pieces feature the signature smiley design with pavé-set diamonds of the highest grade of clarity, VS and VVS. Each piece is produced in Japan and is crafted entirely out of 18k Yellow Gold.
The limited-edition CLOT x EYEFUNNY necklace and bangle will be available for pre-order on 6th September at www.juicestore.com!
Diamond jewellery designs are Jury Kawamura's speciality, the designer once said in an interview, "...diamonds are a woman's best friend, but they can also [be a] best friend for men because diamonds are the most beautiful object in the world and I think we need to share that kind of beauty from the Earth". 
The founder first established his brand EYEFUNNY in 2003, which was only available in Japan until recently. This year, Kawamura's unique designs took Paris Fashion Week by storm. Japanese street style figurehead, Motofumi "POGGY" Kogi showcased EYEFUNNY's glittering designs in his Paris showroom 'Poggy's Box' alongside an impressive lineup of rising Japanese brands like United Arrows & Sons and MIYAGIHIDETAKA. 
The designer's fondness for diamond jewellery began long ago, he expressed "I had nothing at the beginning - only my passion for jewellery and arts." says Kamuwura on the origins of his label. "In 2003, there weren't any brands that were producing jewellery with diamond smiley face motifs - so I decided that I needed to design it for myself and the people around me, with the purpose of bringing happiness to the wearer." Now 17 years old, EYEFUNNY now has three stores in Tokyo and one in Osaka.
EYEFUNNY's fun concept is evident throughout their product line, icing out necklaces, rings, watches, bracelets and earrings in diamonds with exceptional quality. The designer takes great pride in the diamonds he uses with a preference for VS and VVS white diamonds which have the highest grade of clarity to the naked eye. Kawamura's work is largely based on his own experiences in life, expressing his elements from his travels, art, people and nature through his intricate designs. Although his output is prolific, he has only begun to show a fraction of his designs internationally. Each piece is hand-made to reflect Kawamura's principles and blends Japanese aesthetics and craftsmanship and finest materials to, in his own words, uncompromising beauty right down to the smallest detail".
Having worked with renowned Parisian boutique colette for 7 years, Kawamura recalls "At the time, they were the only store wanted to work with." upon colette's closure at the end of 2017, he says "We had to consider new ways to showcase and take our designs overseas". While EYEFUNNY's designs are only available in Tokyo and Osaka currently, "We do plan to start collaborating with partners around the world through pop-ups".
EYEFUNNY's collaboration with CLOT came about in the most natural of ways. "The first time I met KP [Kevin Poon] was in Tokyo. Since then we have met again when he visited Tokyo again and when I visited Hong Kong. It was only natural that we began discussing a CLOT collaboration with EYEFUNNY when we were both in Paris".
Having shown his products at Paris Fashion Week this year - "It's one of the biggest turning points for any designer from Tokyo, especially as a jeweller." EYEFUNNY's designs have since been spotted on big names like Samuel Ross, Daniel Arsham, Kim Jones, Ronnie Fieg, Miguel, Dr Woo, David Fischer, Poggy, Chiara Ferragni, Aleali May and Don C. The designer brings up his friendship with Columbian Reggaeton singer, J Balvin in particular for whom he created one of his most memorable pieces to date. When asked about his most memorable custom piece the designer reveals "We are not a custom jeweller, normally we create something new out of my designs. J Balvin has been a great fan of my work and asked if he could have a piece that had rainbow colours. I swapped out a few diamond letter charms to spell out 'AMOR' with my signature smileys on a chain. He loved it!" Despite his growing celebrity clientele, his favourite work remains the ring he created for his wife.
Scroll down to see the collaborative CLOT x EYEFUNNY release and more!
The bangle and necklace are available for pre-order online with limited supplies.