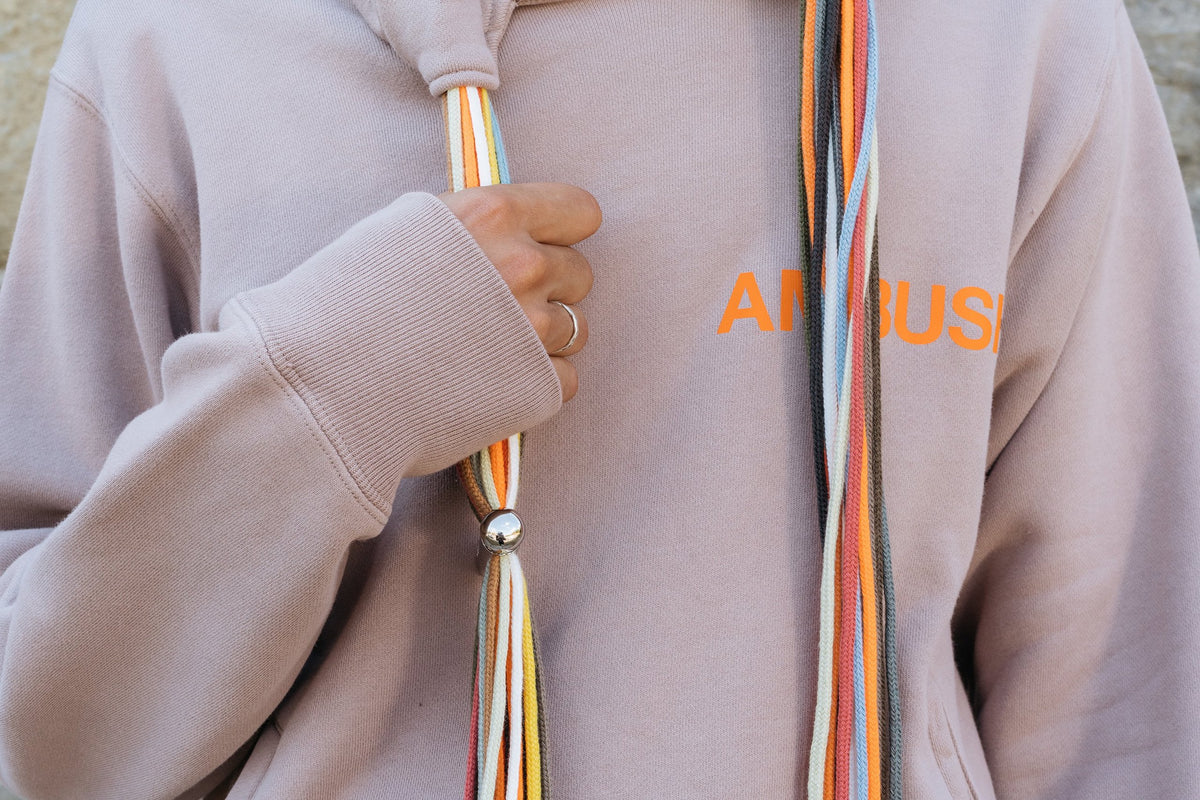 The Wrap Up - Final Drops for 2019
The holiday season is a time to be seen, so looking your best is mandatory. As we step into the final month of 2019, we want to wrap up the year with momentum and bring you a curated list of last-minute releases from some of our favorite brands that would make great Christmas gifts, whether it's for yourself or your loved ones.

AMBUSH - Multi Cord Hoodie

The Multi Cord Hoodie has been one of Yoon Ahn's most recognizable creations since AMBUSH's beginnings. The vibrant drawcords on the hood make a simple yet bold statement, so you can be as loud or as understated as you want with this on. Combine it with an off-the-wall accessory from the brand, like the Lighter Case Necklace or the Security Tag Pin, to complete the look.


John Elliott - Ebisu Sweatpants

A pair of quality sweatpants is essential throughout the year, but especially during the holiday season. On the recovery days after wild nights out, these slim tapered Ebisu Sweatpants from John Elliott will keep you comfortable while looking sharp, and they will do the trick whether you're going out or lounging at home. Make it a cozy outfit when you wear it with the Hooded Villain from the same collection.


Aries - No Problemo Sweat

The No Problemo print is synonymous with Sofia Prantera's Aries, a brand that thrived because of its feminine edge - a rare commodity in the world of streetwear where so many products are made with men in mind. Make a statement with this versatile sweatshirt and layer up with different pieces to create a unique look of your own.


United Standard - Factory Progresso Hoodie

Giorgio Di Salvo's Milanese label always brings designs to life with aesthetics and functionality in mind, and this hoodie is the perfect embodiment of both values. The concept behind the collection is essentially an industrial laser rave, and by combining technical fabrics, defined graphics, and visible detailing, you can complement any party outfit with this bold yet understated piece.


Awake NY - Egyptian Button Down Shirt

The latest delivery from Angelo Baque encompasses a variety of items featuring the Awake NY's staple vibrancy and standout prints. One of our favorite pieces from the collection is this black silk button-down with an all-over hieroglyphic print, demonstrating the unique cultural sensibilities of New York City effortlessly as the brand has consistently done through the years.
Napa by Martine Rose - Striped Faux Shearling Shirt Jacket

Continuing the long-standing relationship between Martine Rose and Napapijri, the latest collaborative capsule breaths new life into archival materials with DIY inspired elaborations. If you are assembling a vintage look, this cozy Striped Faux Shearling Shirt Jacket with an eye-catching hand-drawn striped print will definitely be the cherry on the cake.
Medicom Toy x fragment design - FRGMT 2019 T-Shirt

We've all seen the insane Baccarat crystal BE@RBRICK by Medicom Toy and fragment design, and it's not easy getting your hands on that coveted piece. However, you can still own a piece of history as Hiroshi Fujiwara flexes his creative muscle to create another collaboration with the legendary toy company. Represent with this printed FRGMT 2019 T-shirt, featuring the iconic BE@RBRICK silhouette and fragment design's lightning bolts.
Photos by: JUICE, Rooted