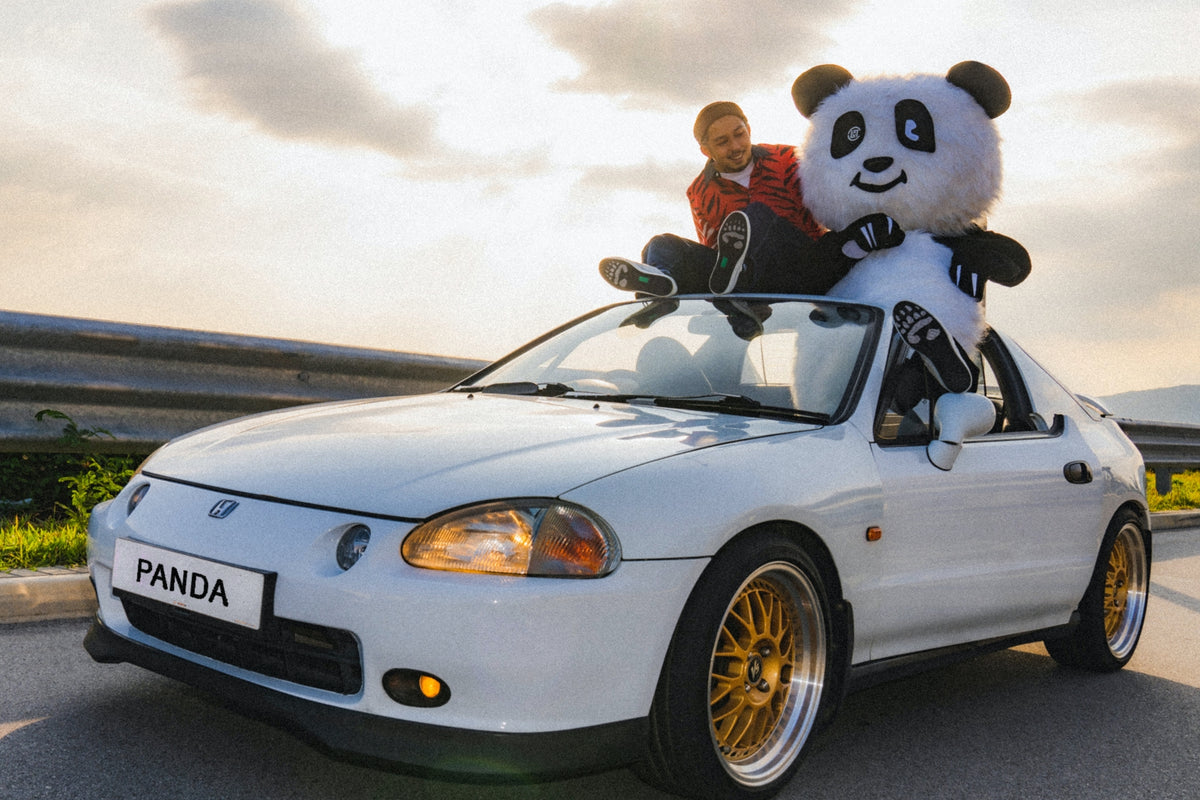 FOLLOW CLOT PANDA NING NING ON ITS FUN ADVENTURES IN THE HUMAN WORLD
CLOT has recently introduced its panda mascot, Ning Ning, kickstarting a month-long campaign in support of panda conservation initiatives in China and the world.
After launching a #CLOTPandaDanceChallenge on Instagram and Douyin, Ning Ning has continued on with its mission to spread kindness and positivity all around. With a warm and fun-loving nature, it didn't take long for Ning Ning to meet new friends along the way, expanding the CLOT Panda community with all who have offered nothing but love, care and friendship as it embarks on a series of adventures in the human world. 
Scroll down to see what Ning Ning has been recently up to. 
HOW TO BE A COOL PANDA
A CLOT panda with a curious yearn for great style, Ning Ning reckons there is more to the formula of being a cool panda, and decided to set off to the human world for new experiences—not without its CLOT x Converse Chuck 70 Hi of course!
SKATEBOARD FUN
 "Today I went exploring and discovered something humans do for fun called 'skateboarding'," says Ning Ning. Always up for fun-filled challenges, Ning Ning hit the ramp for a go at skateboarding. Thanks to the guidance of his new friends and lots of practice, it appears Ning Ning has made some major progress! "My new friends taught me that no matter how many times you fall, it's how many times you get back up that counts."
WORK IT
"I didn't gain a six-pack but I gained new friends," says Ning Ning. Curious to learn what physical wellness is all about, Ning Ning hit the gym to warm up its muscles. With zero fitness experience, the CLOT panda made some friends who offered to help throughout the session. "Little steps make a big difference, we are all beautifully unique!" 
So Fresh, So Clean!
Drenched in sweat after a hardcore workout session, Ning Ning wanted to freshen up by doing some laundry. To its delight, a new friend was there to help out with the process of managing the washing machine.
 ON THE ROAD
"There's nothing better than going on an epic adventure with good friends," says Ning Ning. Wondering where it should go next, Ning Ning has decided to hitch a ride and see what kind of adventure lies ahead. Driving down the road under the sunset, Ning Ning enjoyed the sweeping breeze and breathtaking view with its new friend. 
MOVE and GROOVE!
They say music and dance are the key to boosting your mood and lifting your spirits, so Ning Ning gathered all its new friends for a dance party, where everyone flexed their moves over joyful tones, ending its adventure on a high note. 
The CLOT x Converse Chuck 70 Hi and Jack Purcell Ox, as seen on Ning Ning and its friends, are set to launch at JUICE selling doors worldwide from November 11, 2022.
PRICE INFORMATION
CLOT x Converse Chuck 70 Hi
HKD 999 / RMB 899 / NTD 3,980 / USD 130

CLOT x Converse Jack Purcell Ox
HKD 959 / RMB 849 / NTD 3,580 / USD 120

SELLING DOORS
JUICE CAUSEWAY BAY / JUICE K11 MUSEA / JUICE CENTRAL / JUICE SHANGHAI (JULU ROAD) / JUICE CHENGDU IFS / JUICE GUANGZHOU / JUICE TAIPEI / JUICE TAICHUNG / JUICESTORE.TW  / JUICESTORE.COM /
JUICE ONLINE WECHAT MINI PROGRAM

COMING SOON
JUICE LOS ANGELES / JUICESTOREUSA.COM