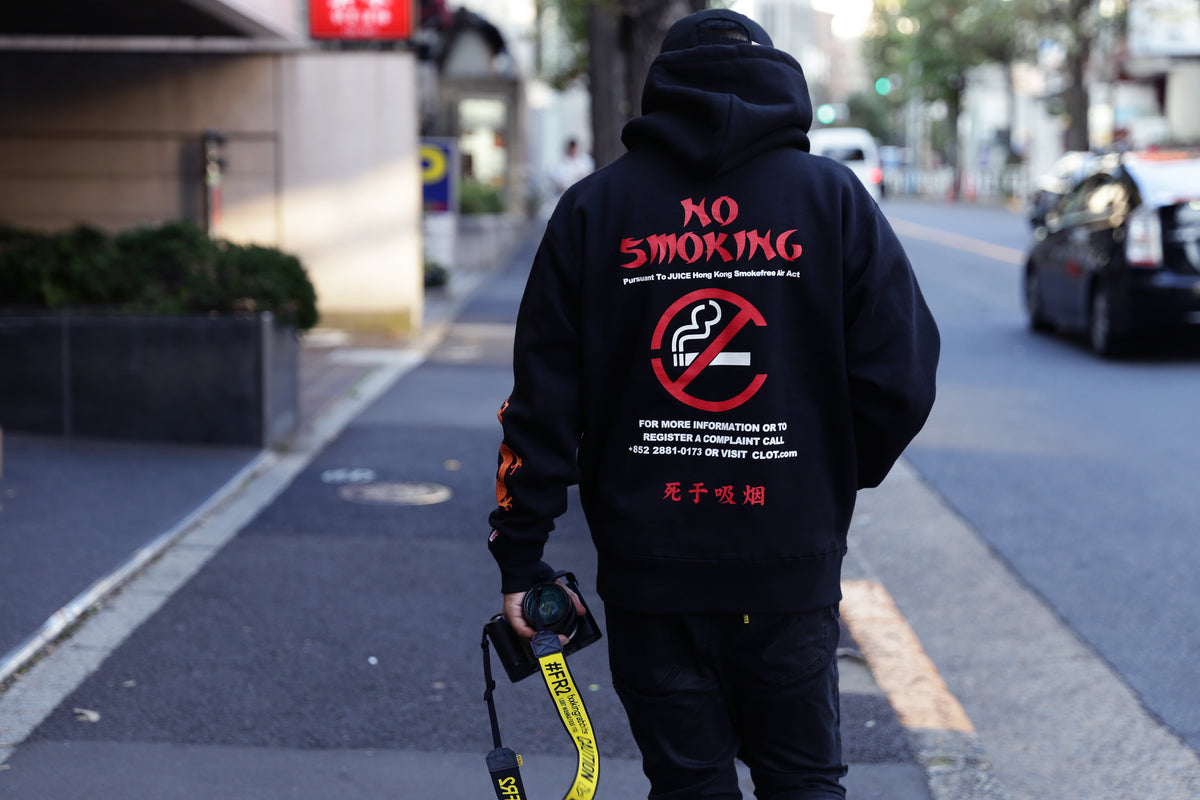 From The Lens of Ryo Ishikawa: The Story Behind #FR2
Ryo Ishikawa on Merging Photography, Eroticism and Rabbits in Fxxking Rabbits
"Smoking kills," provocative imagery and… bunnies? Admittedly random, but a trifecta that defines Fxxking Rabbits, a Japanese streetwear brand merging the lines between photography, design and fashion. The brainchild of Ryo Ishikawa, Fxxking Rabbits (or #FR2 for short) came about as a passion project in 2014. Taking on an alter-ego, #FR2 is a Leica-wielding rabbit photographer with an eye for scantily-clad models. The brand itself is an extension of the #FR2 rabbit, a range of apparel branded with bold graphics that the rabbit photographer wears himself.
Despite being a relatively new label, you've already heard of Ishikawa. He first made a name for himself as the mastermind behind VANQUISH - the menswear label started in 2004 that established a huge fanbase. Having collaborated with all the big names such as adidas, Stüssy, fragment and Converse (just to name a few), VANQUISH is one of those Japanese labels that you just have to know. Ishikawa went on to do DENIM by VANQUISH & FRAGMENT, a project with another Japanese streetwear icon - Hiroshi Fujiwara.
According to Ishikawa, VANQUISH is an exploration into a "stylish masculine ideal," something that is "clean and decent." Well, Fxxking Rabbits throws that out the window and offers bold illustrations of… well, f*cking rabbits. Aside from that, the brand is known for its popular "SMOKING KILLS" slogan and print. These ultra-recognizable graphics lay the basis for the brand, but its raunchy editorials and images are just as important - think semi-nude women wearing just a #FR2 T-shirt, making for erotic images. According to Ishikawa, "I think that nowadays, imagery is the main way of the communication in the world. I have always liked shooting pictures from the start so that's why I wanted to start #FR2 as a photographer's brand."
As for the emphasis on eroticism, it's simple. "Most people, especially men, love erotic things wherever you are from!" And because Ishikawa wanted Fxxking Rabbits to be an international brand, an affinity for eroticism was the one common thread that he chose to focus on.
"Eroticism or dirty things or.. you know, these kind of things are worldwide. So using these kind of 'erotic' designs are really natural to me."
Ishikawa chose to focus on rabbits for multiple reasons. One, he's born in the year of the rabbit. Secondly, rabbits are known for being super sexually active. "That's exactly my style, so the rabbit is the best choice in many ways." Well, it doesn't get as literal as "Fxxking Rabbits."
His other graphic is the recognizable "SMOKING KILLS" logo, one that was inspired by Ishikawa's own journey to quit smoking. However, the story behind his journey to quit ties in nicely with #FR2's own brand identity too. While you might expect Ishikawa to have quit because of… well, health reasons, that's completely not the case. Surprisingly (or maybe not, depending on how you want to look at it), Ishikawa was inspired to drop the habit because of a famous female figure in Japan who told him that if he quit smoking, she'd have sex with him. Whether Ishikawa sealed the deal or not he didn't say, but the habit was kicked ASAP.
The graphic itself then stuck. Ishikawa laments that Japanese men have an affinity for cigarettes not only as a bad habit, but as a way to look cool in photographs. So the bold "SMOKING KILLS" logo is a jarring image if worn by someone smoking, an effect that Ishikawa thinks makes for a "fun gap," much like those shock images found on innocent cigarette packaging.
So bold graphics and eroticism built the foundation behind Fxxking Rabbits, but the outlet is an expression of Ishikawa's other passion aside from fashion design - photography. An avid and well-known Leica fanatic, Ishikawa is loyal to his Leica SL, M10 and Noctilux 0.95. And when we say loyal, we mean loyal. Ishikawa is known for only using the German brand. He loves his Leica SL because of its ease to use, but also prefers the M10 as it embodies "traditional Leica greatness" and is compact. His other baby is the Noctilux 0.95, an expensive lens, therefore isn't as widely used. And according to Ishikawa, is completely different from other lenses.
It's obvious, but Ishikawa's favorite subjects to photograph are women. He loves capturing females in their most natural form, saying, "When I'm taking photos of girls, I think they are beautiful as they are. So I don't use flash and only natural light. I'm trying to take pictures as they are, just the way they are." Ishikawa is also particularly fond of his muse, @michopa1013, a model who often appears in his Instagram rocking #FR2 apparel. Since Fxxking Rabbits blew up, Ishikawa is able to live out his dreams as a photographer, which he says is to travel around the world and take more pictures of cute girls. But ultimately, the designer has found himself in the perfect junction in life. While VANQUISH is for more serious designs, Fxxking Rabbits allows him to have a little more fun. It also gives him the perfect platform to flex his photographer muscles, and of course, meet cute girls.
Checkout the exclusive photos for FR2 x CLOT below. The Hong Kong and Taiwan pop up at The Box is open until November 22nd. 
Words by Helena Yeung