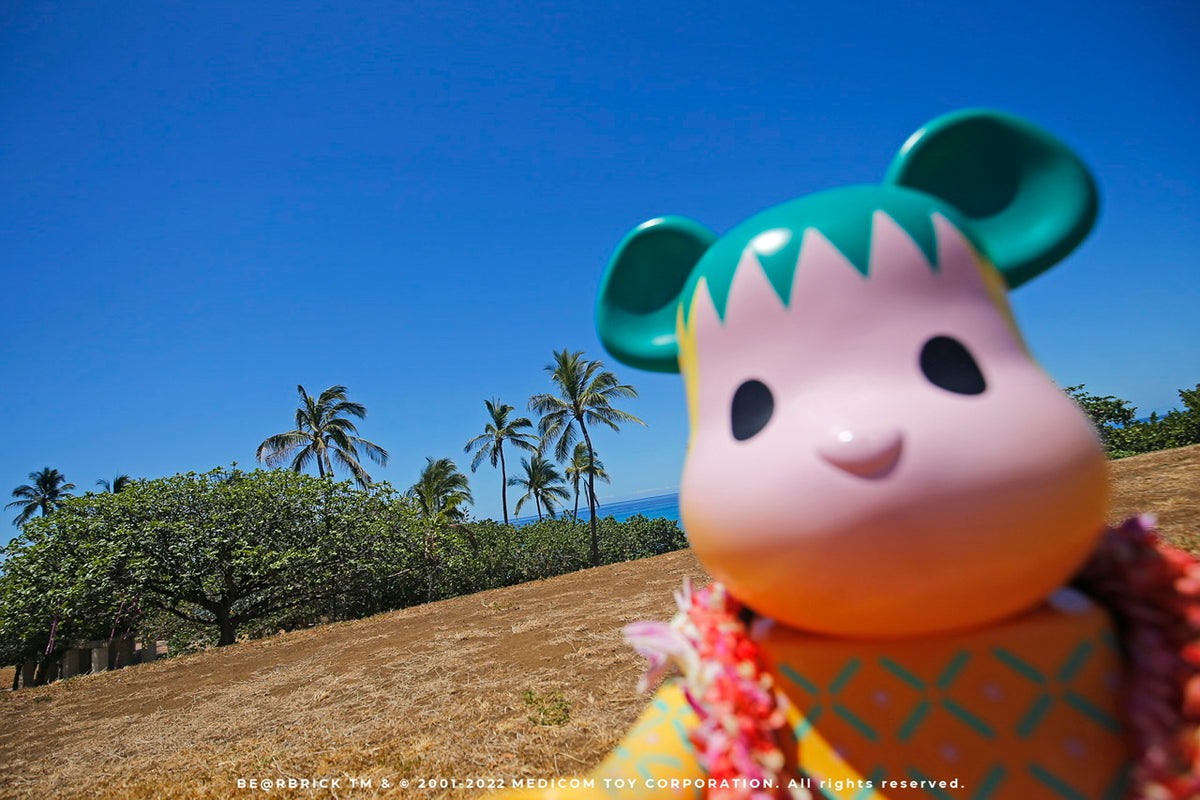 HAWAIIAN TRAVELS WITH THE CLOT x MEDICOM TOY BE@RBRICK "SUMMER FRUITS" PINK PINEAPPLE
As we anticipate the soft opening of JUICE Honolulu on August 19, 2022, the CLOT x MEDICOM TOY BE@RBRICK "SUMMER FRUITS" PINK PINEAPPLE has arrived at the shores of Honolulu and enjoying its time travelling to some of the top locations in the neighborhood before its pre-release drop (FCFS) at the new JUICE store on opening day. Scroll down to see where your favorite bear has been wandering to as it visits some of the top travel spots in the area. 
Global online raffles for the CLOT x MEDICOM TOY BE@RBRICK "SUMMER FRUITS" PINK PINEAPPLE runs for 24 hours only from August 17, 12pm local time. Head here for full raffle details. 
Waikiki Beach
Once a playground for Hawaiian royals, the neighborhood of Waikiki today is Oahu's main hotel and resort area, packed with world-class hospitalities that line its famous beaches. The most iconic one of all is, without a doubt, the crescent Waikiki Beach.
Set against the stunning backdrop of Diamond Head, Waikiki Beach is one of best places in the world to chill, swim and surf not only because of its beauty, but also for its calm waters that make it the perfect learning place for surf beginners. In fact, these waters were precisely where legendary Duke Kahanamoku—five-time Olympic medal-winning swimmer globally honored as 'the father of modern surfing'—taught visitors the ancient Hawaiian sport of surfing in the early 1900s, before he popularized it across the United States and into Australia. 
Tantalus drive
Capture the panoramic views of everything from the Diamond Head and Waikiki on the east, to the Honolulu International Airport and Pearl Harbor on the west at the Tantalus Drive—a ten-mile hillside loop leading up the top of Mount Tantalus
The drive dates back to 1892 and was completed—after 25 years and through four governments—as a gravel road in 1917, before canopy-paved in 1937. In 2007, a seven-mile stretch of the road was put on the State Register of Historic Places, and the national register in 2009.
Apart from the breathtaking views, the scenic drive is also packed with steep inclines and hairpin turns, making it a famous spot for car drifting. 
Aloha Tower
Standing tall in its Hawaiian Gothic charm at Pier 9 of Honolulu Harbor, the Aloha Tower has been a landmark of Hawaii since 1926. Once the tallest structure across the islands, the now retired lighthouse was a guiding beacon for vessels for four decades, greeting hundreds and thousands of immigrants with its large A-L-O-H-A letters at the top.
King Kamehameha Statue
Standing in front of Aliʻiolani Hale—also Hawaii State Supreme Court—is an 18-foot bronze statue of King Kamehameha I (1756-1819) commissioned and dedicated in 1883 to honor the great warrior, diplomat and, most importantly, Hawaii's first king who united the Hawaiian Islands into one royal kingdom in 1810.
Sculpted by Thomas Gould in Italy, it is one of Oahu's most photographed landmarks, which depicts Kamehameha in his royal garb while holding a spear on his left hand to symbolize the kingdom's willingness and ability to defend itself from hostile nations and, on his right, the welcoming gesture of aloha.
Fun fact: There are four commissioned statues that stand to honor Hawaii's first king. While the one at Aliʻiolani Hale is the most recognized, it was actually the second statue created. The original statue sank during its travels at sea to the islands, hence was recasted and dedicated. When that first piece was eventually recovered and brought to Hawaii, it was erected in North Kohala near the birthplace of King Kamehameha. Meanwhile, the third piece is located in Hilo, and the fourth in Washington D.C.
Kakaʻako Waterfront Park
Situated just down the street from JUICE Honolulu is the Kakaʻako Waterfront Park, which spans 35 acres of swaying palm greens, grassy hills and paved waterside pathways overlooking the shimmering turquoise water at popular surf spots including "Point Panic" and "Flies". 
Excellent facilities from car parking to restrooms, picnic tables and even an amphitheater are all available to be enjoyed for free, making it an excellent location for leisurely strolls during sunset, and to enjoy a family picnic or even a day of shoreline fishing as you take in the striking scenery. 
The CLOT x MEDICOM TOY BE@RBRICK "SUMMER FRUITS" PINK PINEAPPLE is set to launch worldwide on August 20, 2022. Check here for full raffle and launch details. 
PRICE INFORMATION

CLOT x MEDICOM TOY BE@RBRICK "SUMMER FRUITS" PINK PINEAPPLE (1000%)
HKD 4,800 / RMB 4,280 / NTD 19,800 / USD 650

CLOT x MEDICOM TOY BE@RBRICK "SUMMER FRUITS" PINK PINEAPPLE (100% & 400% set)
HKD 1,300 / RMB 1,180 / NTD 5,580 / USD 170

SELLING DOORS

JUICE CAUSEWAY BAY / JUICE SHANGHAI (JULU ROAD) / JUICE CHENGDU IFS / JUICE GUANGZHOU / JUICE LOS ANGELES / JUICE HONOLULU / JUICESTORE.TW / JUICESTOREUSA.COM / JUICESTORE.COM / JUICE ONLINE WECHAT MINI PROGRAM