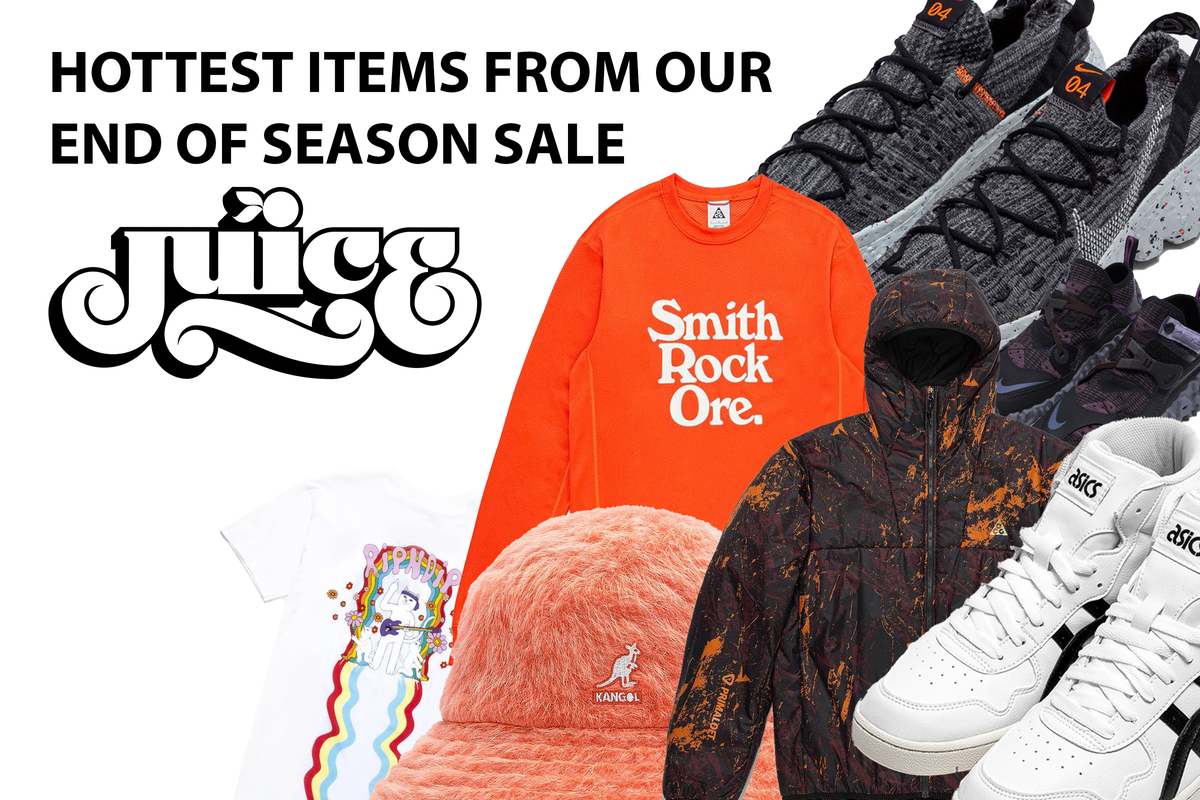 Hottest Items This End of Season Sale!
The final sale of the year is almost over, take a look at our selection whilst you still have a chance! This Fall-Winter 2020 you get 30% off on select pieces from streetwear to high-end luxury. Hottest items this end of season include brands such as CLOT, CLOTTEE, Vans, Nike, Asics, Kangol and RipNDip. We'd like to give you some inside information on what's hot, we've compiled below a selection of the pieces that have been trending most at JUICE, check it out before its sold out or before the End of Season Sale ends! 
CLOT x EU - Crazy Sexy Cool S/S T-Shirt (Red)
TLC-themed Hip-Hop & RnB streetwear inspired by the album 'CrazySexyCool'
CLOTTEE - Phoenix S/S T-Shirt (White)
From CLOTTEE's "Dim Sum" Collection
Vans x The Simpsons - UA Old Skool
Collab between skate footwear brand and a world-renowned cartoon
Nike - Overreact Flyknit ISPA
A sock-like construction create an extremely comfortable feel 
Nike - Space Hippie 04 (Black)
Challenging the norms of footwear through environmental impact
Asics - Japan L
 Based on a silhouette from their previous shoe in 1981
Nike - AS M NRG ACG Gift Shop Perf L/S T-Shirt (Orange)
Breathable and lightweight technology for a versatile fit 
RipNDip - Groovy Nerm T-Shirt (White)
 Featuring the mascot Lord Nermal in psychedelic aesthetics
RipNDip - Ranger Nerm Pocket T-Shirt (Black)
 RipNDip mascot Lord Nermal explores the jungle and you should too.
Kangol - Furgora Casual (Orange)
 The biggest OG, worn by many in the Hip-Hop game
Nike - NRG ACG Rope De Dope Men's Jacket (Burgundy)
Functional, lightweight and warm