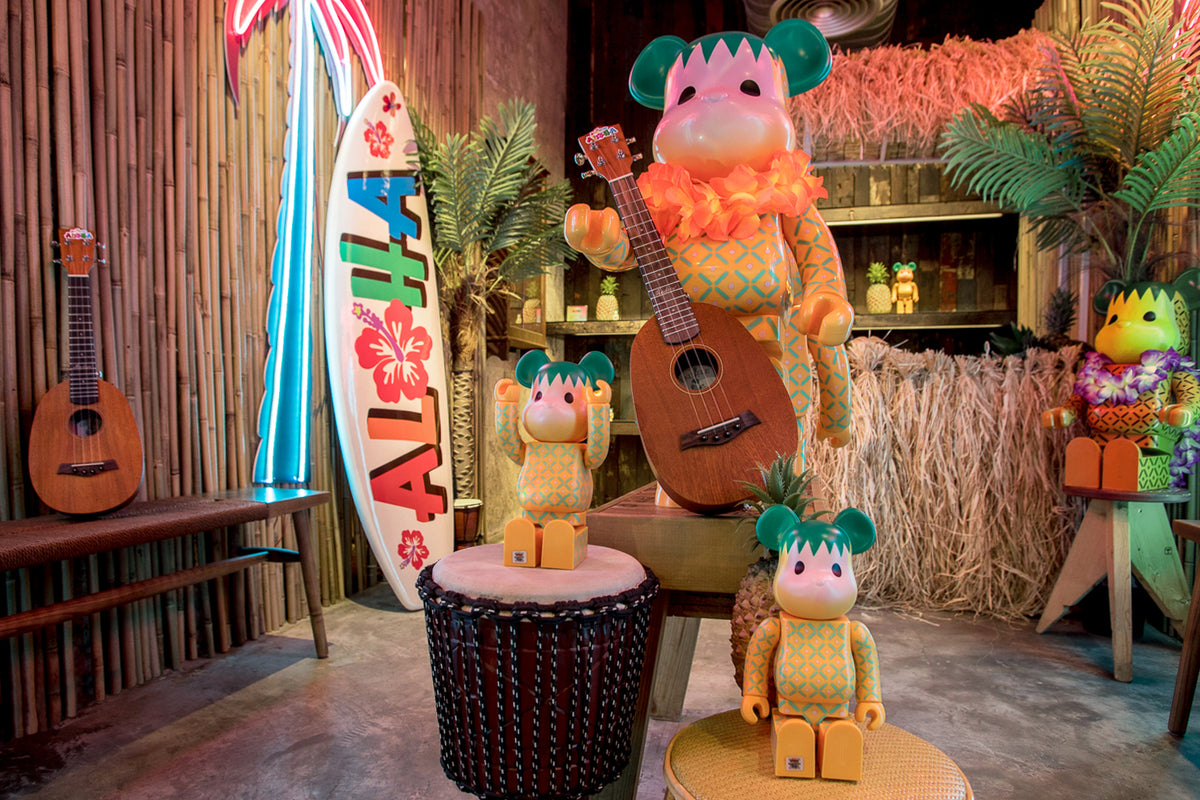 CATCH THE JUICE ALOHA CELEBRATIONS IN HONG KONG, SHANGHAI AND MORE
JUICE is heading to the sandy shores of Hawaii with a brand new JUICE Honolulu store, which shall welcome its soft opening on August 19, 2022. In celebration of this new addition to the family, JUICE is initiating a series of activations, titled JUICE ALOHA, around the world from Hong Kong to Guangzhou, Chengdu, Shanghai, Taipei, and of course, Honolulu. 
JUICE ALOHA pop-ups
From August 12, 2022, JUICE Causeway Bay, JUICE Guangzhou, JUICE Chengdu IFS, JUICE Shanghai and JUICE Taipei shall be transformed into a JUICE ALOHA pop-up store decorated with vibrant décor from wooden signposts painted in contrasting bright hues to glowing neon palm trees and patterned surf boards, all set to send you endless hula vibes. Explore and shop from our curated edits of Hawaiian themed clothing and accessories, to set the mood for that exotic summer vacation we all long for.
Early Raffle Access to Pink Pineapple BE@RBRICK
As a special highlight, the CLOT x MEDICOM TOY BE@RBRICK "SUMMER FRUITS" PINK PINEAPPLE will make an appearance at every JUICE ALOHA pop-up locations ahead of its global launch on August 20, 2022. Visitors at JUICE Causeway Bay, in particular, will be able to enjoy early raffle access to the exotic collectible from August 13, 2022.
JUICE CAUSEWAY BAY
Shop A, G/F, 9-11 Cleveland Street, Fashion Walk, Causeway Bay, Hong Kong
Monday - Sunday | 12:00 - 20:30
Pre-release BE@RBRICK drop at JUICE Honolulu
On the same day of its soft opening on August 19, 2022, customers at the new JUICE Honolulu store will be able to take home the CLOT x MEDICOM TOY BE@RBRICK "SUMMER FRUITS" PINK PINEAPPLE ahead of everybody else. Not only will the exotic collectible be dropping two days ahead of its global release, fans will also be able to purchase them on a first come, first served basis, raffle-free. 
Three-day Summer Fiesta
Friends in Guangzhou can expect celebrations in a much larger scale. Our JUICE Guangzhou team will be hosting an exciting three-day JUICE ALOHA Summer Party at the roof top bar at China Plaza. Running from August 19 to August 21, 2022, the Hawaiian-themed celebration party will include live performances, lucky draws, promotional offers, DIY workshops and more; final arounds of the Super Street Fighter™ II Turbo arcade tournament will also be held, with tempting prizes that include JUICE cash vouchers valued at up to RMB 10,000, among others. Follow @JUICEOfficial on WeChat for detailed info.
The CLOT x MEDICOM TOY BE@RBRICK "SUMMER FRUITS" PINK PINEAPPLE is set to launch worldwide on August 20, 2022. Make sure to follow our social media channels at @CLOT and @JUICESTORE for raffle details and brand happenings.
PRICE INFORMATION

CLOT x MEDICOM TOY BE@RBRICK "SUMMER FRUITS" PINK PINEAPPLE  (1000%)
HKD 4,800 / RMB 4,280 / NTD 19,800 / USD 650

CLOT x MEDICOM TOY BE@RBRICK "SUMMER FRUITS" PINK PINEAPPLE (100% & 400% set)
HKD 1,300 / RMB 1,180 / NTD 5,580 / USD 170

SELLING DOORS

JUICE CAUSEWAY BAY / JUICE SHANGHAI (JULU ROAD) / JUICE CHENGDU IFS / JUICE GUANGZHOU / JUICE LOS ANGELES / JUICE HONOLULU / JUICESTORE.TW / JUICESTOREUSA.COM / JUICESTORE.COM / JUICE ONLINE WECHAT MINI PROGRAM