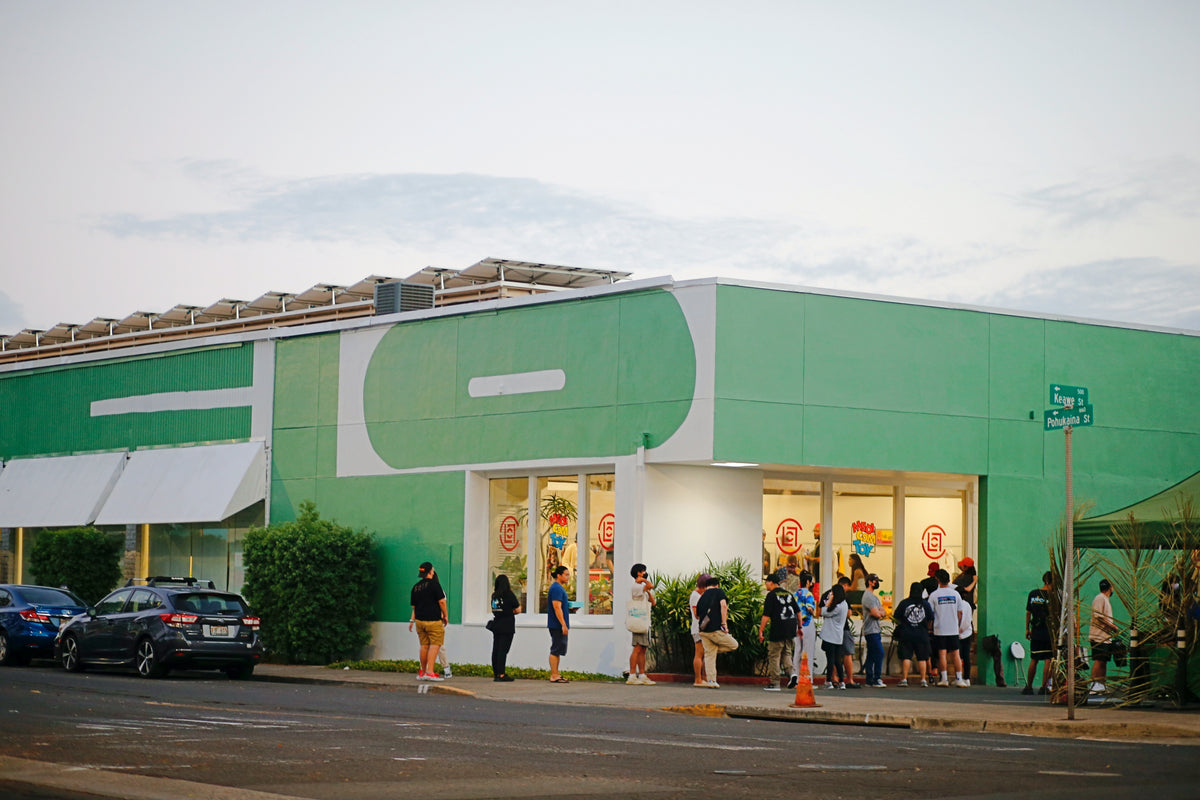 JUICE HONOLULU OPENS IN HAWAII
CLOT and JUICE are pleased to announce the soft opening of JUICE Honolulu. Situated in the neighborhood of Kaka'ako in Honolulu, Hawaii, JUICE Honolulu opens with an aim to communicate and connect with local communities, whose culture contains many Chinese influences. As a true depiction of East-meets-West, Hawaii hails as the perfect location for CLOT's latest expansion of company-owned retail concepts.
"So many people have shown me the real side of Hawaii, and how Chinese people have been there for hundreds of years." says Edison Chen, Founder of CLOT and JUICE. "The reason we chose Kaka'ako is because it is 95% local, we want to be there to cater and display our culture, taste and sense."
To realize this vision for the new store and take it to its full potential, Chen has enlisted creative input from Perron-Roettinger Design Firm, a multi-disciplinary studio helmed by creative director Willo Perron and designer Brian Roettinger, whose clientele includes the likes of Jay-Z, Travis Scott and Rihanna. Under its direction, the new JUICE Honolulu store features a clean, modern aesthetic with geometrically shaped spaces for an elevated retail experience.
The 9,000-sq-ft mega space is split into three dedicated areas, set to reveal in stages for an all-rounded display of the culture and flavor of JUICE. The soft opening unveils the front part of the store, featuring a triangular-shaped interior filled with CLOT and JUICE Founder Edison Chen's private art collection, and a curated mix of apparel, accessories and lifestyle offerings, all thoughtfully brought in to cater to the unique climate and style of the region.
On top of existing JUICE stores select brands and collections from Saint Michael to VLONE, Hood by Air, Converse, Dr. Woo x NEIGHBORHOOD, CLOT x ARCADE1UP, among others, JUICE Honolulu also houses a series of Hawaii-exclusive drops including the extremely limited JUICE Hawaii capsule, Hawaiian-themed CLOT apparel, MIYAGIHIDETAKA custom shirts, CLOT x HIPPOPOTAMUS slippers, and of course, the CLOT x MEDICOM TOY BE@BRICK "SUMMER FRUITS" PINK PINEAPPLE, which was pre-launched exclusively at the store to celebrate its soft opening.
"It's very much a cultural center, and the brand assortment will start shaping up as we understand the customer better," shares Chen. "We're also gonna be working with a lot of local Hawaiian brands, and not just on clothing. It should be one of the most fun JUICE stores to go to."
JUICE Honolulu celebrated its soft opening on August 19, 2022. Follow our social platforms at @JUICESTORE and @JUICESTOREHONOLULU for instant updates on store happenings.
JUICE HONOLULU
ADDRESS: 670 Auahi st Unit I-10A, Honolulu, Hawaii 96813, USA