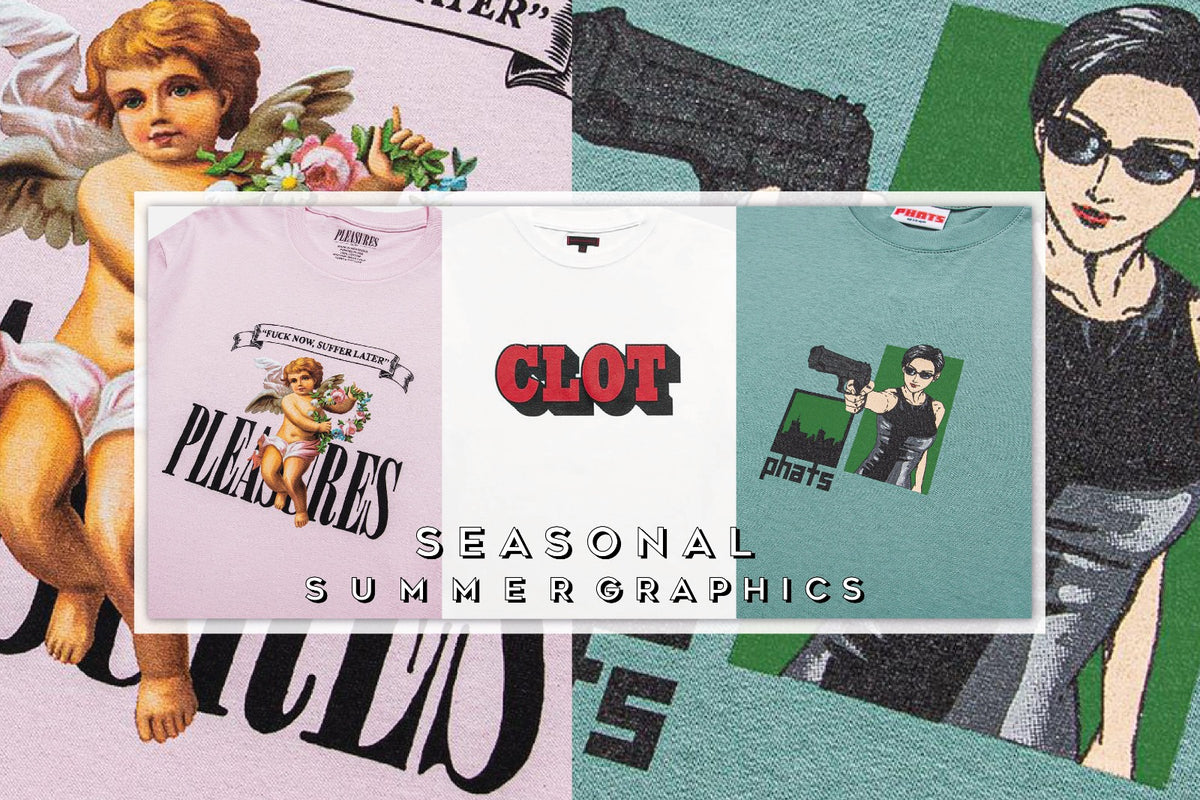 Top Graphic T-shirts For Summer 2021!
As June draws near, it's time to pack away your spring gears and start planning for the warmer weather ahead. Create new fits this season by adding new graphic t-shirts to your collection. Whether you're a fan of bold graphics or you're looking for something more low-key, there's always something out there for you!
Here at JUICE, we are getting in the mood for the hot weather by introducing our favorite tees to rock this summer. Presenting to you our top 5 graphic T-shirts, all available now at selected JUICE stores and online!
CLOT – LOGO T-SHIRT (WHITE)
Where to buy: JUICE stores worldwide & JUICESTORE.COM
Price: $580 HKD
The CLOT Logo T-Shirt is from the brand's SS21 "CHINESE HAWAIIAN" collection, which fuses traditional Chinese-themed styles with Hawaiian –inspired elements.  The assortment showcases a mix of casual and dressier styles, with the CLOT Logo T-Shirt being our favorite graphic pick of the drop. The tee also comes in 'Black' and 'Grey' colorways!
PLEASURES - SUFFER T-SHIRT (PINK)
Where to Buy: JUICE K11 MUSEA & JUICESTORE.COM
Price: $290 HKD
Fresh from the brand's "Take it or leaveMe" collection, the Suffer T-Shirt in the 'Pink' colorway is one of our favorites this season. The LA-based streetwear brand is well known for their graphic-heavy apparel, mixed with the use of vibrant and bold colors. Pleasures' t-shirts tend to have an oversized fit and come in a diverse range of designs, which you can explore more at JUICESTORE.COM.
BRAIN DEAD - PHASE ECOLOGY SOUND T-SHIRT
Where to Buy:  JUICE K11 MUSEA & JUICESTORE.COM
Price: $490 HKD
Our top pick from this season's offering from Brain Dead is the popular Phase Ecology Sound T-Shirt. The brand is well-known for its love of graphics, inspired by post-punk, skateboarding, and underground comics. Along with the usual dynamic colors that the brand imposes, the collection also contrasts the collision between their creative sensibilities with everyday functionality.
CLOTTEE – BEACH S/S T-SHIRT
Where to Buy: JUICE K11 MUSEA & JUICESTORE.COM
Price: $420 HKD
CLOTTEE by CLOT announced their new Summer 2021 collection not too long ago, with the assortment taking its retro-aesthetic from the skate and surf scene of the past. The graphics take inspiration from bridging the East and the West, using motifs based on the famous Venice and Miami beaches of the '70s & '80s.  The CLOTTEE Beach S/S T-Shirt is simple and comfortable, reinstating the collection's range of ready-to-wear silhouettes!
PHATS BUDDHA SPOT – OPERATION WHITE RABBIT T-SHIRT (GREEN)
Where to Buy: JUICE K11 MUSEA & JUICESTORE.COM
Price: $590 HKD
Endorsed by legendary trap artist Travis Scott, Phats Buddha Spot is a streetwear label inspired by vintage 90's tee's, generally dedicated to skateboarding, hip-hop, and anime. Our pick from the brand is the Matrix-inspired Operation White Rabbit T-Shirt, a piece that was worn by Travis Scott in a PlayStation 5 unboxing video.
Explore more graphic t-shirts at JUICESTORE.COM!