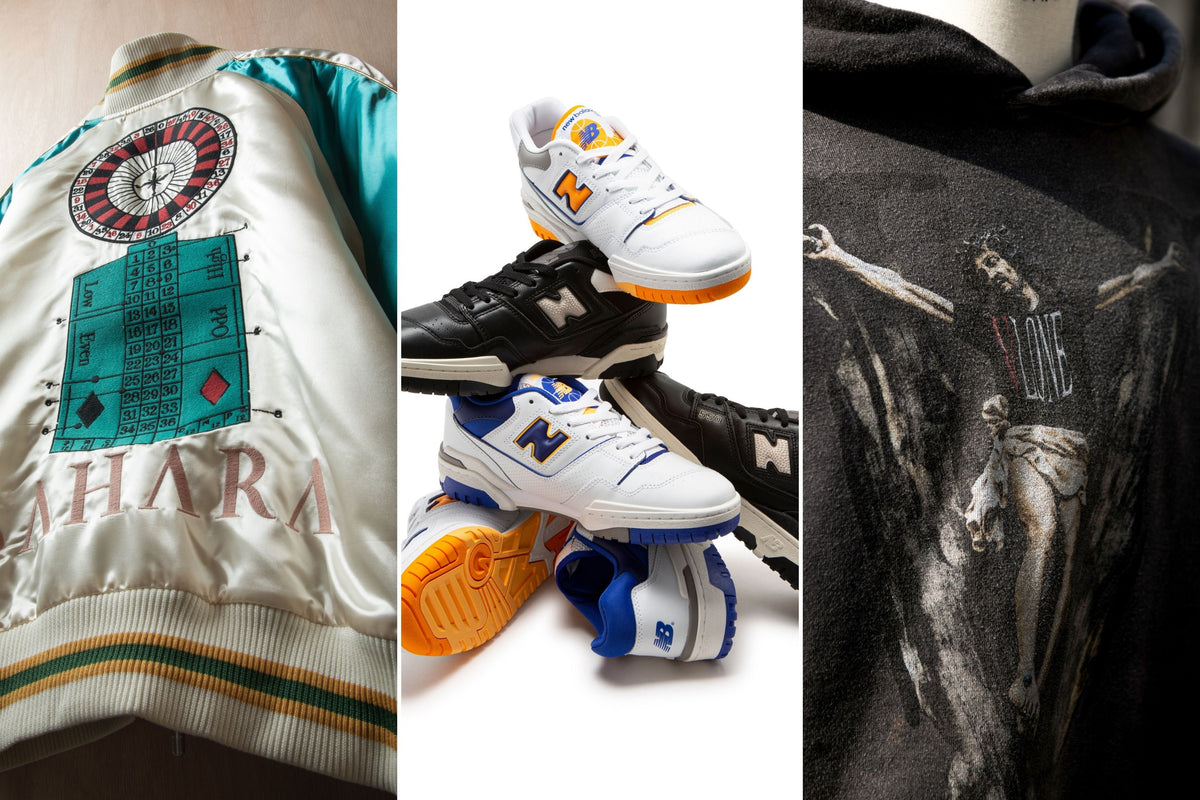 FROM STREET-HITS TO INFORMAL LUXURY: RHUDE, SAINT MICHAEL, NEW BALANCE
Now that summer is just around the corner and we are now in our spring-time stride, we now announce this week's newest releases to help you with your selection of summer-heat staples. Featuring brands from footwear to the high-end street, including Rhuigi Villaseñor's RHUDE, Multi-faceted visual artist Cali Thornhill Dewitt and Yuta Hosokawa's very own SAINT Mxxxxxx (SAINT MICHAEL), and now one of the rising stars of the 2020s footwear scene New Balance.
RHUDE
RHUDE's founder and creative director Rhuigi Villaseñor looks to his Spring/Summer 2022 collection with fresh eyes, with the release embodying a blend of informal and formal aesthetics — invoking a new view of the way we view modern luxury. An ode to youth, Villaseñor envisions the perfect post-pandemic collection for the new & upcoming generation. A highlighted piece of the collection is the Sahara Jacket in collaboration with the influential Sahara hotel in Las Vegas— an over-sized bomber jacket crafted from high-quality silk fabric. The jacket features motifs inspired by high-end lifestyles and most notably a Club card symbol graphic with paisley detailing inside, all of which are inscribed in appliqué stitching. Take a look at more of the RHUDE's collection here.
SAINT Mxxxxxx (SAINT MICHAEL)
Founded by Yuta Hosokawa and Cali Dewitt, the two world-renowned creatives have come out with another collection of vintage-like pieces. This collection of stone-washed pieces features a collaboration with notable cult art icon Hajime Sorayama, streetwear brand VLONE, and more. Sorayama's collaborative design features his famous erotic depiction of a hyperrealistic feminine robot, printed at the front of the brand's logo in angel form — with "Saint Sorayama" printed in a monochrome futuristic at the back typeface. One of the more notable pieces of the collection is the Varisty Jacket in a red and white colorway — an art piece in its own right — it depicts the definition of fear in a long-hand signature style and blends it with motifs of Jesus Christ with a "choose-your-savior" in a patchwork style at the back. Take a look for more distressed stand-out pieces from SAINT Mxxxxxx here.
New Balance:
Recently a heavy fan favourite of the sneaker scene, New Balance's constant updates of the 550 silhouette have been readily accepted and loved by the community. The vintage shoe made a comeback after its revival via collaboration with Aimé Leon Dore and has since made strides on its own. This week features a variety of retro New Balance 550 release colorways, including Orange/White, Black/White, and Blue/White silhouettes that will make any outfit pop. Take a look here for the full rundown of New Balance releases.