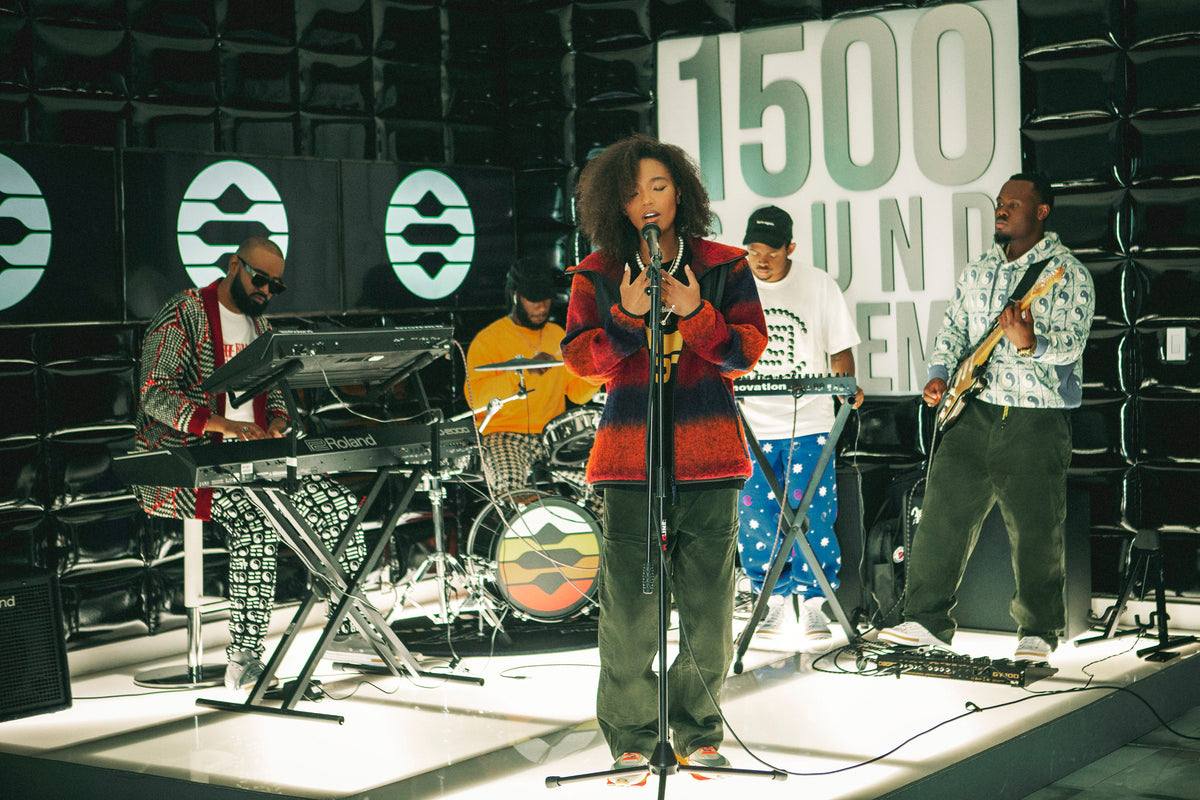 Keyana at 1500 Sound Academy Feat. CLOT Fall/Winter '21 "NEW DYNASTY" Collection
Following an interview on Vogue CHINA between CLOT Founder Edison Chen, Supermodel Shupei Qin, singer-songwriter Keyana, and special guest & friend James Fauntleroy; Keyana and Fauntleroy linked up for a remix, jamming with the crew at 1500 Sound Academy to Keyana's recently released single "Afterglow".
James Fauntleroy, a critically-acclaimed artist who specialises in music production, lyricism, and is also an avid instrumentalist, has made many waves within the underground and mainstream creative music scene. The artist has collaborated with the likes of JAY-Z, Nas, Justin Timberlake, Chris Brown and even with Bruno Mars on his illustrious 24K Magic album - earning himself 6 Grammy nominations and 4 wins.

Prior to the remix, Keyana's song "Afterglow" features R&B tones with heavy kicks and smooth guitar progressions; now with the taste of Fauntleroy and his group of artistes, the song's instrumental and energy was given a soulful tweak, made to serve as a strong foundation for Keyana's gospel-esque vocals. The outcome of the collaboration came a balance of Keyana's authentic and musical self-expression with a melody that would be loved by all.


▲Singer: Keyana - dressed in CLOT's Gradua Puffer (Navy), Painter Pants (Black), Tha Clot Crew are Comin' T-Shirt (Black), and the exclusive CLOT x sacai x Nike triple threat LDWaffle (Orange) collaboration.
▲Keys: Corey Stampley (Left) - in the Gui Jacket (Red), Square Tai Chi All-Over Print Sweatpants (Black), Indefenite T-Shirt (White) and the CLOT x Converse Chuck 70 Ox Paloma' Low (Grey) Drums: Branden Akinyele (Right) - in Baseball Plaid Pa (Blue), Kung Fu Master Sweatshirt (Grey), and the CLOT x Converse Chuck 70 Ox 'Paloma' (Grey).

The live-show played by Keyana and a group of artist was in none other than Fauntleroy's very own 1500 Sound Academy based in Inglewood, California; his home town. '1500' is in reference to James Fauntleroy and co-founder Larrance "Rance" Dopson's old music collective 1500 or Nothin', which consisted of music producers, songwriters, video producers, musicians and delved into the genres of Hip-Hop and R&B.
▲Synth Bass: Jared G Wilson (Left) - Tai Chi Logo T-Shirt (White), Fleece Pants (Blue), and the CLOT x Converse Chuck 70 Hi (White). Guitar: Christopher McCorkle (Right) - Square Tai Chi Hoodie (Blue), Painter Pants (Black), and the CLOT x Converse Chuck 70 Hi (White).

The school acts as a foundation to educate and nurture young talents from around the world, bringing in established artists & industry executives to tour the academy, give guest lectures to students, and to inspire the creative fire within them. As a friend of Edison Chen, it only made sense that CLOT could facilitate this exchange between two talented individuals, both from two different parts of the world, Keyana from Singapore, Fauntleroy from California; bringing together the soul of the East with the vision of the West. 
Check out the photos from Keyana and the team at 1500 Sound Academy and the live performance video of the jam session, all styled head-to-toe in CLOT Fall/Winter 2021 gear - dressed in the collection's most sought-after silhouettes below.
Singer: Keyana @heykeyana
Keys: Corey Stampley @coreystampley_
Drums: Branden Akinyele @ba_4___
Guitar: Christopher McCorkle @officialmccorkle
Synth Bass: Jared G Wilson @jaredgwilson
Mix Engineer: Dylan Del Olmo @dylandelolmo
Recording Engineer: Andres Almada