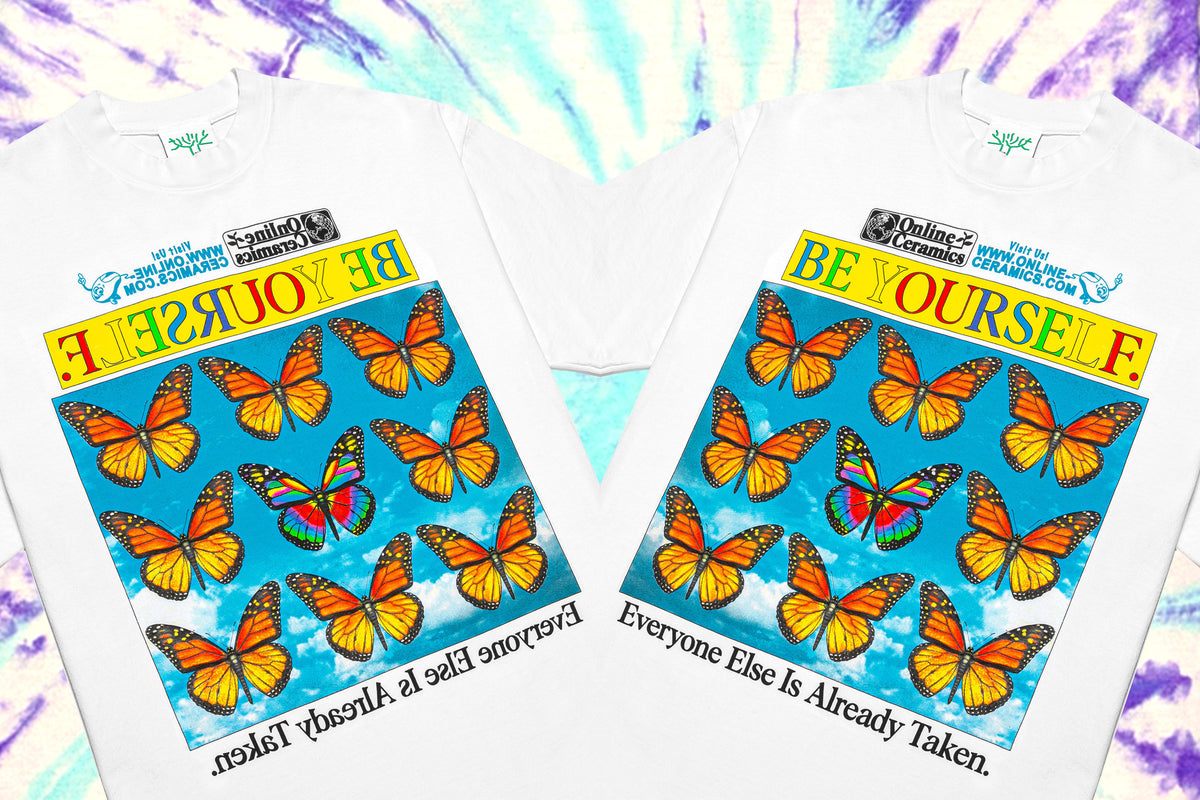 Online Ceramics brings kaleidoscopic mindfulness we desperately need
Dropping its latest offerings with rainbows, blue skies, dancing butterflies, and self-love slogans like "Be Yourselves", "Travel to Colourful Places" and "I Believe in Magic", these little doses of good vibes from Online Ceramics are just what we all need right now.
Founded in 2016 by art school graduates Elijah Funk and Alix Ross, LA-based streetwear label Online Ceramics is known for its one of-a-kind DIY offerings reminiscent of 60's band culture, more specifically that of American rock band, the Grateful Dead. From skulls to marching bears and lyrics on epic tie-dyes, the duo kick started their business with bootleg T-shirts donning instantly recognizable Deadhead iconographies. Sold at the back of their vans, the tees became immediate sell-outs, and even landed them a merch collab with John Mayer for his Dead & Co. tour (one that continues today). The rest, as they say, is history.

F.R.O.F. S/S Tie-Dye T-Shirt - Online Ceramics
Following its unexpected success, the brand has since progressed into something of its own: A deliciously trippy universe that blends Elijah's background in punk, Eastern spirituality from Ross' practice in yoga and Kirtan, and, of course, their joint passion for art and love for the Dead. From T-shirts to sweats and hoodies, the duo bridges archival motifs and modern designs into a distinctive visual feast that blends music, art and fashion onto one shared canvas. 
With each design hand-dyed in their LA studio, the psychedelic tie-dyes and bold screen-printed graphics at Online Ceramics are all one-of-a-kind, loved by everyone from the likes of the late Virgil Abloh to Bella Hadid, Emily Ratajkowski, Blue Ivy, Glass Animals' Dave Bayley, LANY's Paul Klein, and Zendeya as Rue Bennet in the drama hit, Euphoria. 
Shop Online Ceramics
Explore the latest creations by Online Ceramics, packed with kaleidoscopic mindfulness, at JUICE K11 MUSEA and JUICESTORE.COM today.