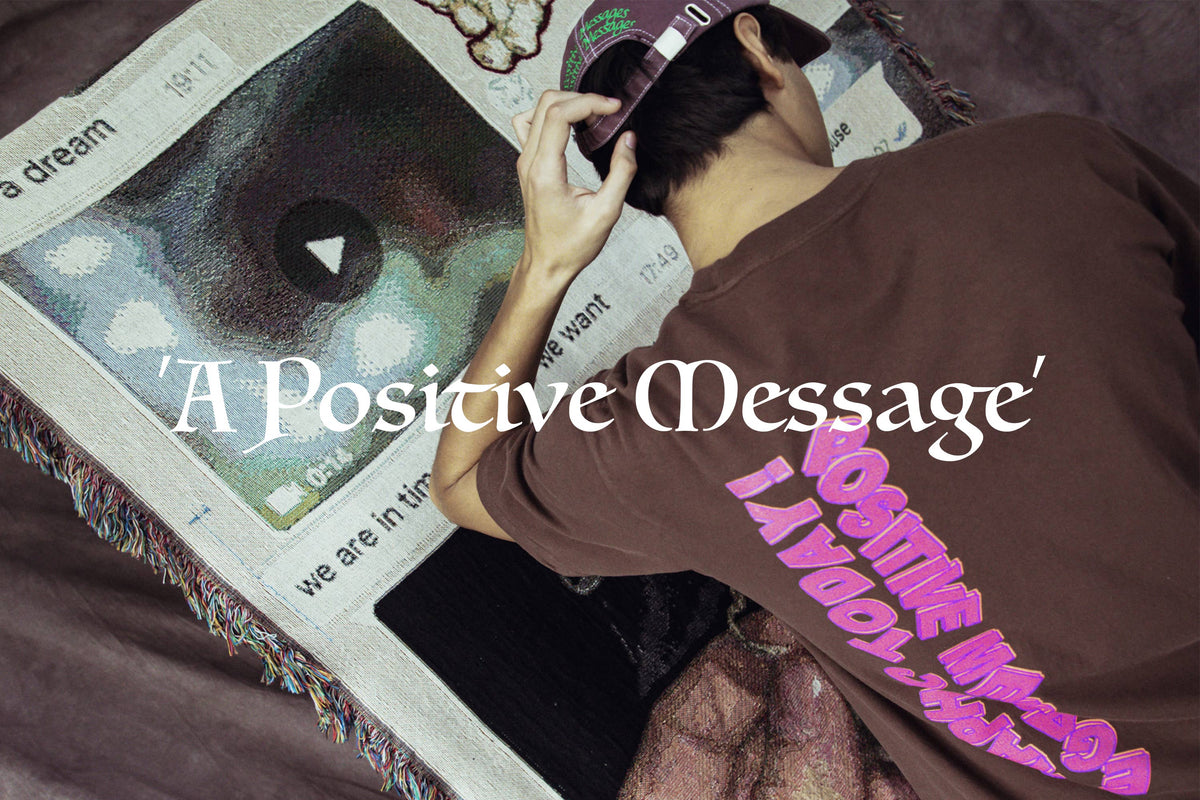 P.A.M. & Cali Thornhill DeWitt Collaborate On 'A Positive Message' Brand And Online Platform!
During the uncertain time of 2020 - amidst all the chaos and distain, Perks & Mini or PAM for short, released the positive messaging online platform aptly named A Positive Message. In it, friends of the brand contributed to bringing new individual perspectives and hopeful messaging of self-growth, love, feeling, connecting, and thinking. Friends of the brand range from a variety of backgrounds in the creative scene and are branched out globally, from artists, creative directors, writers, curators, DJs, music producers, and many more.
PAM & collaborator Cali Thornhill DeWitt have provided a platform and an online resource for creatives globally in sharing a wider perspective and bringing new niches into positivity, connection and love. Intended to establish connections between creatives and friends a-like, to be experienced by everyone & anyone who will listen - as messages are no longer bound to a screen. Concurrently with the release of the collaborative brand-slash-online messaging platform, the brand released its first collection that truly resonates with the positive messaging idealism.
What makes this brand and platform special is it shares to the world a unique insight & experiences into PAM's community of creative friends - especially in terms of spirituality, in which now-a-days has been mistreated and under-appreciated. Each idea from the collection comes from an inspiration in each or some of the positive messages provided by their friends. for example, Positive Messages #41, Heith Ha and seemingly his experience with psychadelics inspired the 'We are in time whenever we want' knit rug. Other positive messengers that have inspired the collection are pro skater turned fahsion designer Alex Olson, artist and filmmaker Oliver Payne, artist Brendan Fowler, and brand cohort and surfer Yoma. Referencing Mezcal, love, mushrooms, trances, spirituality, insects, and many more.
The clothes have been produced in the U.S. using 'EcoLife®' fabrics for its t-shirts, hoodies, and sweatpants. The fabrics have been made with 50% recycled cotton and 75% solar energy, with each pound of EcoLife® yarn saving miles of land cultivation, thousands of gallons of water, electricity and carbon emissions compared to the traditionally produced cotton. This is the beginning of establishing a new movement of eco friendly fabrics and fashion for the world resonanting with concept of 'A Positive Message' but with an added positive impact. The facility where the fabric is produced is certified with the Global Recycled Standard, and Oeko-Tex Standard 100 - which is one of the world's best-known labels for fabrics tested for harmful substances to ensure the highest quality and customer confidence.
Enjoy the collection below - available now at JUICE K11 Musea and JUICESTORE.COM.
Check out the 'A Positive Message' blog on PAM's website here.