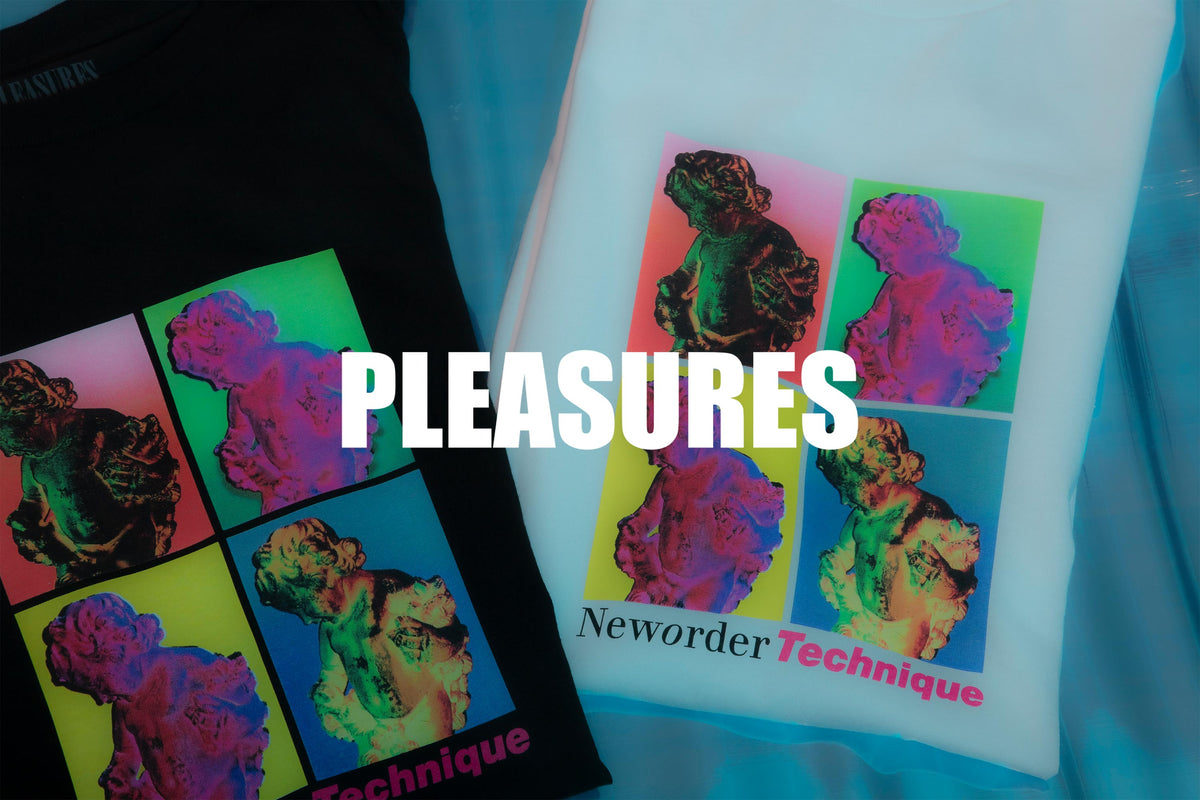 PLEASURES Celebrate A Partnership With Legendary English Rock Band New Order!
In celebration of the influence of music, PLEASURES has announced a collaboration with iconic English-rock band New Order. Having heavy influences from the band Joy Division, their album Unknown Pleasures and the inspiration of music culture as a whole - it would only make sense to collaborate with one of the brand's major influences. The brand previously collaborated in 2019 with Joy Division and Warner Music UK to celebrate the ongoing prevalence and influence of the album Unknown Pleasures on youth culture. This current partnership is featured with Factory Records and WEA Warner Music to protect the legacy that is New Order.
The band formed in 1980 after the fall and demise of legendary band Joy Division, as the influential lead singer Ian Kevin Curtis passed away that same year. New Order was founded by the original Joy Division members; guitarist Bernard Sumner, bassist Peter Hook and drummer Stephen Morris - which makes this collaboration a match made in heaven. The band explored new mediums of music that have heavily shaped sound today, introducing more dance themed influences; acid house, electronic, and other notable genres. The remix of these seemingly mutually exclusive sounds could be seen in their albums since 1983, and especially with the release of their hit song 'Blue Monday'.
The collaborative collection highlights the archetypical band's legacy and progression throughout the years since its conception. The collection features inspiration and influences with artistic motifs designed by English art director and graphic designer Peter Saville, known for his involvement in album cover design with Joy Division and New Order. The wide-ranging collaboration features a collection of fleeces, t-shirts, button-ups, polos, pants and many more.
The most notable piece in the collection would be the Pleasures Total T-Shirt, displaying some of the brand's favourite songs spanning from the origin of Joy Division till New Order now; The Power, Corruption & Lies T-Shirt graphic was influenced by New Order's second studio album released in 1983 mainly the influential cover art graphic used as a motif in many collections within different brands - designed by Peter Saville; the Technique T-Shirt which was the fifth studio album from New Order which has influences from acid house and Balearic house (due to the album being partly recorded in Ibiza), creating a unique dance-rock genre.
The collection is available soon at JUICE Causeway Bay and JUICESTORE.COM!