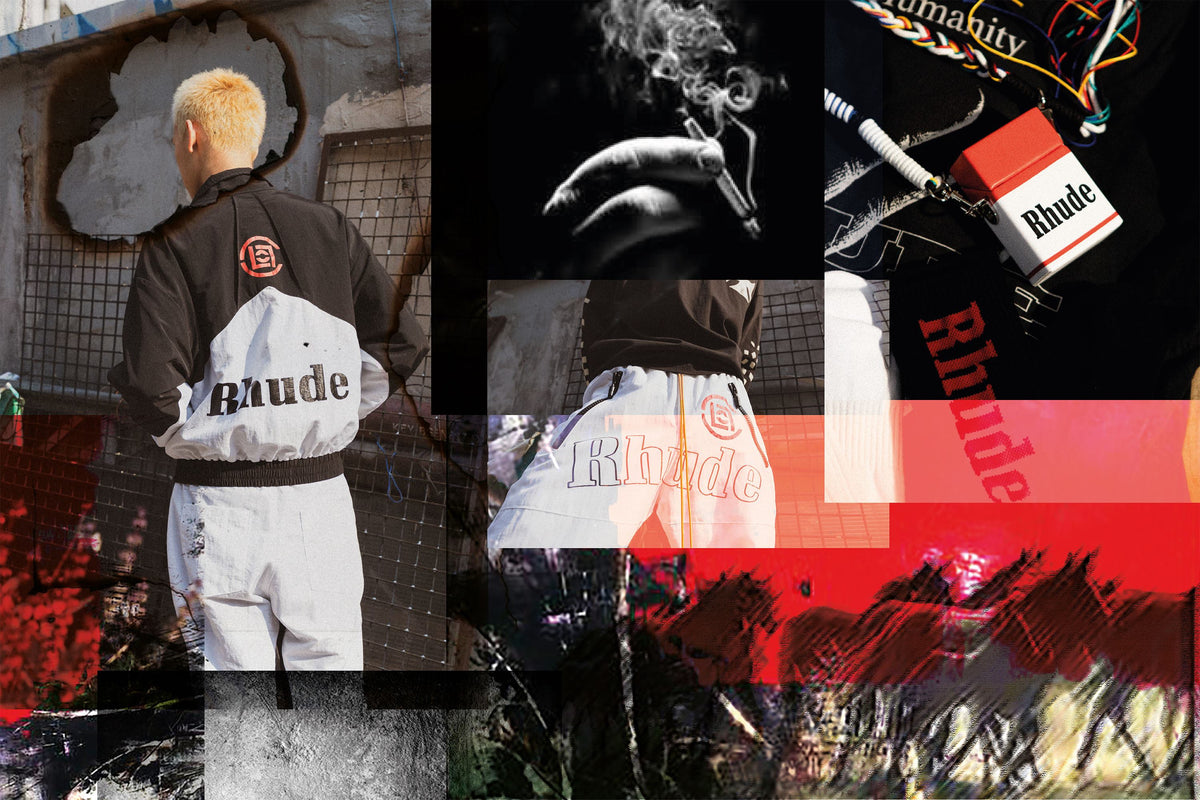 Indelible Cool: CLOT & RHUDE Explore the Cigarette's Stylistic Relevance for SS20
For the forthcoming Spring/Summer season, CLOT has enlisted Los Angeles-based label RHUDE to create a collection inspired by the cultural hallmarks of east and west. Given RHUDE founder Rhuigi Villaseñor's affinity for western iconography, the resulting capsule highlights an important countercultural narrative by uniting the graphic sensibilities of China's Double Happiness cigarettes, Marlboro, and elements inspired by the 1972 Hong Kong film, ​Seven Blows of the Dragon.
Titled "Double Happiness," the SS20 line interprets the indelible "cool" of the cigarette in a manner that is both nostalgic and contemporary. And while Villaseñor's take on Marlboro's serif typeface and red chevron trademark does not tell the entire story of Americana, his continued efforts serve well to highlight the relevance of such monikers as cultural cornerstones. Fast forward to today, and cigarette branding is no longer regarded as an ode to fuddy-duddy fan merch, but a serious style reference, influencing everyone from TAKAHIROMIYASHITATheSoloist and Moschino, to Balenciaga and Gucci. Yves Saint Laurent also jumped on the bandwagon once, toppling the paradigm by making actual cigarettes.
Yet few hold a flame to the marketing prowess of Marlboro, which as early as 1954 personified its underlying values when Leo Burnett conceived the "Marlboro Man." Decades later in 1984, a West German division of Philip Morris came up with the "Marlboro Abenteuer (German for "Adventure") Team." Promising high-octane, patriotic exploits one could only dream of, the yearly event invited participants from around the world to live a fabricated version of the real American West. However, beyond very literally experiencing the somewhat lofty values of Marlboro, the activation's apparel paved the way for the cigarette's outset into fashion. Given its success, Philip Morris birthed the archetypal "Adventure Team Catalog," a supplement that made its heavily-branded outdoor clothing considerably more accessible and legitimate.
Much like the American West and Marlboro however, contemporary understandings of shuāngxǐ — directly translated as "double happiness" — helped form the basis of a similar phenomenon in China. With origins dating back to the Tang dynasty, a time regarded as the height of Chinese cosmopolitanism, shuāngxǐ was cemented as a pillar of eastern branding, helping consumables like soy sauce, matches, and most famously, cigarettes, link consumers to aspirational values and ideas of grandeur. Despite never stretching its marketing efforts as far as that of Marlboro, Double Happiness cigarettes still defined a rich graphic language that continues to hold relevance today. 
By referencing such resolute cultural moments, CLOT and RHUDE have laid the foundation for a richer understanding of the cigarette's long-lasting influence on counterculture. Having successfully framed the idea of the stylistic vice, and imbued a single capsule with nostalgia of the east and west, the resulting products are as divisive as they are unifying.
The full collection will be available in limited quantities starting May 29 at JUICE Causeway Bay, JUICE Shanghai, JUICE Los Angeles, and online at juicestore.com.