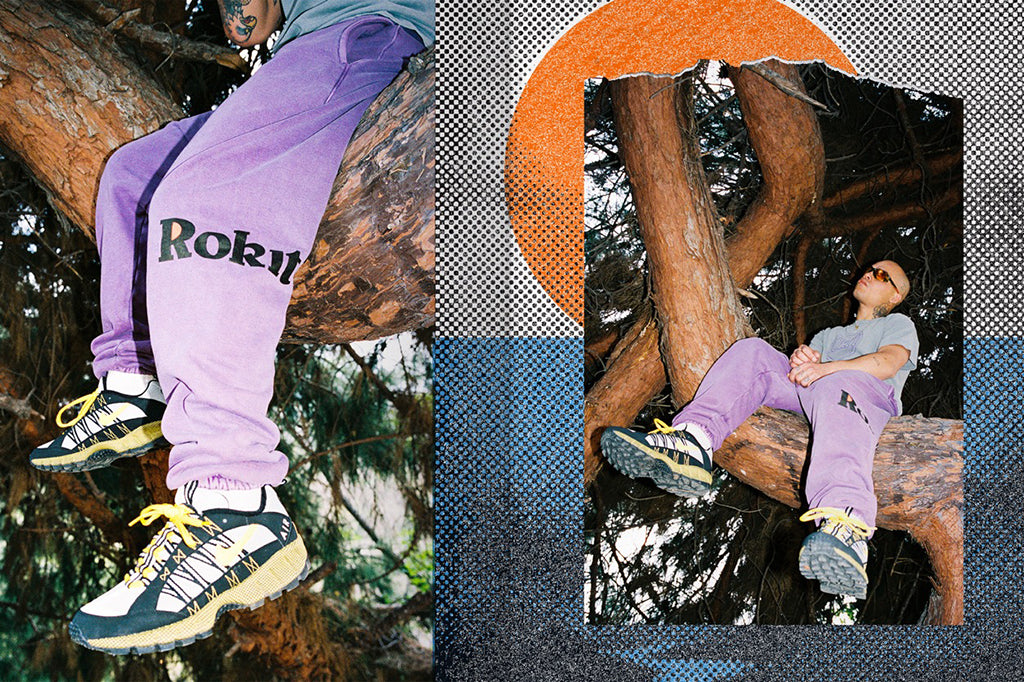 ROKIT Journeys "Into the Wild" Streets of LA for its SS 2018 Collection
ROKIT was founded in Los Angeles in 2016 by a group of three like-minded individuals — Nico Guardalabene, Bam Barcena, and his brother Ryan aka RIONISM. They began ROKIT on the basis of blending basketball athletic wear and skateboarding streetwear into a complex brand that embodies the quintessential California lifestyle and encompasses all aspects of each subculture, even beyond clothing.
In 2016, they used the 1995 cult classic film Basketball Diaries to help shape their fall/winter collection. Employing media again, ROKIT draws inspiration from Jon Krakauer's internationally bestselling book, Into the Wild, for the name and motif of their 2018 spring/summer collection. Combining their signature sport-skate style with rugged military themes, ROKIT reinvents a "fictional post-war expedition by modern youth," who are constantly rebelling against society and searching for themselves in the urban jungle.
ROKIT offers a variety of short-sleeved and long-sleeved printed T-shirts, hoodies, crew neck sweaters, sweatpants, and sweatshorts in a variety of colours ranging from basic neutrals to red and purple. A few tops and bottoms are covered in a wordy design that replicates the copyright page of a book; others broadcast the mantras "We Built This City," "For On and Off the Court," and "There's no stopping us now." A standout nature image is printed using the orange ROKIT brand logo as the sun. But perhaps the most eye-catching silhouette of this season is a pair of hybrid pants that are split down the middle with the left leg taken from a pair of Champion sweatpants and the right leg and waist taken from a pair of snow camouflage fatigues.
With all their products, ROKIT maintains a minimalist vibe borrowed from contemporary Japanese aesthetics, and remains keen on details, producing all of their clothing in Downtown Los Angeles. Having recently collaborated with Converse in February and PLEASURES a couple of weeks ago, ROKIT proves the meaning of their circle/wheel/ball logo — that as a brand, they are never ending, always changing, and forever growing.
Pieces from the SS18 ROKIT collection will be available this month at select JUICE locations and online at CLOT.com. Stay tuned.