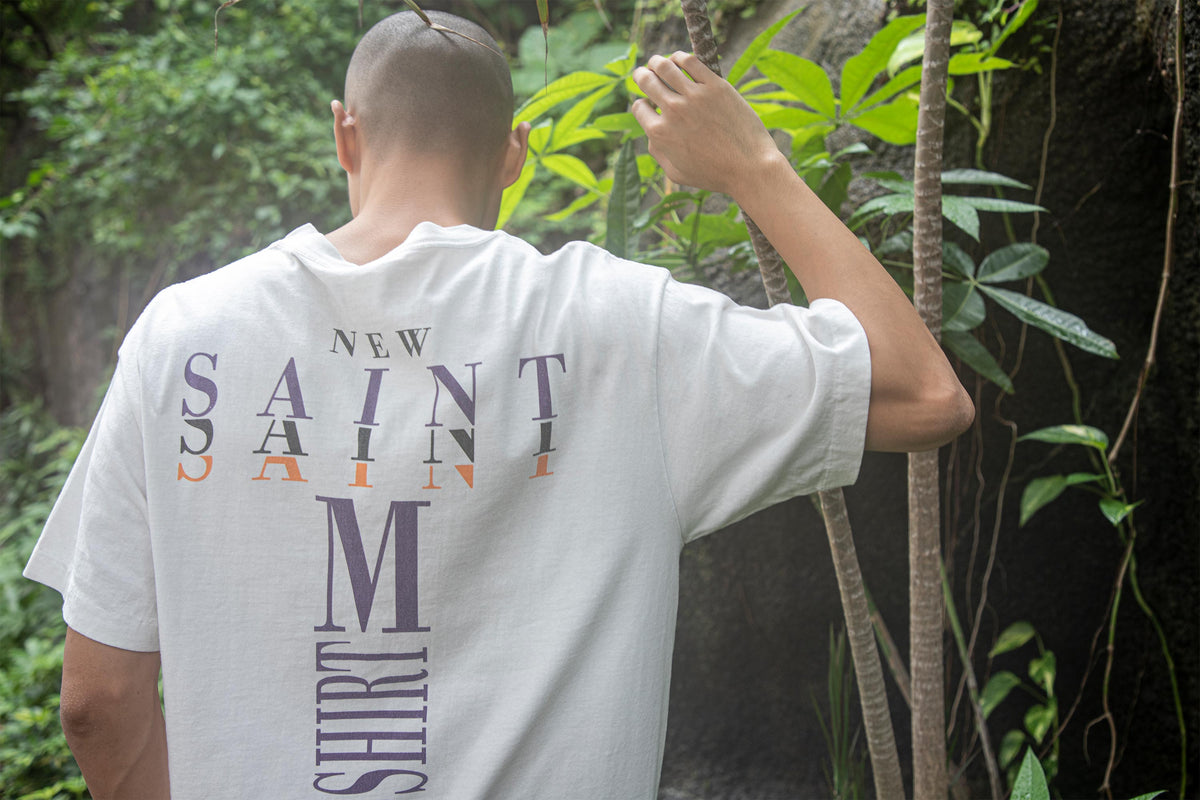 SAINT MICHAEL's Newest Autumn Winter 2021 Collection Features Thrift-like Pieces & Vintage Style!
The aptly named "War in Heaven: Battle of Heaven", SAINT MICHAEL's Fall Winter 2021 collection referencing vintage design aesthetics and old-school style branding. Yuta Hosokawa and Cali Thornhill DeWitt, the founders of SAINT Mxxxxxx, have always displayed a fondness for thrift stores and vintage attire - as Yuta's brand heavily references this type of style in his clothes, more so leaning towards American military style gear. The brand's previous collections involved discoloration and distortion, giving off a worn-in and beat-up type of look - this time toning it down and creating the clothes more closely to the vintage t-shirts that everyone knows and loves but with SAINT MICHAEL flair.
Each t-shirt is spun up in the brand's factory in Japan, made completely from scratch - from the silhouette, to the design itself. The pieces display prints with bold typography and logo branding style taking the shape of "SM" in colors of 'Blue' and 'Orange' on a plain discolored 'White' t-shirt; its highlight piece "S A I N T S" on a heavy stone-washed 'Grey' t-shirt above the graphic of a lamb/sheep dead on the floor, followed by a lion's head print on the back. The t-shirts are made from heavy-weight cotton cut into a boxy silhouette for that oversized feel, and discolored through light stone-washing to emphasise that vintage aesthetic.
Other notable pieces from the collection are the WAR cap for its references to David Bowie's Lets Dance album in 1983, specifically the 'SAINT' front embroidery into the same typography style as the album cover - completed with smaller onomatopoeia embroidered finishings commonly seen in comics; "POW" and "BLAM".
The lookbook for this collection was shot in what seems to be an imported American thrift store - most probably where the collection found its references and is where the founders like to find references for their collections. In it, the collection pays homage to thrifting - wanting to emulate the worn-in look that everyone seems to adore. The collection blends SAINT MICHAEL's discolored and damaged look whilst blending the look of the classic vintage tee for an assemblage of ready-to-wear must-haves.
Check out our take at the previous collection here! SAINT MICHAEL's Fall Winter 2021 collection is available now at JUICE Causeway Bay and JUICESTORE.COM!