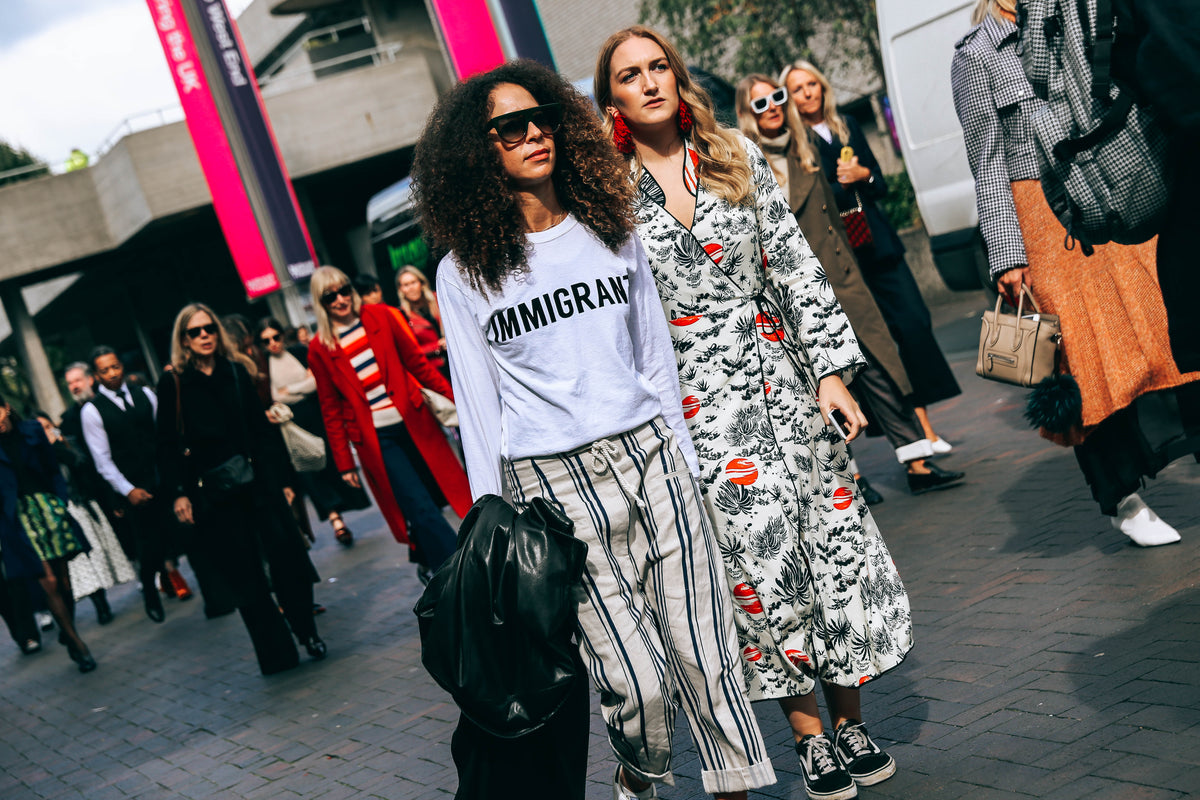 STREET STYLE TRENDS OF 2018
Another year has crept up and we're ready to take it on. Here's some insight into the trends coming up in 2018 that will be sticking around all year. Which trends are you onto already? 
GO HANDS FREE
Ditch the clutches and handheld bags. Bum bags, otherwise known as waist or hip bags, have been a staple on the Spring/Summer 2018 runway. Clip all your essentials onto your waist without the worry of bulky pockets and losing items. Legend has it that there is a bag for every occasion. So whether you opt for calf leather or nylon, be sure to brave this 90s classic accessory with practicality and versatility in mind.

Photography / Jocelyn Yih
BOILER SUIT UP
With an increasing amount of designers incorporating streetwear into their inspiration, it's no surprise that functional garments like the boiler suit would appear as a seasonal favourite. Prada opened the Spring/Summer 2018 show with utilitarian romper separates in arctic blue and candy red. Even though the boiler suit could well be mistaken as the notorious RompHim, we know that overalls are no-brainer garments and can be stylish if worn on the right occasion, with the right amount of confidence. We recommend taming the style in black such as the CLOT Ripstop Overalls before levelling up onto the graphics.
Prada SS18
GOODBYE DISTRESSED, HELLO UNWASHED
Do you wash your jeans? You probably shouldn't. Just like our steaks, we prefer our denim served raw. Unlike washed denim, unwashed denim have not been softened nor shrunk. The result is a pair of denims that are much more stiff, wider in fit and require time to break-in. Over time, the long-term investment will change shape according to your body and lifestyle. This type of jeans was predominant during this Spring/Summer 2018 London Fashion Week Men's season. Since every person is unique, it would only make sense to have a pair of jeans that allows the wearer the opportunity to customise their preferred fit. Plus, you will probably never have to wash your jeans ever again. 
Oliver Spencer SS18
Fear of God 
GO LOCO ON LOGO
Ever heard of logomania? What about logo fatigue? Whether you like it or not, brand collaborations have been on the rise and nothing can make a statement better than a logo. Regardless of whether you are a political advocate or a trend follower, keep your look clean with a slogan hat or belt in this sensitive climate.  Be careful what you opt for as it could be a make-or-break factor. After all, logos speak before you can open your mouth. You have been warned.
Kenzo SS18
Chinatown Market by Alex Castro Moore
BE INSPIRED BY TRAVEL
Turn on tourist mode by means of travelling to exotic islands or by adopting patterned shirts and, dare we say it, socks and sandals. Holiday trends, such as the infamous Hawaiian shirt (which was once a fashion faux pas), have now worked their way into contemporary menswear and can add a unique touch to an otherwise very plain outfit. Whether the look is dressed down for the beach or tucked neatly inside a pair of tailored trousers, this trend will be sure to brighten up your monochromatic wardrobe and make those holiday photos pop.
Louis Vuitton SS18
GET POLITICAL
And read between the lines. The fashion industry is an incredibly influential platform and has been including politics in its conversation. From Bobby Abley's 'Foreign' hoodie to Kenzo's all-Asian catwalk cast, it has become apparent that one should look into the undermeaning of these garments that make their way down the catwalk. Founder of Ignored Prayers, Scott Tepper released a politically charged zine last year focusing on anti-police brutality. These sentiments can be seen in the graphics an slogans used in some of latest releases from brands. By paying homage to Brexit, Trump's presidency and diverse racial representation, 2018 progresses from the on-going dialogue of feminist fashion with wit and humour. 

Bobby Abley SS18
Words / Jocelyn Yih