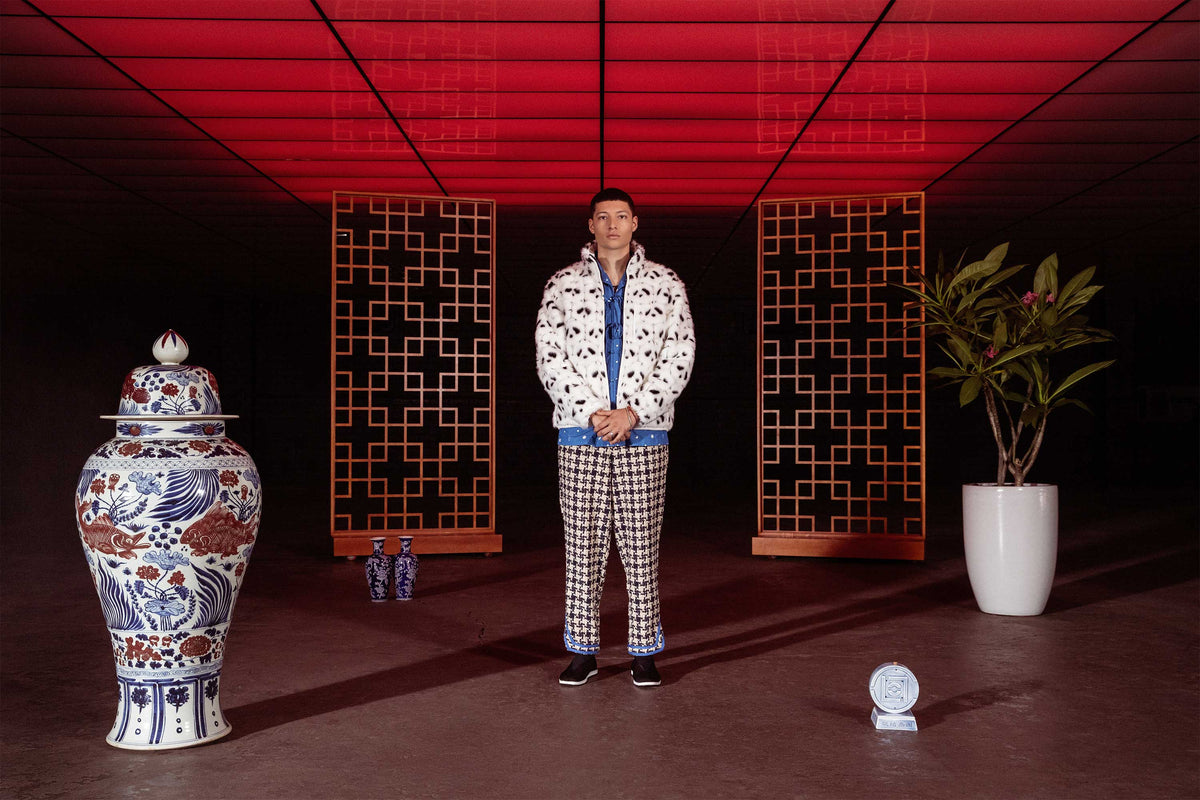 Traditional Chinese Motifs Featured on CLOT's Fall/Winter 2021 "NEW DYNASTY" Collection - Drop 2
Taken from CLOT's rich history of influences from Chinese heritage, the brand's newest Fall/Winter 2021 "NEW DYNASTY" collection, celebrates and pays homage to the decade old collection; CLOT's Fall/Winter 2010 "Dynasty". The upcoming "New Dynasty" offering features an updated and elevated version of the decennium collection's previous silhouettes, with its references to the rise of legendary Chinese dynasties and their inhabitants. The collection depicts CLOT's new path for 2022, a vision that features a wider selection of grandeur cut-and-sewn high-end styles that seamlessly blend with the brand's iconic streetwear ready-to-wear staples.
As CLOT's Founder and Creative director Edison Chen's major influence and inspiration behind the "NEW DYNASTY" collection, the brand put on display the ever-lasting Chinese heritage and rich culture that has been built over centuries of hard-work and aspirations of the generations before. Through the collection's use of striking and unique patterns mixed with comfortable fabrics, CLOT is able to celebrate the vivid and sonorous details of Chinese culture to hopefully instil a creative fire and pave the way for the youth to create their own dynasty. Traditional Chinese-influenced motifs can be seen throughout the collection, depicted in this drop through its references long-standing martial arts, Fengshui Bagua, and classic Chinese clothing styles. All of which have been thought of to be generational and prominent throughout Chinese history.
Drop 2 of the newest Fall/Winter 2021 "NEW DYNASTY" collection features an assemblage of cut-&-sew pieces, traditional frog closures, striking graphic t-shirts, and CLOT's staple ready-to-wear must-haves. Notable pieces in the collection include the staple Plaid Baseball Shirt and Plaid Baseball Pant Combo in a 'Blue' colorway, the shirt and pant combo uses a beige and navy woven material that is optimised for comfort and breathability, both pieces have been lined with a blue trim for added style. Other notable pieces of this drop are the Chinese Shirt in both "Navy" and "White" colorways, which merge high quality material, cut-and-sew practices, and traditional aesthetics; Drunken Master T-Shirt which takes its reference from one of the most notable martial arts in Chinese history, said to be derived from Shaolin Kung Fu; Buddhist Monk T-Shirt which is influenced by the age-old practices of Buddhist Monks that have still been prominent to this day.
CLOT's Fall/Winter 2021 "New Dynasty" Drop 2 is available now at JUICE locations worldwide and online at JUICESTORE.COM! Keep up-to-date with our website and instagram for updates on the bi-weekly drops!