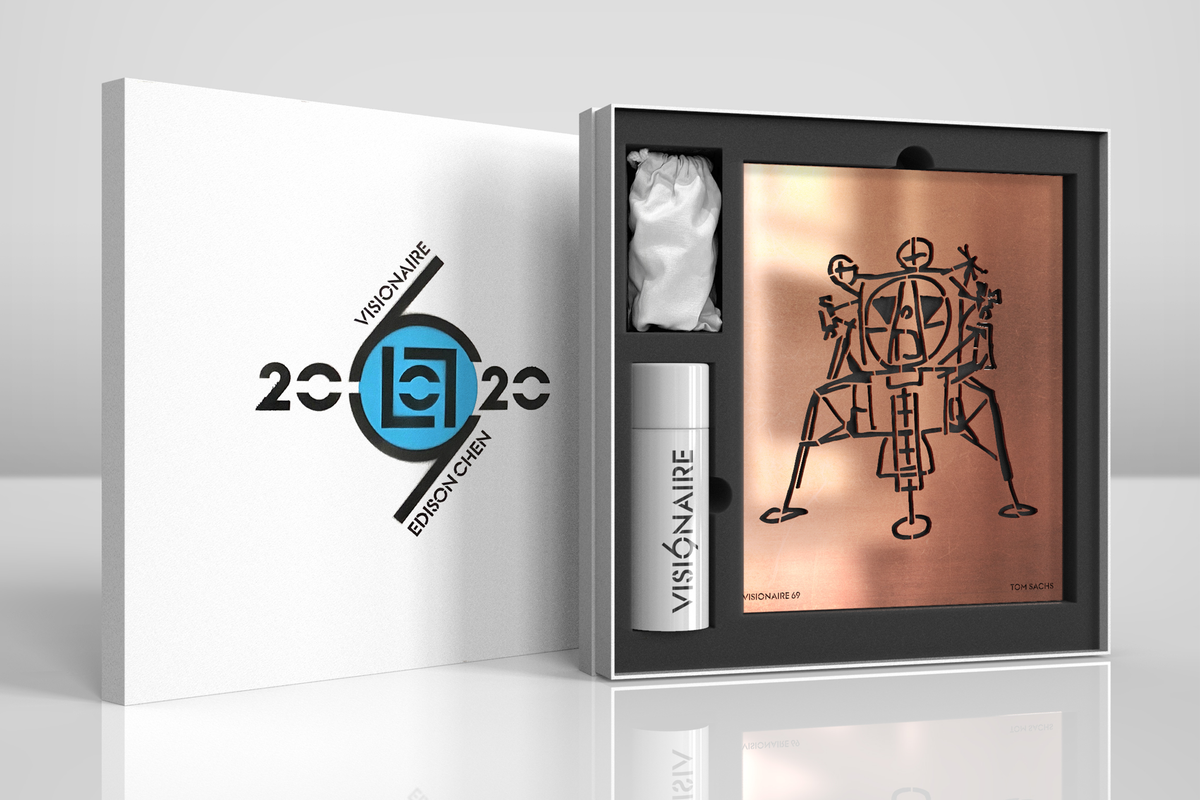 VISIONAIRE ISSUE 69 - 2020 Curated by Edison Chen
Visionaire has made a name for itself as a multi-media publishing company and experiential agency at the heart of art and fashion. Established by Cecilia Dean and James Kaliardos, VISIONAIRE has collaborated with some of the biggest names in the creative industry. 
VISIONAIRE 69 *2020* was conceived as a time-capsule, or retrospective view of 2020 - as it has been one of the most challenging years people have ever faced on this planet. In response to all the difficulties, CLOT's Founder and Creative Director, Edison Chen reached out to his network of creatives in order to create an edition that will highlight visual representations of hope for the future, the deeper meanings behind the lessons we have had to learn, and a distinct optimism as we move forward together. 
This collaborative release between Edison Chen and VISIONAIRE seems to be a natural process, with the concept of 2020, as well as the curation of artists, theme, and physical format coming together seamlessly. Edison has had his hand in many creative disciplines with interests across the whole creative plane, this DNA aligned with VISIONAIRE's ethos of creative freedom and pushing the boundaries of the publication and printed matter. For this edition of VISIONAIRE, in response to both the world-wide lockdowns and the desire for release as a result, we explore the notion of taking to the streets and yearning for such creative freedom, through the format of the epitome of street-art, the Stencil Kit. 
The Stencil Kit comes in a custom turquoise CLOT scarf in the brand's signature silk material, wrapping the hand-numbered and hand-spray painted 2-piece casing. Inside the case features a bespoke can of VISIONAIRE-branded black spray paint, beside a face mask designed by conceptual artist BARBARA KRUGER, alongside 10 negative-stencil "images" by 10 artists. These artists were encouraged - as is the recurring theme in VISIONAIRE issues - to work in a form that is outside of their comfort-zone. The art pieces contributed by these artists are transformed into stencils, laser-cut from pure copper sheets. 
The special mask is printed, ironically for this stencil issue, with the words "SAY DON'T SPRAY" in an effort to curb the virus that continues to wreak havoc in the world. The themes explored in these stencils vary as far as voting by Basketball legend and Activist LEBRON JAMES and space as the new frontier by artist TOM SACHS. CAO FEI creates a symbol of futuristic architecture while Supermodel and Activist NAOMI CAMPBELL displays the slogan of her friend, the great South African leader Nelson Mandela. ZENG FANZHI's master brush-stroke provides a fluid beauty on rigid walls and flat surfaces. 
Leading tattoo artist DR. WOO creates his version of a constellation map where all paths lead to happiness. HBA designer SHAYNE OLIVER offers a lone lamb free to roam the earth without a shepherd. Painter KELLY BEEMAN offers a poignant portrait. NICK KNIGHT depicts violence against invisible and abstract forces. Edison Chen's daughter, ALAIA CHEN, reminds us of our youth as she is within the next generation to inherit this earth. 
The inspiration behind the stencil formatting was from the decorative and antique copper stencils from the turn-of-the-last-century, which are among the first-ever created stencil formats in the world. Copper itself is imbued with antimicrobial properties, which is perfect and the most ideal material for this post-pandemic VISIONAIRE 69 *2020* edition. Another unique property of the material is the ability to archive all of the hands that have touched and interact with the material, and oxidizing over time to form a special turquoise patina hue, changing the appearance to reflect its user. 
Click here to pre-order VISIONAIRE 69 "2020" curated by Edison Chen. Available for Hong Kong orders only. 
Pre-order is also available at our JUICE Shanghai TX Mall Pop-Up shop.
Purchasers can expect a delivery date around January 13, 2021.