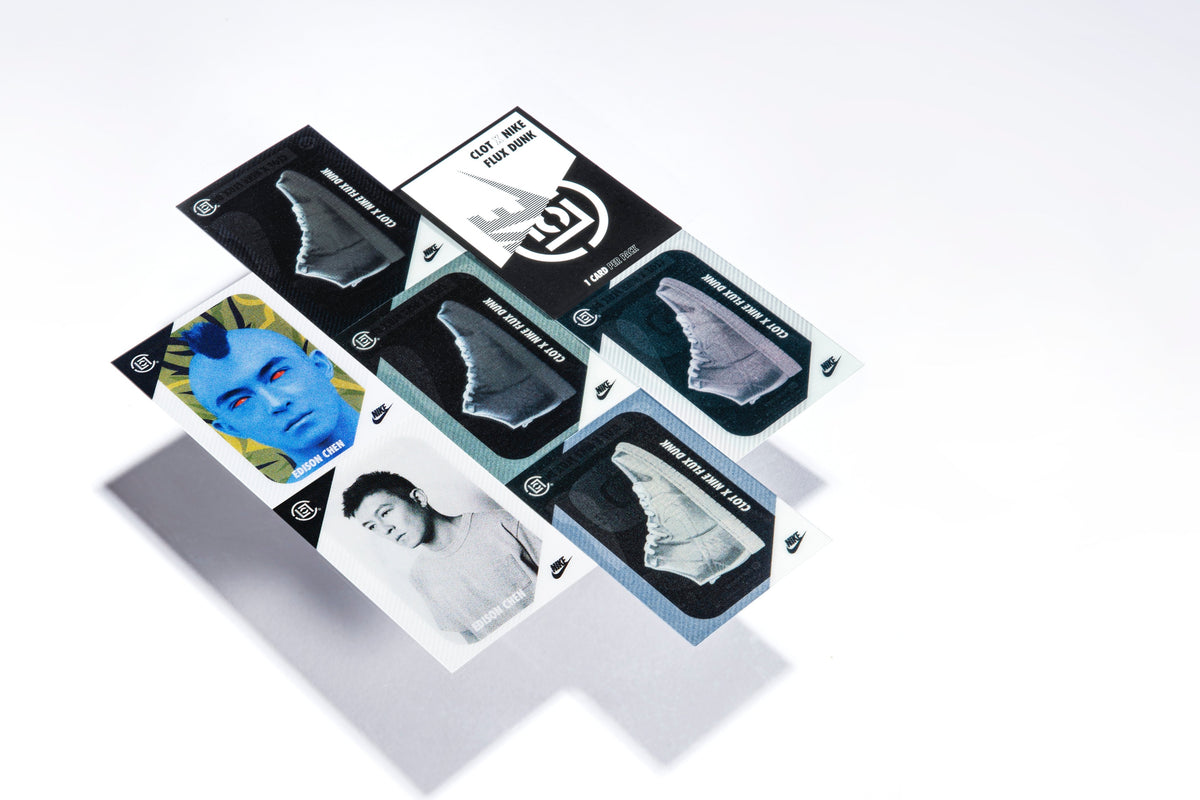 WATCH OUT FOR THESE CLOT x NIKE FLUX DUNK COLLECTIBLE CARDS
Following the anticipated reveal of the CLOT x NIKE FLUX DUNK introducing its futuristic aesthetic and all-around lenticular effect, CLOT is excited to announce the accompanying launch of a collectible card collection.
"I've been a trading card junkie since I was a kid. It made me feel like I was a part of that culture, I think that's the most important thing the trading cards gave me [...] a feeling of belonging," shares Edison Chen, Founder and Creative Director of CLOT.
First CLOT x Nike creation of its kind, the collectible card collection comprises six promo cards, all bearing a lenticular front that echoes the shoe. The series contains a base card in white and three parallel cards in blue, silver, and black, all featuring the CLOT x NIKE FLUX DUNK that switches from light to dark in movement. Also within the collection are two autograph cards, both hard-signed by Edison Chen, presented in a limited edition with the portrait of the CLOT Founder, and an ultra-rare version—the rarest of all—revealing his alien form, set against an instantly recognizable ALIENEGRA pattern.
Set to launch exclusively at JUICE selling doors on 18 March 2022, every pair of CLOT x NIKE FLUX DUNK will come with one collectible card, distributed at random.
Those in Hong Kong are invited to look at this exciting collectible card collection, to be displayed at the feature wall set within the CLOT x NIKE FLUX DUNK pop-up space at JUICE Causeway Bay from 11 March 2022.
Related reads