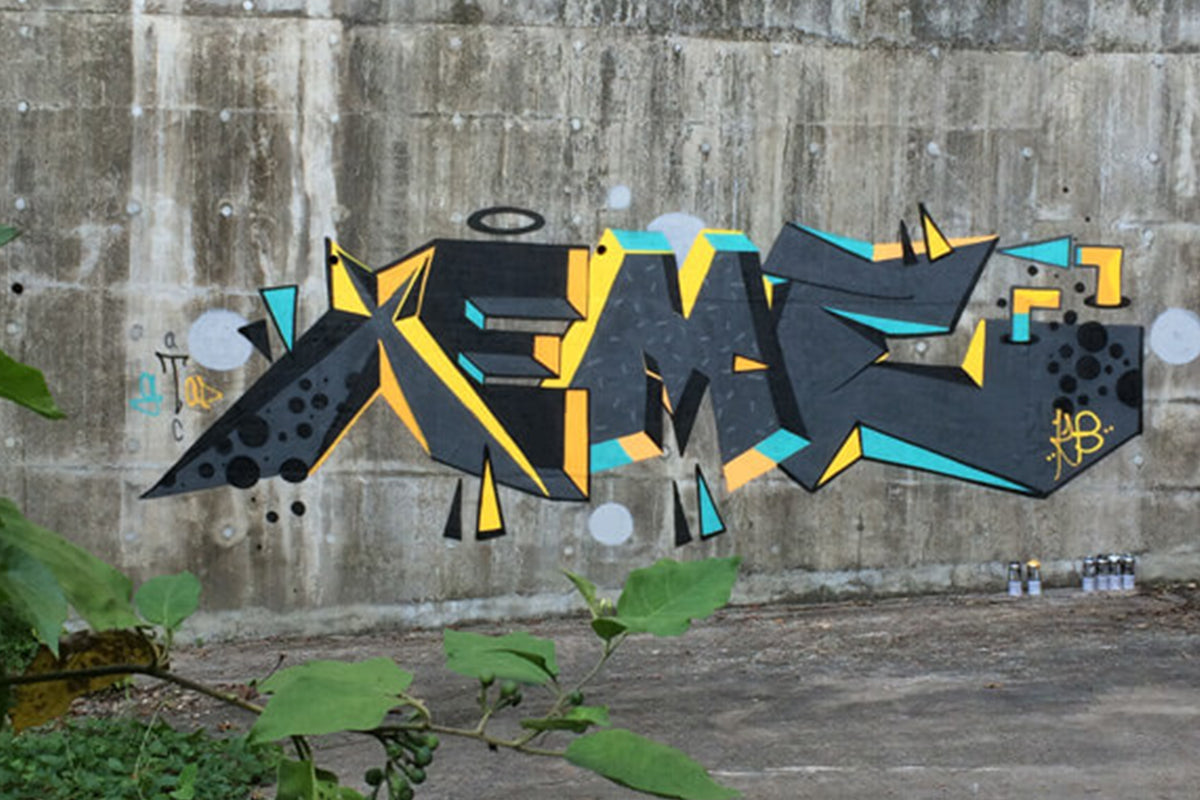 XEME: PIONEERING STREET ART IN HONG KONG
Many think of a strong association to rebellion when thinking about graffiti. A lot of street art are not commissioned and often on surfaces and buildings they shouldn't be. The artists are evasive and the artwork tend to pop up overnight, presumably because they were secretly worked on under yellow street lights when the rest of the city is asleep. I recently caught up with Xeme, a Hong Kong based artist, and that was my first question to him.
Hong Kong is one of the most exciting cities in the world so think about its potential as it strives to become a major art capital. With HKwalls, a mural festival started by Xeme and his friends, it's moving in the right direction.
Graffiti has a lot of association with hip-hop culture and rebellion. Did either influence you to become a graffiti artist?
I'm a huge hip hop head myself so no doubt it's a huge influence but I think 99.9% of graffiti artists paint because they want to get their name out there, not to be rebellious. I love painting as much as the culture surrounding it…art, skateboarding, basketball, manga to name a few. We're using spray paint instead of pencils so people have this perception about us but in reality it's a hobby, it's no different than shooting hoops.
It all began in 2001 for Xeme when he became fascinated by a wall near his high school that was constantly painted on. He simply thought it looked "cool" so he gave himself a new avenue to express his creativity. It is a hobby where he cites hip-hop artists like A Tribe Called Quest, De La Soul, Murs, Jurassic 5, and Dr. Dre as his major influences.  90s street labels like Triple 5 Soul, Alphanumeric, and PNB Nation then influenced his personal street style to compliment his work.
You mentioned that you have interest in fashion but mainly street wear. What is it about street wear that you find to have a connection with the work that you do?
There's a lot of art elements in street culture, like toys, posters, displays, collaborations, designs and they all inspire my work. Graffiti art allows for so much artistic freedom that inspiration can come from absolutely anywhere. Most importantly though, street wear is what I grew up with.   
So you are born and raised in Hong Kong. What is the graffiti community like in Hong Kong?
Hong Kong's community is small as fuck! There are probably less than 10 active graffiti artists in Hong Kong. Crews gets formed basically because you connect with people that have the same passion.
How did HKwalls come about and what vision did you have for this festival when you first created it?
Art Basel in Miami was really dope. There was graffiti everywhere, ultra cool parties, music, art and just so much more cool stuff happening in Art Basel every year. Me and my homie Jason were kinda tipsy one night and we thought why don't we do something in HK. That was it! We asked around to have building owners give us walls to paint on and the rest is history.
Xeme also last did a joint exhibition in Hong Kong in April 2016 with his New York-based friend and artist FAUST. It was titled "INTERSECTION" and featured a large mural that celebrated the mix of traditional Chinese calligraphy with raw East Coast graffiti hand styles. These types of collaborations keep him inspired to explore different mediums, methods and styles. More recently, he's been doing a lot of pixel work, a departure from his usual style. Reinvention is part of being an artist and ultimately, Xeme aspires to collaborate with fashion brands and have his work on merchandise. 
Much like the Remio x Huf or Cryptik x Hurley collabs that he mentioned as some of his recent favourites, a Xeme fashion collaboration would no doubt attract a legion of Eastern and Western fans alike looking to give some love to an artist coming out of Hong Kong.
Words / Brian Chan